David D. Reh School of Business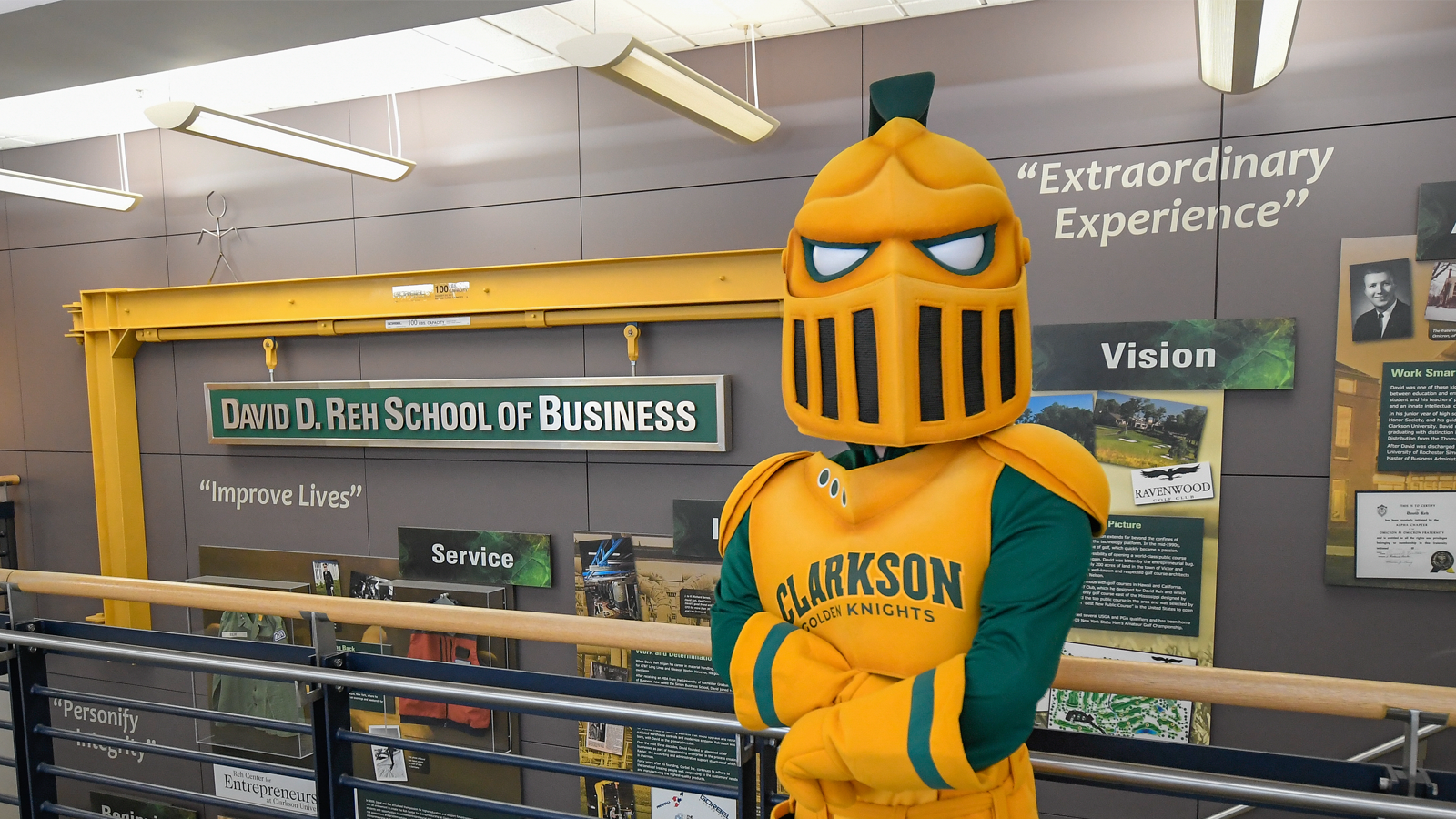 Mentorship and Collaboration
Our faculty commit to your success — from the classroom to your pursuit of developing solutions to real-world challenges. Receive one-on-one guidance from faculty mentors and professional advisors who know your name and what motivates you and point you toward the right resources to grow academically and professionally.
Support through innovation and collaborative solutions defines our community on a broader scale. In classes, further hone your teamwork skills with students just as ambitious as you are.
Tackle New Challenges Together
Our students are active, motivated and ready to take advantage of the Clarkson experience. Beyond internships, establish yourself as a leader on campus through student government to intramural sports and recreational clubs. Or, expand your network in business-centric student organizations like Alpha Kappa Psi and the Clarkson Strategic Investment Group.
Recent Rankings and Statistics
#1 in New York State for Supply Chain Management — U.S. News & World Report.
#2 in New York State for Engineering Management — Great Business Schools.
#4 in New York State for Entrepreneurship — U.S. News & World Report.
Top 25 in the United States for Engineering Management — Great Business Schools.
Top 25 in the United States for Supply Chain Management — U.S. News & World Report.
Top 40 in the United States for Entrepreneurship — U.S. News & World Report.
Top 5% Highest Paid Business Administration Graduates — College Factual.
Top 10 Great Schools for Business Majors — TIME.
Undergraduate Business Programs
Pursue and achieve your goals at Clarkson University's Reh School of Business. Our tight-knit, persevering community not only wants to see you succeed, but we ignite your drive and connect you with opportunities that build real-world experience and your résumé. Propose industry-relevant solutions through research, tackle the challenges of entrepreneurship firsthand and see how technology fuels innovation across the business world.
Graduate Business Programs
You are ready for an education that will help you become a catalyst for change. That is what we offer at Clarkson University. Our forward-thinking graduate business programs will set you apart in your field and fit the demands of today's fast-paced workplace. Learn more about how our business school can move your career forward.
Research and Scholarship
Business decisions can impact all aspects of society. As leaders, we seek to understand how our actions can affect the world for the better. Our faculty produces groundbreaking research on a wide variety of topics. As a student, you can collaborate on their projects — or even pursue your own.
Real-World Experience
At Clarkson, we believe that the best way to learn is through action. That is why we provide opportunities for our students to apply their skills beyond the classroom walls.
Challenge yourself to rise to the top through entrepreneurial competitions like the Reh Cup Competition, the North County Regional Business Plan Competition, the Ignite Research Fellowship Program, the Summer of Innovation Challenges and other programs.
Our Faculty
Our faculty are experts in some of the most pressing business topics of today, like supply chain management, healthcare management and data analytics. Learn more about who they are.
Study Abroad
In our interconnected world, business is always global. We make it a core component of our program, with 100 percent of students having an international experience before graduation.
"The Reh School of Business has equipped me with many skills that have since translated over to helping me succeed during my internships over my four years and helped me stand out against other candidates."
Marques Bouyer '22, BS in Innovation and Entrepreneurship
96% Clarkson Class of 2022 Total Undergraduate Placement
100%
Students with
professional experience
before graduation
$50K
Awarded annually to student entrepreneurs
$69K
Average starting and early career salaries for the Clarkson Class of 2022