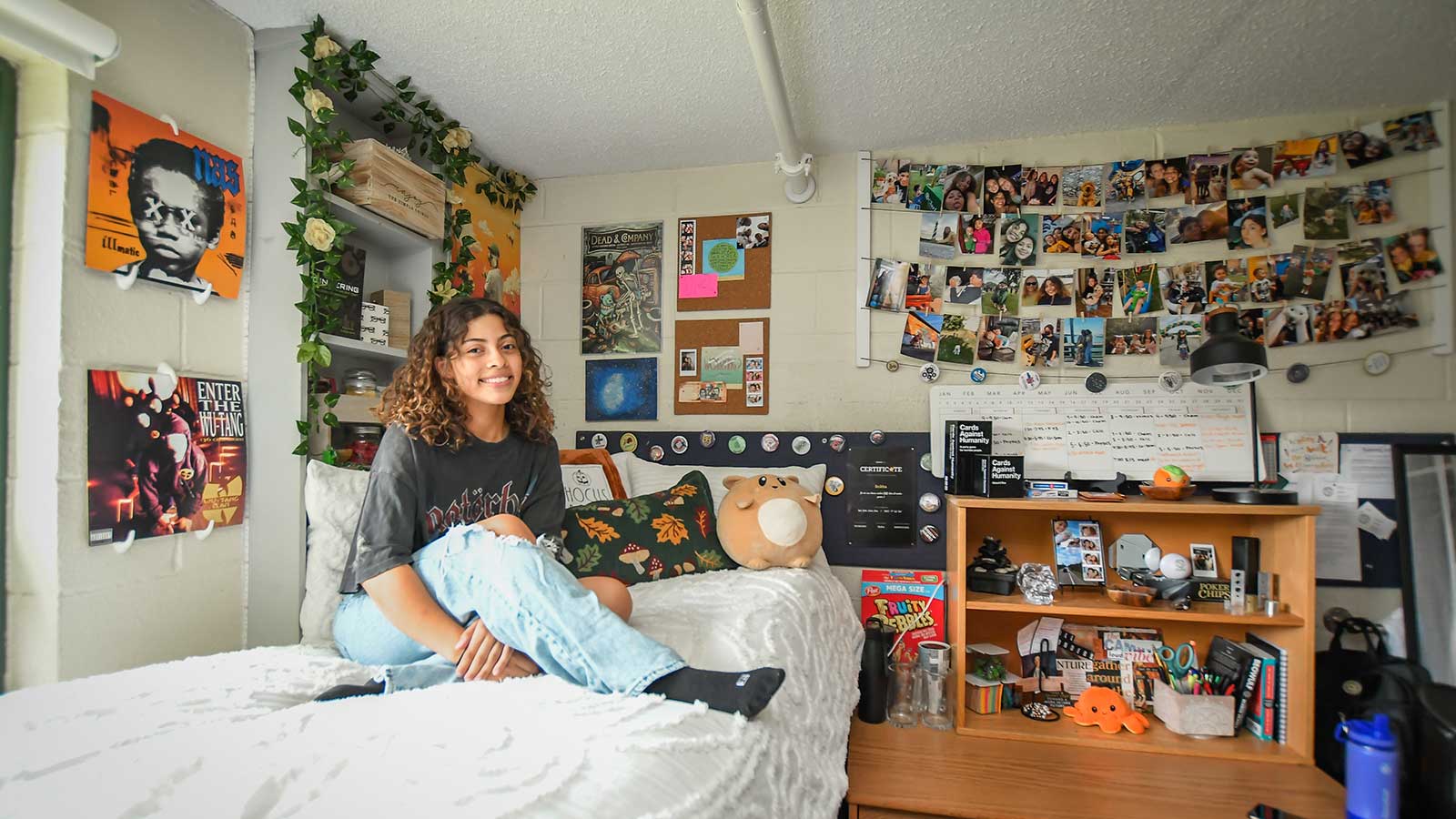 19
Living-Learning Communities to choose from
for incoming first-year students.
6
On-campus dining halls and cafés.
RoBro, Servery, Marketplace, Schuler's, Concrete Cafe and Distefano's
The Golden Knight, The All Northern, Platinum, Sandstoner, Emerald & Pioneer
Residence Life
Our residence halls aren't just places to sleep and study. Clarkson's campus housing brings students together with community-building programs and provides well-equipped facilities that quickly become home.
Throughout your time at Clarkson, select from cohort-appropriate housing options through the annual Housing Lottery system. First-year and sophomore students, while they are separated generally, reside in traditional-style housing. Juniors are more likely to live in suite-style housing. Seniors are mainly spread out within apartment-style communities. Select options are additionally available to graduate students.
Living-Learning Communities
A big part of college is finding your people. In Living-Learning Communities, first-year students build connections with others who have similar interests. Find theme floors dedicated to gamers, makers, movie lovers and more careers and passions.
Dining and Catering
Satisfy your taste buds with a wide array of choices, from sit-down meals to grab-and-go options, in locations across campus. Flexible meal plans mean you pay for what you need. Students who do not reside in apartment-style housing get assigned full dining plans. And, our staff is ready to help students with particular dietary needs, including food allergies and other restrictions.
Semester Housing Rates
2023-2024  Housing Rates
Clarkson University provides a variety of accommodations, from a single or a double room to an apartment. Each accommodation is priced differently, as described below. These rates are per student, per semester. (Please note, rates are subject to change.) Clarkson is a four-year residential
campus and requires students to reside within campus housing for four years of their undergraduate experience. To learn more about our Housing Policies please visit the University Residence Life or Student Regulations pages.
Traditional Residence Hall: $4,625
(Cubley, Reynolds, Ross, Brooks, Hamlin, Powers residences)
 
Suite-Style Residence Hall: $4,749
(Moore House, Graham Hall, Price Hall)
 
Single Residence Hall Room: $5,349
(Moore, Graham, Hamlin, Powers residences)
Townhouse and Woodstock: $5,349
Riverside: $5,268
Weston's: $4,823
Theme House: $5,349
Students residing in University residence halls are required to select a University dining plan. The 50/500 is not available for students living in residence halls. Students residing in University apartments are not required to select a University dining plan. These students may voluntarily select any dining plan. If choosing the 50/500, it may be added at any time during the semester. Students cannot change dining plans after the first 10 days of the semester. You can view all the Dining Plans by clicking here.
All Full Board Dining Plans: $3,883
50/500 Dining Plan: $1,192
If you have any questions that are not answered here, please feel free to call (315)268-6642 or email our office reslife@clarkson.edu.