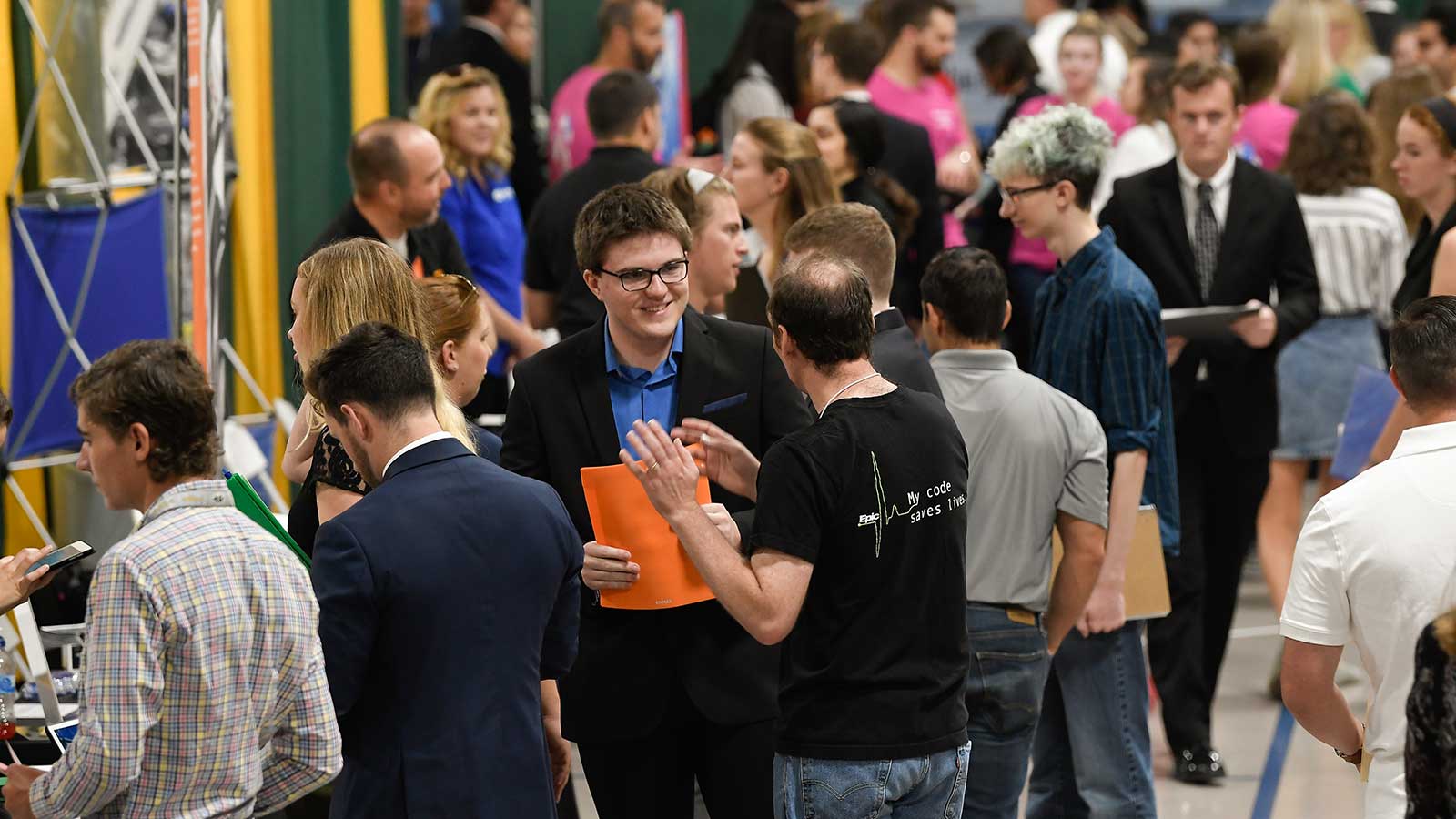 Hire Your Future Leaders at Clarkson University
At Clarkson University, we develop productive, mutually beneficial partnerships with companies to power innovation. Corporate relationships thrive through smart collaborations that pair our best people, knowledge and resources with companies and organizations looking for ways to move business forward, gain a competitive advantage and solve the world's most pressing challenges.
Students are our greatest resource — from their drive in the classroom to each individual's list of accomplishments. Clarkson University primes all students for the workforce. Our approach starts with hands-on learning, extends to required internships and co-ops for many programs and factors in the ample research opportunities open to undergraduates. Throughout, Clarkson prioritizes problem-solving, critical thinking, communication and leadership, no matter a student's major.
As you seek our leaders and problem-solvers for your organization, Clarkson University is excited to partner with you.
Become an Educational Partner
A partnership with Clarkson is a true partnership. We work across all areas of the University to deliver the best strategies, services and support, all of which are customized to meet our partners' specific goals. Additionally, our partners benefit from Clarkson's longstanding commitment to corporate relationships.
Learn more about recruiting and educating your workforce with Clarkson and extending your impact through research.
Let's Partner
Interested in a professional partnership with Clarkson or participating in an upcoming Career Fair or on-campus programming? For more information, contact the Career Center today.
Email: career@clarkson.edu
Phone: 315-268-6477
Career Center Services for Partnering Employers
Partner with Clarkson's Career Center to attract and recruit students for internships, co-ops and full-time positions. Learn more about all available services:
Advertising and Recruitment
Start by advertising internships, co-op opportunities and job openings on Handshake. Amplify this through on-campus and virtual targeted recruitment for co-ops, internships, micro-internships and part-time and full-time employment opportunities.
Learning About Our University
We can provide you with class profile information and salary data, plus connect you with faculty, staff and departments to discuss recruitment and align expectations of students.
Branding and Sponsorships
Make sure our student body is familiar with your brand. Consider engaging through corporate-sponsored field trips, research, student projects and competitions. Connect with the Career Center to learn what is best for your company.
Connect With Students
Connect with our student body through networking events, career fairs, mock interview days, etiquette dinners and other opportunities like discovery sessions, lunch and learns, student group presentations, workshops and panels.
Partner With the Career Center
Partner directly with the Clarkson Career Center for our HireAKnight Partner Program, or collaborate with us on co-branded badges for new-hire readiness, plus for developing summer and winter break programs.
Career Fairs
This twice-per-year event attracts over 150 employers to meet and network with students, be it for internships and co-ops or their first entry-level job. Attesting to the success of this event, about 40 percent of Clarkson students going on to full-time careers were first introduced to their future employer through a Career Fair.
HireAKnight Partner Program
Through this partnership, employers receive priority recruitment services that help increase their visibility on our campus. At the same time, they help fund career programming and other opportunities for Clarkson students.
How to Recruit With Clarkson
Through our wide variety of services, we can tailor to your organization's specific needs. We have options for companies of all sizes, from startups to Fortune 500 organizations. Throughout the semester, we partner with employers to provide targeted marketing, candidate meetings and additional promotion on campus.
Review our requirements for posting internships and co-op listings through Handshake. Find recommendations for getting to know and recruiting our students.
Utilize Handshake to post your internships, co-ops and openings for entry-level and experienced positions.
Share more about your company's history, impact and culture, as well as the work you do and the opportunities you are presenting through a Discovery Session.
Email career@clarkson.edu to learn more about our students, recruit talent and become engaged as a lifelong partner!