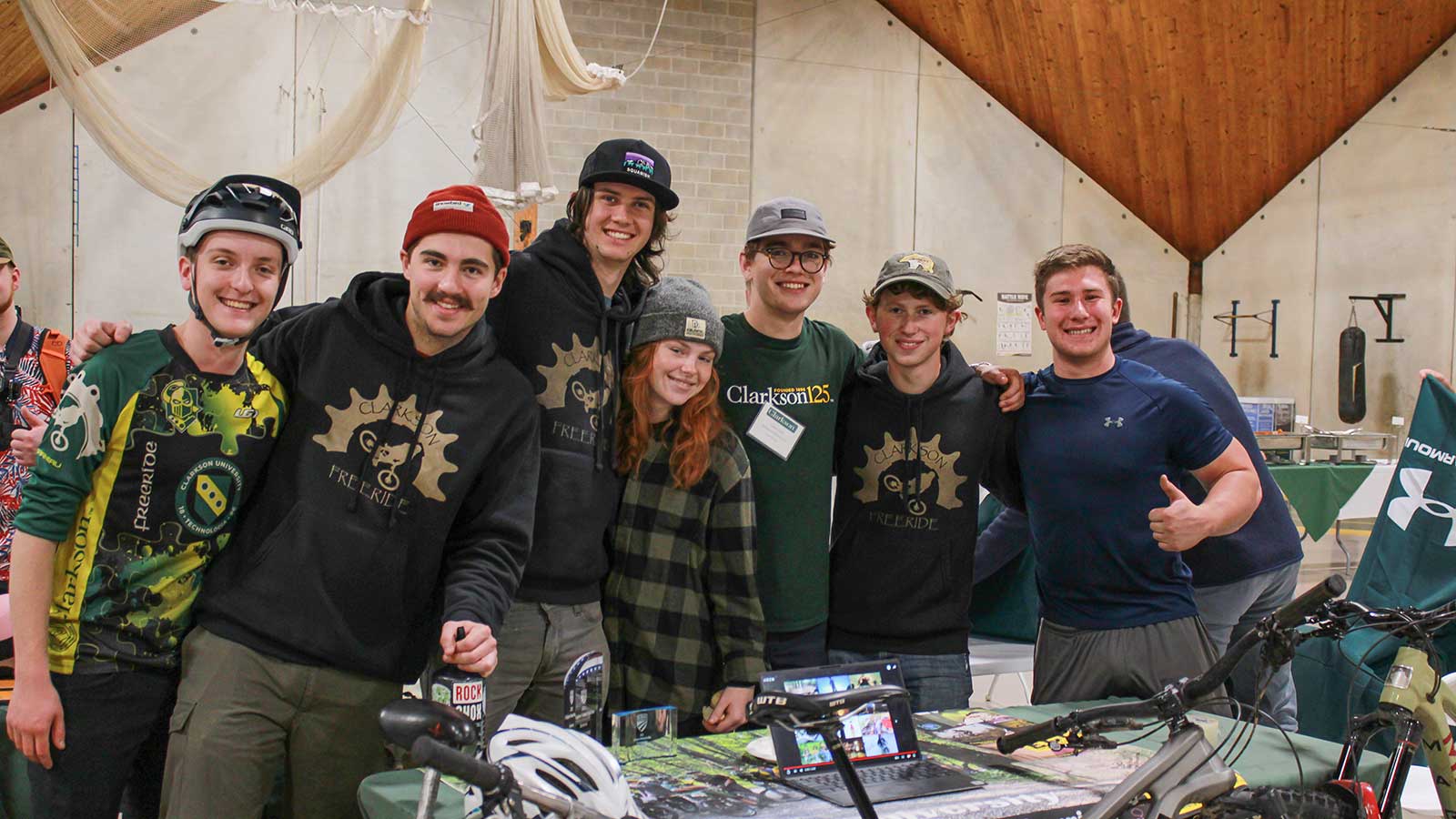 Athletics
You know what they say about "all work and no play." Our students take that to heart: more than two-thirds of Clarkson's student body compete in a varsity sport or participate in intramurals. Others test their strength in the campus's recreation facilities or hit the nearby trails and waterways.
We're home to 18 NCAA Div. III men's and women's teams, in addition to our NCAA Div. I men's and women's hockey teams. Spend one night in Cheel Arena, packed with 3,000 people as the Pep Band blares at top volume, and you'll be hooked. Of course, there's more to the game than the game itself: athletes know the bonds forged through teamwork build skills that last a lifetime.
Lace up your skates, pull on your cleats or inflate your mountain bike tires: grow social bonds and engage your strategic side in our 50-plus club and intramural sports teams, including several that compete against other colleges and universities. If you're looking for something a little less intense, a dozen intermural leagues and tournaments keep the competition in-house.
Be a Campus Leader
Leadership is a muscle you build over time. And, student government is one of the best ways to get started. The Clarkson University Student Association (CUSA) is involved in almost all aspects of student life, playing a vital role in influencing campus policy. The Clarkson Union Board (CUB), meanwhile, sponsors concerts, comedians, films and other events.
Activities and involvement aren't just for undergraduates. As a master's or PhD candidate, get your voice heard or start up a club through the Clarkson University Graduate Student Association (CUGSA).
Fraternity and Sorority Life
For decades, fraternities and sororities at Clarkson have contributed to the leadership, scholarship, philanthropy, friendship and personal growth of our students. You'll make friends (and memories) that will last forever, but you'll also join organizations that have raised $80,000 and performed over 20,000 hours of community service since 2001. Today, Clarkson recognizes eight fraternities and four sororities.
Student Activities By the Numbers
1st
SAE Clean Snowmobile Team
placed 1st Overall in 2022.
200+
Clubs and organizations on campus.
1903
Year Clarkson's first fraternity was founded. Sororities followed in 1977.
On-Campus Recreation
That burn you feel? It's a good thing. Find it at either of two fitness centers, including an 8,000-square-foot space that opened in 2020. Or, our three-story climbing wall, swimming pool, indoor training facility and rec center, where you can run on an indoor track through the winter. In the spring, head to our four tennis courts or a two-mile-long outdoor rec trail that runs alongside the Raquette River.
Off-Campus Activities
Potsdam is in the foothills of the Adirondacks — a 6-million-acre region bigger than Yellowstone, Yosemite and the Grand Canyon combined, and a year-round destination for hiking, camping, rock and ice climbing, paddling, skiing and more. Love the outdoors? You'll never run out of places to explore. (Need some city time? Montreal and Ottawa, Canada's capital, are an easy drive from campus.)