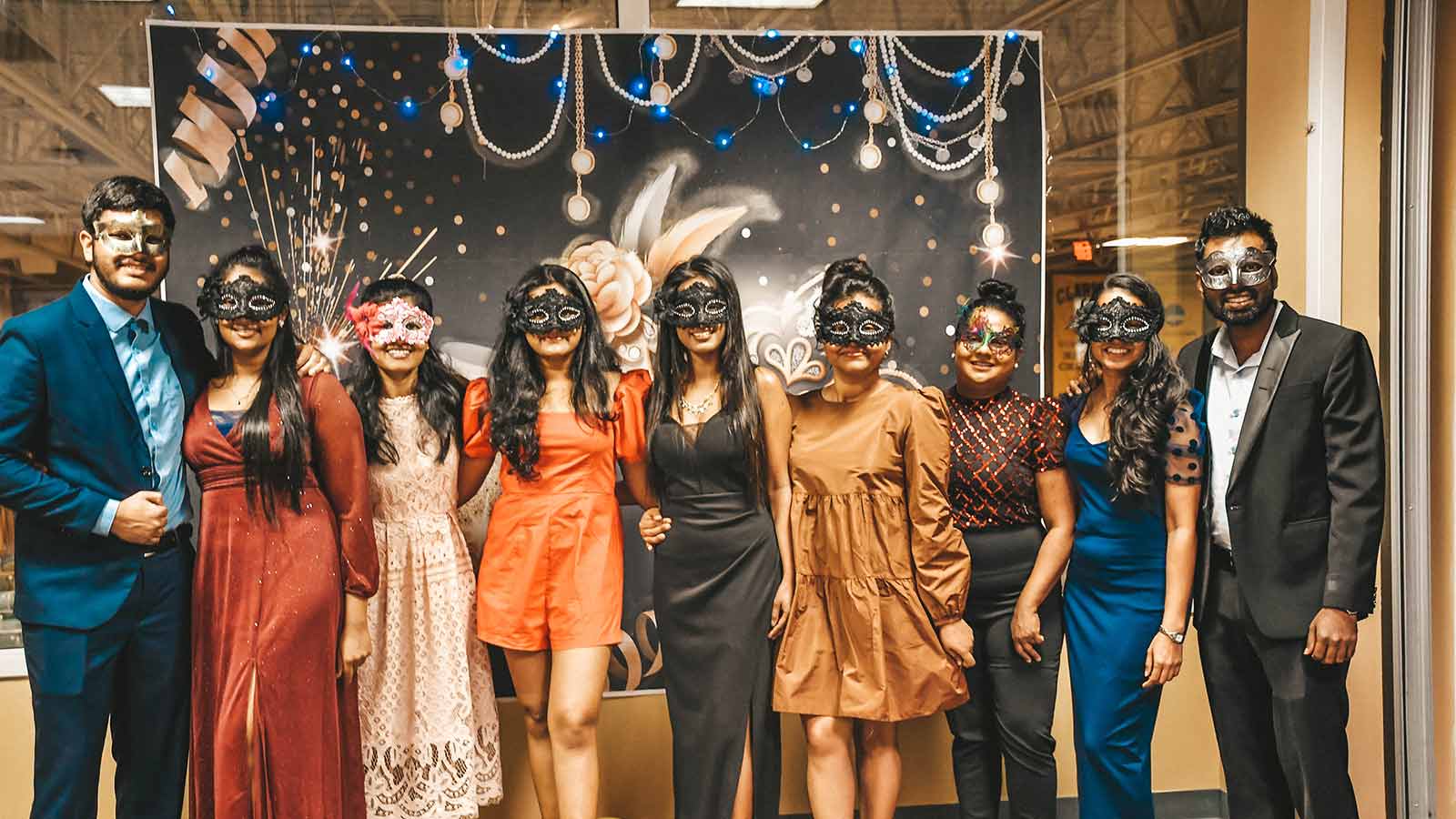 What to Expect
Maybe you're here to explore new ideas. Or, you see yourself making a global impact. From classroom to laboratories to clinical assignments, three factors define Clarkson graduate education — world-class instructors teaching hands-on curricula that equip everyone for career success.
Our Faculty
Learn from Fulbright and National Science Foundation scholars, as well as top-tier professionals who weave in their experiences. Small classes and a close-knit community help you build connections, whether you attend on campus or online.
Graduate students have a collective voice at Clarkson. CUGSA steers the conversation toward change that improves school policy and student experience and creates a setting for peer bonding.
Research
Our graduate students shape our progress, whether through our labs and centers or via their theses projects. Their work receives support from our external network of over 380 active partners in industry, government and research, including the Office of Naval Research, the National Science Foundation, the Trudeau Institute, the National Institutes of Health and Mt. Sinai Hospital.
We see discoveries not as novelties but as society-shifting innovations. In turn, our research makes a positive impact on society around the world.
Clarkson's research focuses on Healthy Global Solutions, Advanced Materials Development, Next Generation Medicine and Healthcare and Computational and Data-Enabled Discovery.
In Clarkson's interdisciplinary learning environment, I have been able to excel in my research and critical thinking. I have also improved in my time management and soft skills. This has really helped me prepare for when I present my research at conferences and department seminars.
Reem Khan, PhD in Chemistry
Residence Life for Graduate Students
Whether you live on campus or off in Potsdam or off-campus in Schenectady, keep in mind the following while attending Clarkson for graduate school:
Clarkson's Potsdam campus has a limited number of apartment-style housing units available for graduate students and offers a flexible meal plan option. Those attending this location, as well as the Capital Region Campus, typically search for an off-campus apartment from which to commute.
Whether you plan to attend in Potsdam or Schenectady, all vehicles you use to commute must be registered with the campus.
Potsdam and Capital Region Campus locations require graduate students to have school ID cards, which will work at both locations. Request an ID through your PeopleSoft account to get started.
Clarkson requires all non-distance graduate candidates to have health insurance or to use school-provided UnitedHealthcare coverage.
Our Regions
Up for some hiking or skiing? Or, maybe the lakes of the nearby Adirondack Park are calling for some kayaking. Our students embrace the sights and possibilities of both our rural and urban locations and occasionally make the trip up to Ottawa or Montreal from Potsdam, or take the train to New York City from Schenectady.
Our Campuses
Learn more about all Clarkson campuses overseeing our in-person and online graduate programs:
Get the traditional college-town feel, just miles away from the Adirondack Mountains. Our Potsdam location is home to a wide range of master's and doctoral programs, including online and in-person offerings.
Our location in Schenectady expands our graduate and professional program offerings, available in person or online.
Support on Campus
We're here to support your success. Learn more about services available to graduate students.
Let Clarkson's Career Center help you in your next steps after graduate school.
Get guidance for obtaining your visa, and find information about getting acclimated to campus.
Access counseling and mental health services, many of which are free of charge to graduate students.
Learn more about accommodations available and how to place a request for assistance.
Additional Resources for Graduate Students