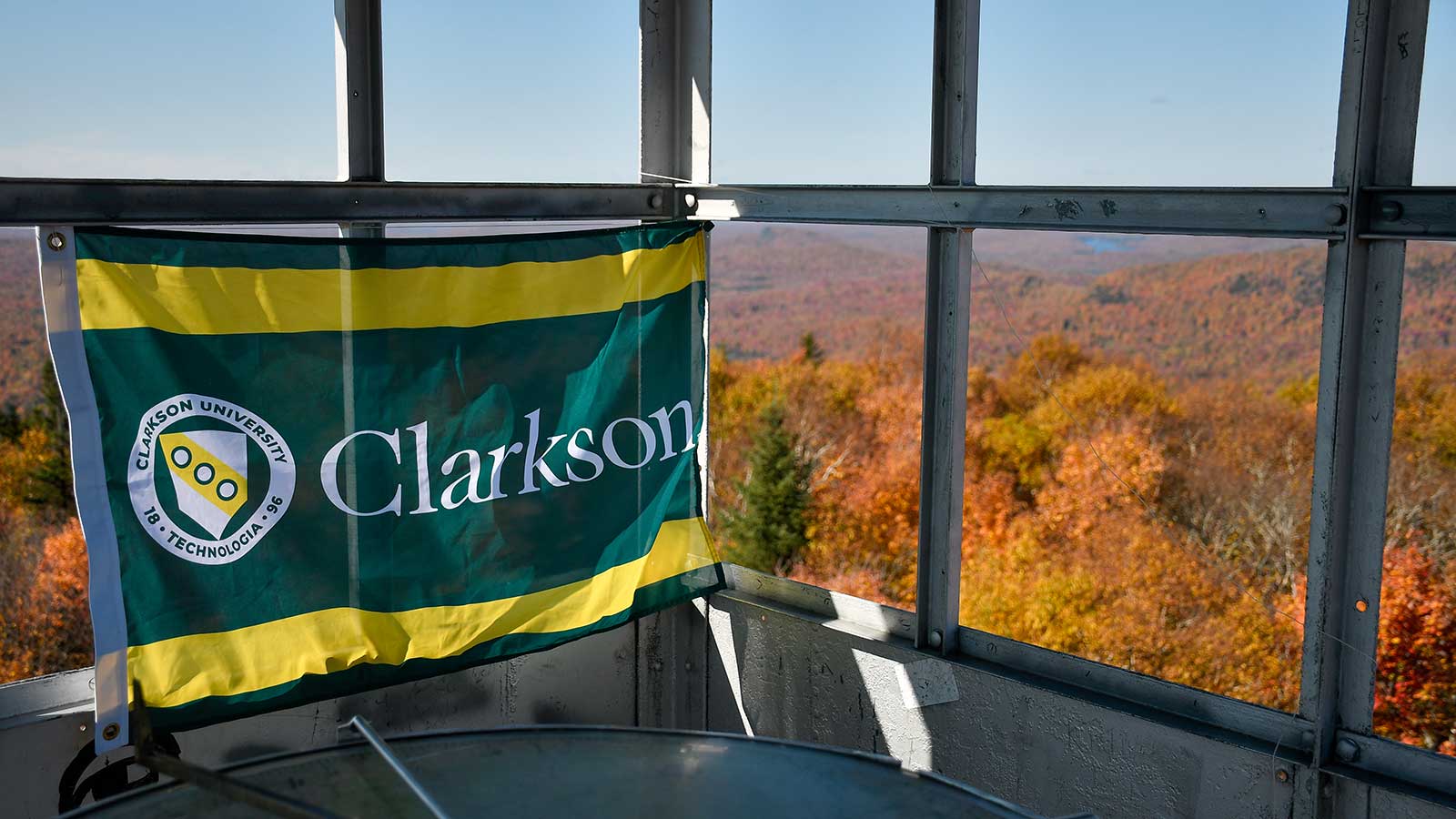 The @ClarksonUniv Brand Story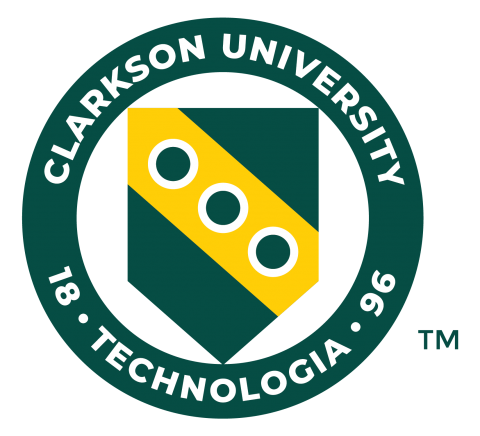 We are the Clarkson Golden Knights. The simple heraldry of the Clarkson family shield reflects the grounded confidence Clarkson graduates derive from an all-in education that ignites the personal connections across academic fields and industries to create the entrepreneurial mindset, knowledge and intellectual curiosity needed to innovate world-relevant solutions and cultivate the leaders of tomorrow. Graduates earn salaries that are among the top two percent in the nation and realize accelerated career growth. Among our 43,000+ alumni, one in five already leads as a CEO, senior executive or owner of a company.
The favorite verse of our namesake Thomas S. Clarkson, "the workman that needeth not to be ashamed," was the motto chosen when our doors opened in 1896 as a new kind of school that blended a technology-rich curriculum with liberal education to meet the real needs of the American people. Today, as a private, national research university, we are a proven leader in technological education and sustainable economic development through teaching, scholarship, research and innovation that invests in a better future for our global world.
#ClarksonIgnite is our catalyst for exploring, creating and achieving what's next. It is every Golden Knight's call to action and the framework we use to fast-track innovation in an open, University-wide environment. With powerful intentionality, we collide disciplines, spark intellectual curiosity and give every student and their teams the tools to pursue solutions to industry challenges, marketplace needs and personal goals. Students sharpen the entrepreneurial mindset, skill sets and experiences that are transferable to future careers in the rapidly evolving economy. Clarkson's Innovation Hub offers University-wide, highly personalized access to the support networks for innovation and entrepreneurial ventures. We provide collaborative makerspaces and laboratories across the University to roll up our sleeves to firsthand defy convention and push beyond the status quo.
For information on the University brand and usage of our new logo and fonts, please give our marketing department a call at 315-268-4153, and we'll be glad to help.
The Why Behind Clarkson's Remarkable Return on Student Investment
Clarkson grads earn salaries that are among the top two percent nationwide. Brookings Institution named Clarkson among the top 10 universities nationwide to maximize student earning potential.
It has been said that no one arrives at Clarkson by accident. We would agree.
In fact, we would say that the talented and ambitious scholars we attract choose Clarkson with the intentionality and purpose that characterizes our founding mission and propels us to the enviable position we occupy today — a leading national research university that is the destination of choice for tomorrow's scientists, engineers, educators, entrepreneurs, business people, health professionals and imaginative leaders.
People who want to lead with purpose and find solutions choose Clarkson to get what no other university is delivering in the same way, at the same scale — a transformative learning ethos that stretches the boundaries of business, engineering, science and technology for every student from every major. Our graduates earn among the highest salaries in the nation because they gain rigorous experience honing the mindset and skill sets needed to make sense of complex systems, ignite connections across people and disciplines and develop creative solutions to today's most vexing challenges.
Like our graduates, the University is also at the forefront of innovation — in the extension of our campus footprint in a corridor from Potsdam to New York City and points in between, the amplification of our signature research areas and the growth of our alumni and industry networks. Through this growth, we extend lifelong learning and economic development that creates societal wealth.
The Annulets of Clarkson's Brand
Telling Your Unique Story Through the Clarkson Lens.
Your Clarkson legacy begins on Day 1.
At every stage in your Clarkson experience, you will be both the recipient and benefactor of Clarkson University's mission.
The annulets of our brand — Ignite, Invest, Ensure — represent the basic attributes that we strive to responsibly associate with Clarkson for every student, alum, faculty, staff and partner of the University. When these three themes are combined with your tangible stories that reinforce how you are part of elevating the Clarkson story with audience-defined benefits and outcomes, we create a collection of dramatic key messages that are both relevant and important to our audiences.
Ignite.
Clarkson is a highly collaborative community that ignites connections across fields, industries and cultures. When you come to Clarkson, you instantly join a robust and active network that values the personal contributions of each member — students, alumni, faculty, community members and corporate partners alike. To think, act and lead globally, we span disciplines to find new solutions and deepen our respect for the diversity of our University community.
Invest.
We develop innovative programs and research portfolios in partnership with business and industry to explore, create and achieve better futures. We invest in people, ideas and our campus living. We give our time, resources and goodwill to drive the future.
Ensure.
We are all Golden Knights who commit to living the Clarkson Values and sharing our success as a model of these ideals. Through the legacy of our personal accomplishments and generosity, we ensure the next generation has the same opportunities to create a better world for themselves and society.
Clarkson Invests in a Better Future
From faculty to undergraduates, we pursue interdisciplinary research with the mindset, skill sets and intellectual curiosity needed to rapidly solve real-world problems for a better future.
Healthy Global Solutions
With the vast Adirondack Park in our backyard, we embrace our legacy to create global solutions that ultimately protect air, water and habitats. Interdisciplinary faculty teams collaborate across fields to reduce public health threats from environmental contamination and lack of medical care, as well as proactively integrate environmental concerns into best management practices. We develop the energy policies and technologies that lead to the creation of sustainable infrastructure, smart communities and the security of societies.  
Computational and Data-Enabled Discovery
Spanning all of our schools, research institutes and industry partners, we easily cut across disciplines to understand the associations within complex multimodal data sets from countless sources and settings ranging from modern sensor technologies, to computational rich engineering, to social media analytics. Our strengths in dynamical systems lead to innovations learned from data, sensors and controls, business intelligence and financial technology, and artificial intelligence.
Advanced Materials Development
In collaboration with industry and national laboratories, our experts are solving the next wave of challenges confronting the fields of electronics, aeronautics, biotechnology, health, safety and security, mechanical systems, energy generation and storage, and manufacturing technology. Our innovations in tailored material design, synthesis and modeling, functional materials and devices, sensors and sensing systems, drug management and diagnostic tools, and material sourcing and supply chains improve quality of life, accelerate technology performance and ensure sustainable management practices.
Next Generation Medicine and Healthcare
Our global world faces critical challenges to human health, now and in the decades ahead. At Clarkson, we engage in emerging approaches to innovative technologies for preventing, detecting and treating disease, including therapeutic strategies as well as strategies that change our how we make economic, entrepreneurial, social and ethical decisions. Our close affiliations with organizations like the renowned Trudeau Institute and The Mount Sinai Hospital put us at the forefront to lead new healthcare innovation, management and access.  
The Personality Traits of the Clarkson Brand
Spanning Boundaries
Here, the most creative solutions are found through the intentional collision of disciplines. From the humanities to business, engineering to health sciences, and digital arts to bioethics, spanning boundaries at Clarkson harnesses our collective intelligence and fuels innovation.
Expanding the Field of Play
Our scholar-athletes, as well as academic and business competition competitors, carry the same mind, heart, strength and passion to any competition that they bring to the classroom.
Practical Rigor
We approach everything we do with powerful intention, purpose and a get-it-done work ethic. Here, it's about putting our ideas into action and making a difference along the way.
Collaborative Competition
The race to the finish line does not need to come at the expense of the team. Ours is a community that achieves more greatly together.
Failing Forward
Success is often hard-won. The path to innovation includes learning from our early failures to move forward. We welcome experimentation because we know it cultivates independent thinkers who can tackle any challenge.
Transformative Impact
Clarkson changes people. No matter the scale of the impact we create, it is personal and cultural transformation through experiences that shape the mindset and skill sets that set us apart.
Systems Thinkers
There are advantages to thinking like an engineer. Our students are in demand because they learn how to match the circumstances and known rules to make sense of complex systems, understand how problems arise, look for opportunities and invent creative solutions.
Adirondack Incubator
This corner of the world we call home has always been a talent magnet for bright minds who care about the big picture and the big mountaintop views we enjoy. We have an emotional connection to the Adirondack Park and its harmonization of commerce, public policy and the natural environment. It is our launch pad for innovation that now extends down the Clarkson Corridor.
Personal
Our students' aspirations are nurtured through close community support and one-on-one faculty/student mentorships — relationships that often last a lifetime.
America's Corporate Partner
We have established partnerships with some of the nation's biggest industry players. It is a list that grows exponentially alongside our expanding geographic footprint and creates a remarkable professional network.
Entrepreneurial Mindset
We're a community of trailblazers — creative leaders unafraid to take risks, seize opportunities, get ideas noticed, marshal resources and start something new.
Inclusion for Diversity
We believe that anyone who shares our ethos for a boundary-stretching education and a rolling up of the sleeves "to do innovation" belongs right here. Through inclusion, we build diversity.