Graduate Business Programs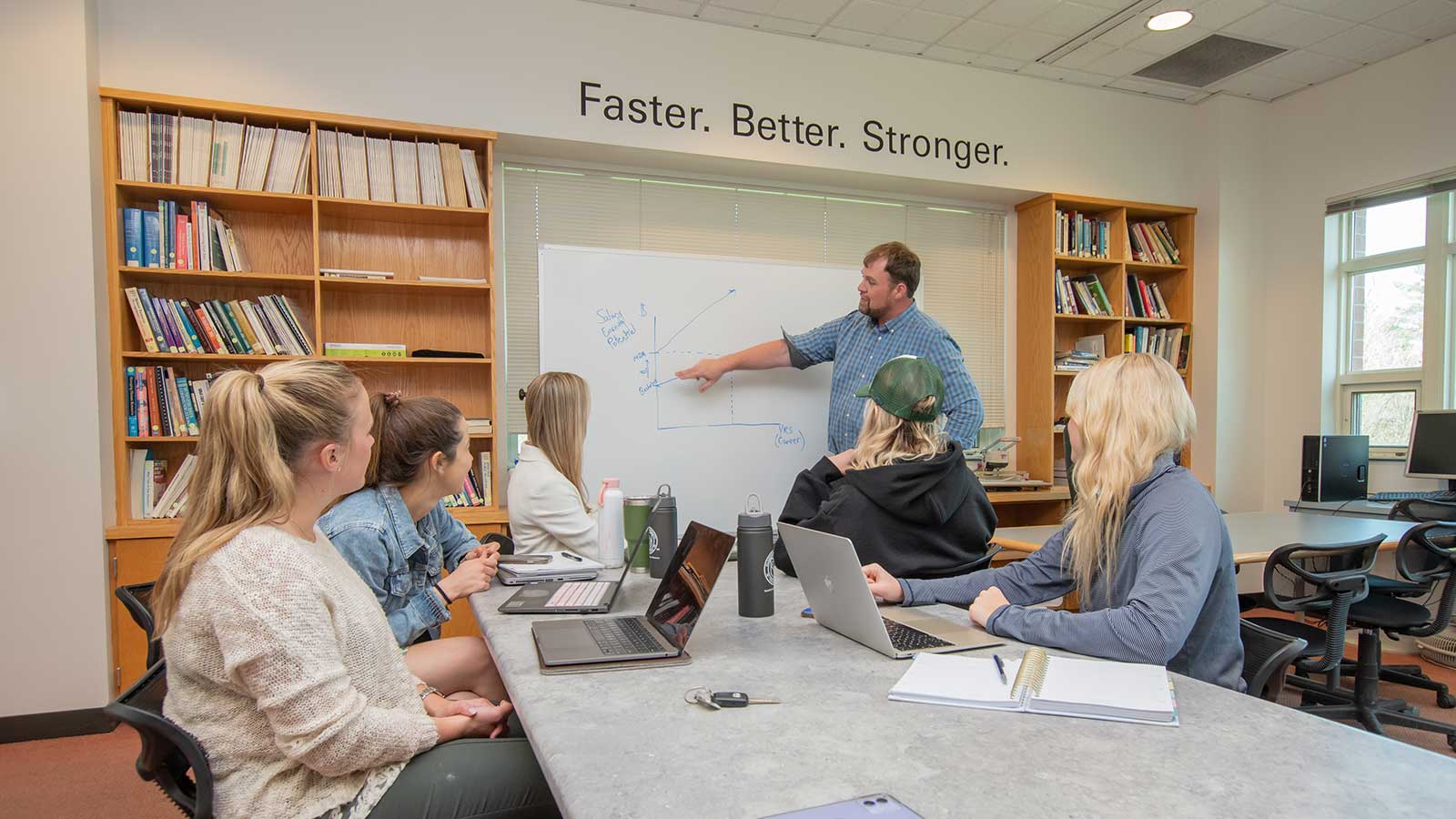 Become a Leader Today for the World of Tomorrow
You are ready for an education that will help you become a catalyst for change. That is what we offer at Clarkson University. Our forward-thinking graduate business programs will set you apart in your field and fit the demands of today's fast-paced workplace. Learn more about how our business school can move your career forward.
Our programs are rigorous, experiential and widely recognized.
Our graduate business programs are consistently ranked as being some of the best in the nation by U.S. News & World Report and other publications. Our curricula have been designed with input from industry leaders and business experts. The skills you gain in the classroom are in high demand and reflect the most up-to-date practices in the industry. Classwork is project-based and collaborative and can be easily applied to your current professional role.
Learn from world-renowned business leaders.
Our faculty have extensive experience in their industries and specializations. They are also scholars who engage in groundbreaking, problem-solving research. They serve as mentors and advisors, offering personalized guidance for your goals.
Earn your degree on your timeline.
Our programs fit your professional demands. We have accelerated, full-time and part-time options, so you can choose the right path for you. Classes are held in a variety of locations, including our Capital Region Campus — the main hub for our graduate degrees — and online. We offer maximum flexibility to ensure that nothing stands in the way between you and your future.
Key Facts
Among the Top MBA Programs in the United States — U.S. News & World Report, Fortune.
Among the Top Online MBA Programs in the United States — U.S. News & World Report, Fortune, The Princeton Review.
Among the Top 35 Healthcare MBA Programs in the United States — Healthcare Management Guide.
Listed #7 for MBA Programs in Healthcare Management — Best Accelerated Colleges.
Among the Top Healthcare MBA Programs in the United States — U.S. News & World Report.
#6 Healthcare MBA in the Nation, Best Online Health Administration —Great Business Schools.
#5 Healthcare MBA in the Nation, Master of Healthcare Administration —Best Value Schools.
MBA graduate placement was 97 to 100 percent for the Class of 2021.
$76,300 average starting salary for MBA graduates (combined online and residential).
Graduate Degrees and Other Programs
Making Connections
The Clarkson MBA program allowed me to develop pertinent business skills and meaningful connections with other students, both of which will help me throughout my career. Clarkson gave me the competitive edge I desired in the workplace and more.
- Samuel Kaplan '22, Online MBA
The Online MBA program feels like it was made for me and made my fear of impossible, possible. It is very possible to do with a full-time job. It is possible to do if you have been out of school for several years. It is possible to do if you are new to the world of business. Possible became a reality, and now I'm ready for the next step of my career, thanks to the education and support I received in the Clarkson MBA program.

Hanna Matthews Moor '22

Online MBA
Getting Prepared
"It gave me a lot of skills moving forward professionally. It certainly sharpened my professional skills. They not only wanted you to learn the business subjects but also prepare you for interviews, building your résumé and your cover letter – all the things to help you move forward in your career."
- Hailey Clark '21, Residential MBA
A week does not go by where I am not referencing something that I learned during my MBA, and I ... will surely utilize a significant amount of the information I learned as I navigate medical school and opening my own practice. The information alone that I gained has been incredibly helpful in my journey, but also the relationships you develop with your classmates and the faculty provide lifelong resources. I enjoyed the fact that I could complete the MBA at my own pace in as little as a year, as well. The program allowed me to be taught by professionals in the field who have real-world practical experience addressing the issues that we learned in class.

Eric Lovett Jr. '19

MBA in Healthcare Management