Undergraduate Business Programs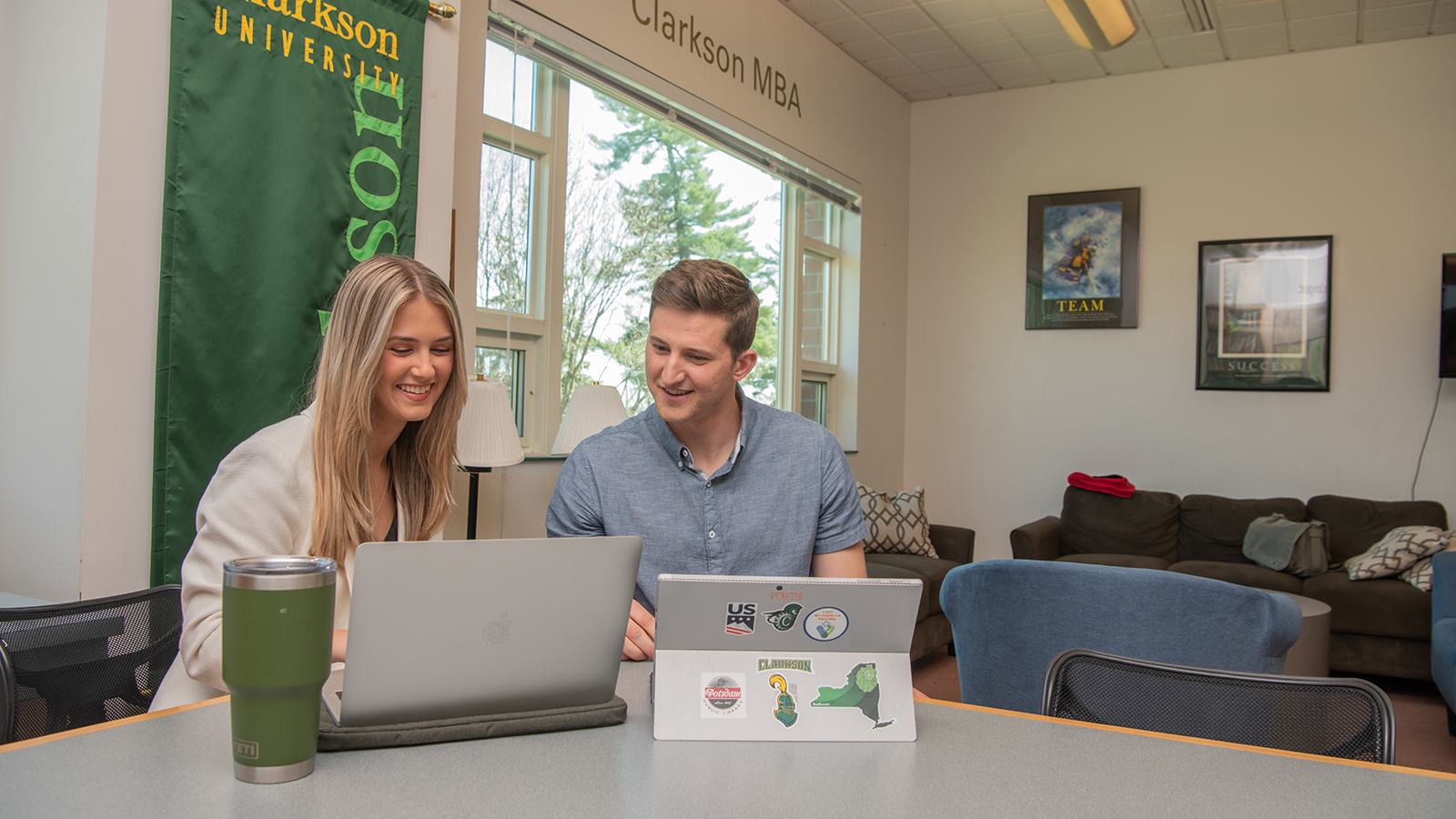 Endeavor to Lead the Future of Business
You know exactly what your future looks like. You're leading teams toward the next stage of growth, analyzing numbers to chart new paths forward or defining campaigns that resonate with audiences. Or, you dedicate yourself to doing it all — from finance and accounting to marketing, research and analysis.
Pursue and achieve your goals at Clarkson University's Reh School of Business. Our tight-knit, persevering community not only wants to see you succeed, but we ignite your drive and connect you with opportunities that build real-world experience and your résumé. Propose industry-relevant solutions through research, tackle the challenges of entrepreneurship firsthand and see how technology fuels innovation across the business world.
Begin building your future with a bachelor's degree from the Reh School of Business:
Learn by Doing
We pride ourselves on getting our hands dirty. That's how you learn and prepare to make an impact even before you finish your bachelor's:
Advanced Tools and Strategies: Reh School students receive hands-on instruction in the most current tools and strategic tactics — from accounting and data analytics programs to making data-backed decisions.
Entrepreneurship: We reinforce the importance of entrepreneurship in and out of the classroom. In course Small Business 113: Entrepreneurship and Business Innovation, develop an innovative business plan with other students and pitch it to potential investors. Participate in one of our many Shark Tank entrepreneurial competitions, or help manage part of the University's investments fund.
Real-World Experience: Practice what you learn in internship and co-op assignments, and build a lengthy and varied résumé before you graduate. View business from a global perspective and face these challenges head-on in our Global Business Programs and Clarkson's study abroad opportunities.
Mentorship and Collaboration
Our faculty commit to your success — from the classroom to your pursuit of developing solutions to real-world challenges. Receive one-on-one guidance from faculty mentors and professional advisors who know your name and what motivates you and point you toward the right resources to grow academically and professionally.
Support through innovation and collaborative solutions defines our community on a broader scale. In classes, further hone your teamwork skills with students just as ambitious as you are.
Tackle New Challenges Together
Our students are active, motivated and ready to take advantage of the Clarkson experience. Beyond internships, establish yourself as a leader on campus through student government to intramural sports and recreational clubs. Or, expand your network in business-centric student organizations like Alpha Kappa Psi and the Clarkson Strategic Investment Group.
Recent Rankings and Statistics
#1 in New York State for Supply Chain Management — U.S. News & World Report.
#2 in New York State for Engineering Management — Great Business Schools.
#4 in New York State for Entrepreneurship — U.S. News & World Report.
Top 25 in the United States for Engineering Management — Great Business Schools.
Top 25 in the United States for Supply Chain Management — U.S. News & World Report.
Top 40 in the United States for Entrepreneurship — U.S. News & World Report.
Top 5% Highest Paid Business Administration Graduates — College Factual.
Top 10 Great Schools for Business Majors — TIME.
Student Success and Return on Investment
Architect your success here. The numbers speak for themselves: the Clarkson Class of 2022 had a 96 percent placement rate, with an average starting salary of $69,000.
Undergraduate Business Majors
All undergraduates in the Reh School of Business begin in the business studies program. Establish the foundation for your future through courses in finance, accounting, data analytics, ethics, marketing, entrepreneurship and other essential topics. This spectrum introduces you to all functional business areas before you pick from the following specializations:
With the courses I have taken at Clarkson and skills I've developed in and outside the classroom, I know that I am not only prepared but ready to excel in my career in banking. Recently, I accepted a position with JPMorgan Chase in investment banking.

Jefry Lopez Rincon '23

BS in Financial Information and Analysis, BS in Business Intelligence and Data Analytics
Leadership Potential
"Whether it's starting your own business or climbing a ladder within a company, the classes, seminars and network the program has to offer will guide you into tapping fully into your leadership potential."
Hannah Earl '21
BS in Engineering & Management, TRC Companies
Year in and year out, Clarkson develops incredible entrepreneurs and the leaders of tomorrow.

Zack Golden '18

BS in Innovation and Entrepreneurship, Senior Consultant, Deloitte
Invaluable Experiences
"My time at Clarkson University was filled with invaluable experiences that allowed me to develop both professionally and personally. The curriculum provided me with meaningful opportunities to build upon my professional skills toolbox and work cross-functionally with peers. The campus life allowed me to build an incredible community and lifelong relationships with my fellow students."
Emily Gibbons '17
BS in Engineering & Management, Collins Aerospace