Career Development and Internships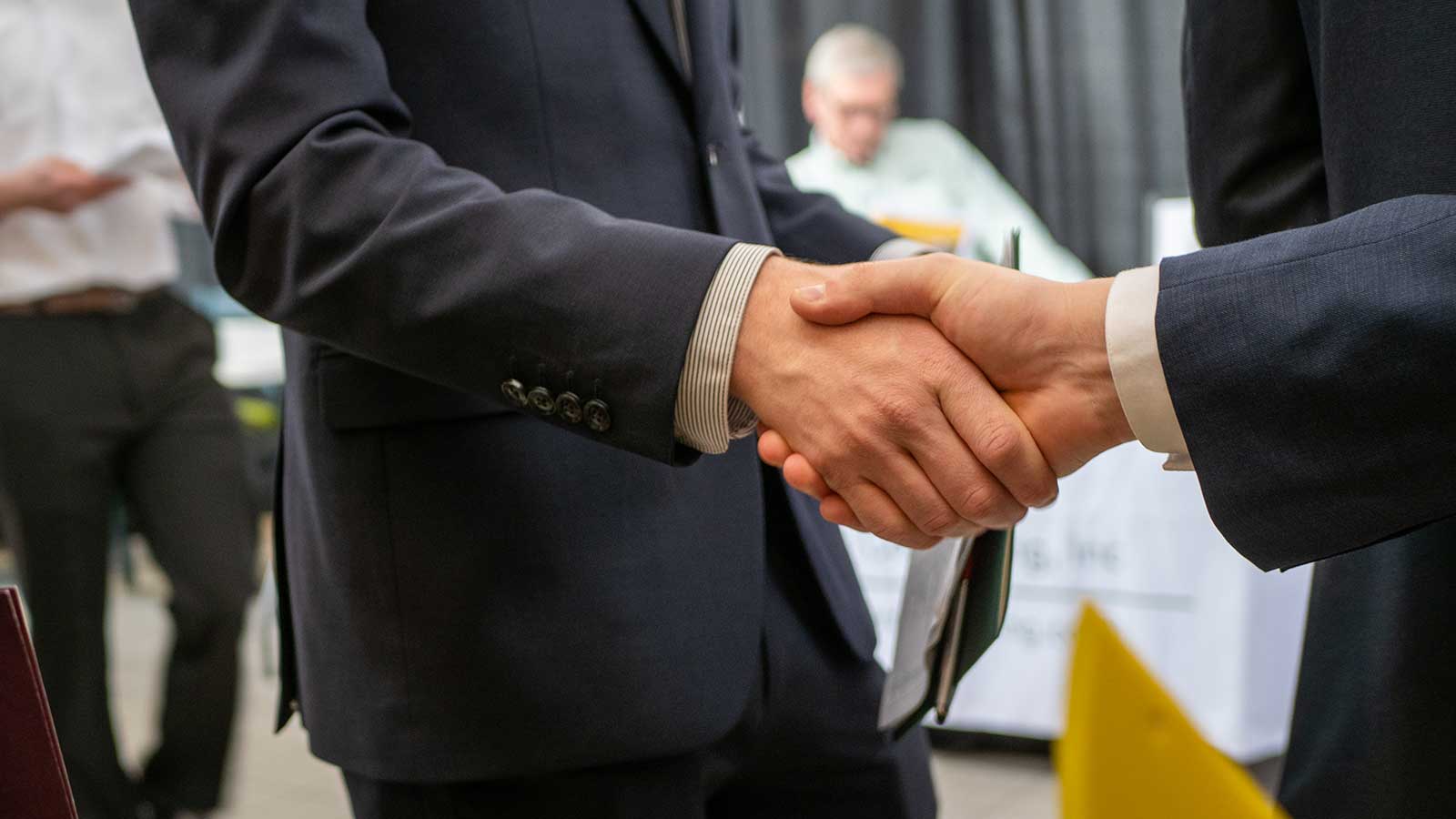 Career Preparation at Clarkson
96%
Undergraduate students who complete an internship,
co-op or research-focused professional experience.
One in five Clarkson alums is a CEO, senior executive or owner of a company. When we talk about the connections you can make with our 42,000-deep alumni network, you'll often have a chance to go high up the ladder. Here, you'll learn to think on your feet and see connections others don't — qualities that make for effective leaders.
Kick the tires of 200 companies at a Career Fair. For many students, our award-winning Career Center is the gateway to a life-changing internship or job offer. We've forged partnerships with industry leaders, fast-growing startups and nonprofit organizations, many of which attend our twice-yearly Career Fairs.
55 & 28
Clarkson has 55 partner universities in 28 countries
42
The percentage that a Clarkson degree will increase your earnings, on average, according to the Brookings Institution.
I have had two internships the past two summers with GE Aviation in Boston, where I have now accepted a full-time offer. I also currently do research in the ASTRO Lab under Dr. Bazzocchi, where I am designing a CubeSat capable of growing spinach autonomously in a deep space environment.
Taylor Converse '23, BS in Aerospace Engineering
Internships and Co-ops
Most Clarkson students land an internship or paid, full-time co-op during their time here — and, often, do more than one. You'll be doing real work in these positions — not just gaining on-the-job skills but lending your own insights as you complete meaningful projects.
Clarkson doesn't just prepare you for professional work after you graduate: we make sure you get real-world experience while you're here. All majors require a Professional Experience, such as an internship or paid co-op, as part of your studies.
Clarkson has forged partnerships with organizations across a wide range of industries — including powerhouses like Amazon, Lockheed Martin and the Walt Disney Company. Turn to our Career Center for help locating opportunities and building your interview skills and résumé. Your biggest problem may be narrowing your list: our twice-a-year Career Fairs bring about 200 employers to campus.
Handshake is an online service that connects college students with opportunities at 750,000 companies. Every Clarkson student gets access to the service, which you'll use to build a profile and résumé that employers can view. You'll also turn to Handshake to search and apply for internships, co-ops and full-time positions.
Global and Immersion Experiences
Spending time in another country gives you a perspective you can't get from watching a video or reading a book. We understand this benefit and extend a number of immersive experiences to our students, whether you drive across the border as part of our Canadian Studies classes or spend a full semester (or academic year) overseas. Partnerships with 55 universities in 28 countries on five continents expand the types of opportunities available.
Get direction from the International Center to pursue research projects during the school year or in the summer. Find opportunities for undergraduate and graduate students.
For students in many of our business classes, the end of the spring semester marks the start of a new learning experience. Three-week immersion trips to places including Thailand, Switzerland, Argentina and Chile expose you to business and culture in a new environment and are enriched by the perspectives of the experienced faculty accompanying you.
Clarkson graduates put their knowledge to work solving some of the world's biggest challenges. See the difference your dedication can make on service learning trips sponsored by classes and student groups, such as Engineers for International Sustainability, Doctors Without Borders, Students Without Borders, Environmental Citizenship in the Dominican Republic and Eco Challenge in the Dominican Republic.
Research
At Clarkson, today's research builds tomorrow's solutions. You'll learn how to take those giant steps while working alongside our world-class faculty in the lab, getting experiences possible only at a small, technologically driven institution like ours. As an undergraduate, you'll build proficiency in gathering and analyzing data and learning to solve problems, while graduates funnel those skills into original research poised to make an immediate impact.
All students have the opportunity to participate in projects sponsored by leading industry players — 380 partners in all — as well as federal agencies such as the National Science Foundation (NSF), National Institutes of Health (NIH), Department of Defense (DoD) and Department of Energy (DoE).
360-Degree Support
When it comes to landing prime opportunities, grades matter. Find services such as small group tutoring, writing assistance, test prep and academic advising at our Student Success Center and Writing Center.
From there, turn to Clarkson's Career Center, where consultants will help you focus both on the big picture as you plan your career trajectory, as well as on the details, like how to write a résumé, build a network, prepare for interviews and learn how to dress professionally.
Reach Your Goals
Clarkson's Career Center is dedicated to helping you reach your career goals. Schedule a meeting today to discuss opportunities related to your major and plan your next move.