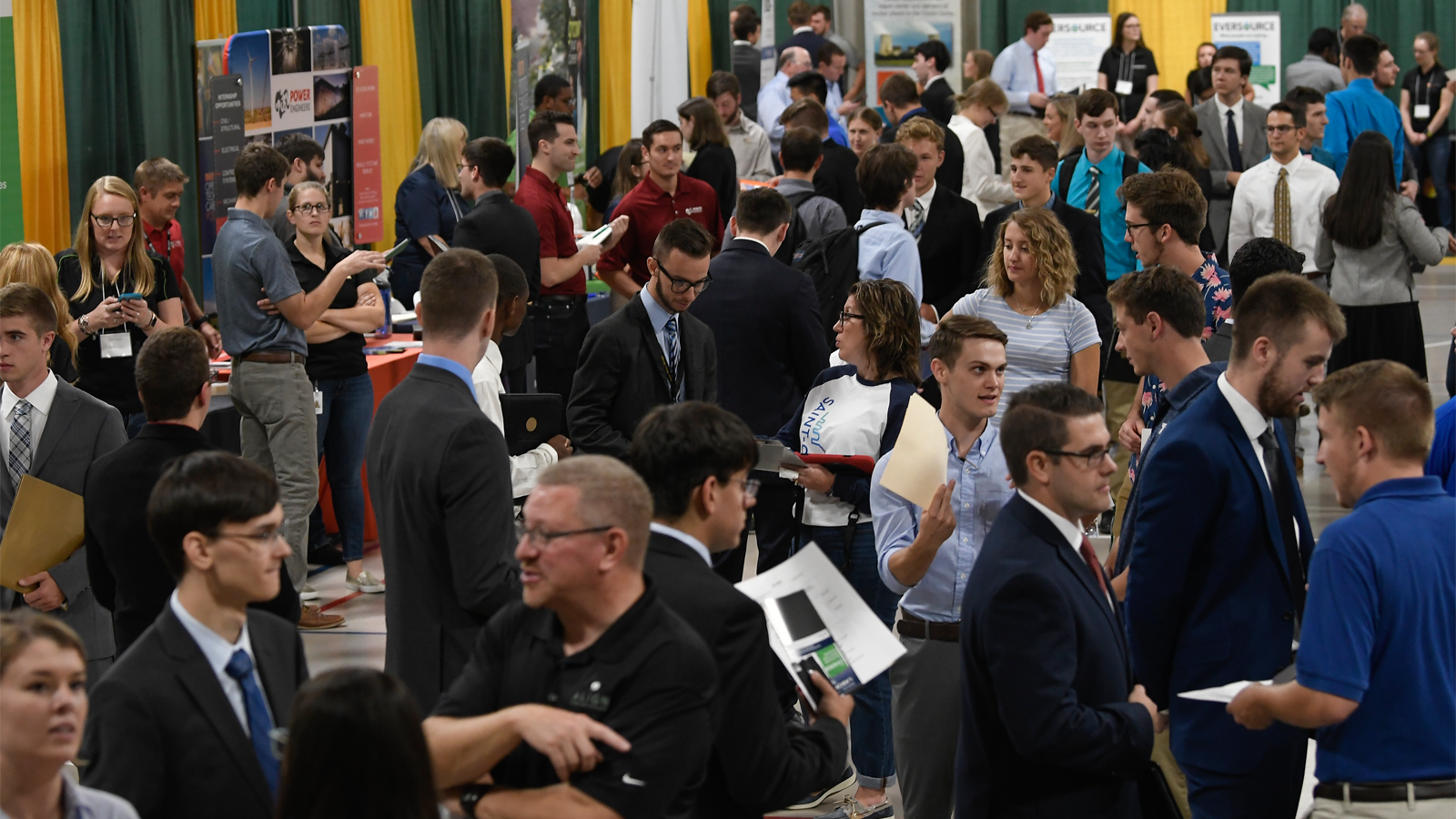 Hire Future Top Talent Leaders at Clarkson University
The Clarkson Career Center will partner with your organization to hire the next generation of leaders and problem solvers. We will assist you with all of your company career related needs and more. From on campus recruitment and educational career workshops to connecting with departments and student organizations, our team is happy to support and partner with you. For more information, contact the Career Center at 315-268-6477 or at career@clarkson.edu.
Career Center Services for Employers
Advertising & Recruitment opportunities on Handshake
Class Profile Information & Salary Data
Corporate Branding on Social Media
Exposure to students through targeted, quick and easy programming: Discovery Sessions, Lunch and Learns, Student Group Presentations, Workshops, Panels, etc.
Networking Events, Career Fairs, Mock Interview Days, Etiquette Dinners, etc.
Corporate Field Trips, Sponsored Research, Student Projects, and Competitions
On campus and virtual targeted recruitment for Co-Ops, Internships, Micro-Internships, Part-time & Full-time Employment Opportunities
Educational Partners: Mentors, Day in the Life Series, Employer in Residence
Connections to Faculty, Staff, and Departments
Career Center HireAKnight Partner Program (Learn more about the program here or sign up to be a partner here)
Co-Branded Badges for New-Hire Readiness
Continuing Education, Degree Completion, and Training
Summer and Winter Break Programs for unique and targeted populations
Post your internships, co-ops, entry-level and experienced positions on Handshake.
Share more about your company's history, impact, and culture as well as the work you do and the opportunities you are seeking through a Discover Session.
Email career@clarkson.edu to work with our team to help you learn more about our students, recruit talent and become engaged as a lifelong partner!
NACE Career Readiness Competencies
It is our commitment to our students and our corporate partners to support our Golden Knights career journey through best practices and career education. It is with these elements that our students will be prepared for their unique career journey after Clarkson. We encourage all of our corporate partners to be a part of this education of our future leaders. Through our tailored holistic career programs, our students will be prepared to enter into the workforce with the following eight career readiness competencies as defined by the National Association of Colleges and Employers (NACE).
Problem solving and critical thinking
Written and verbal communication
Leadership
Digital technology
Career management
Teamwork and collaboration
Professionalism and work ethic
Global and intercultural fluency
Looking To Attend A Career Fair?