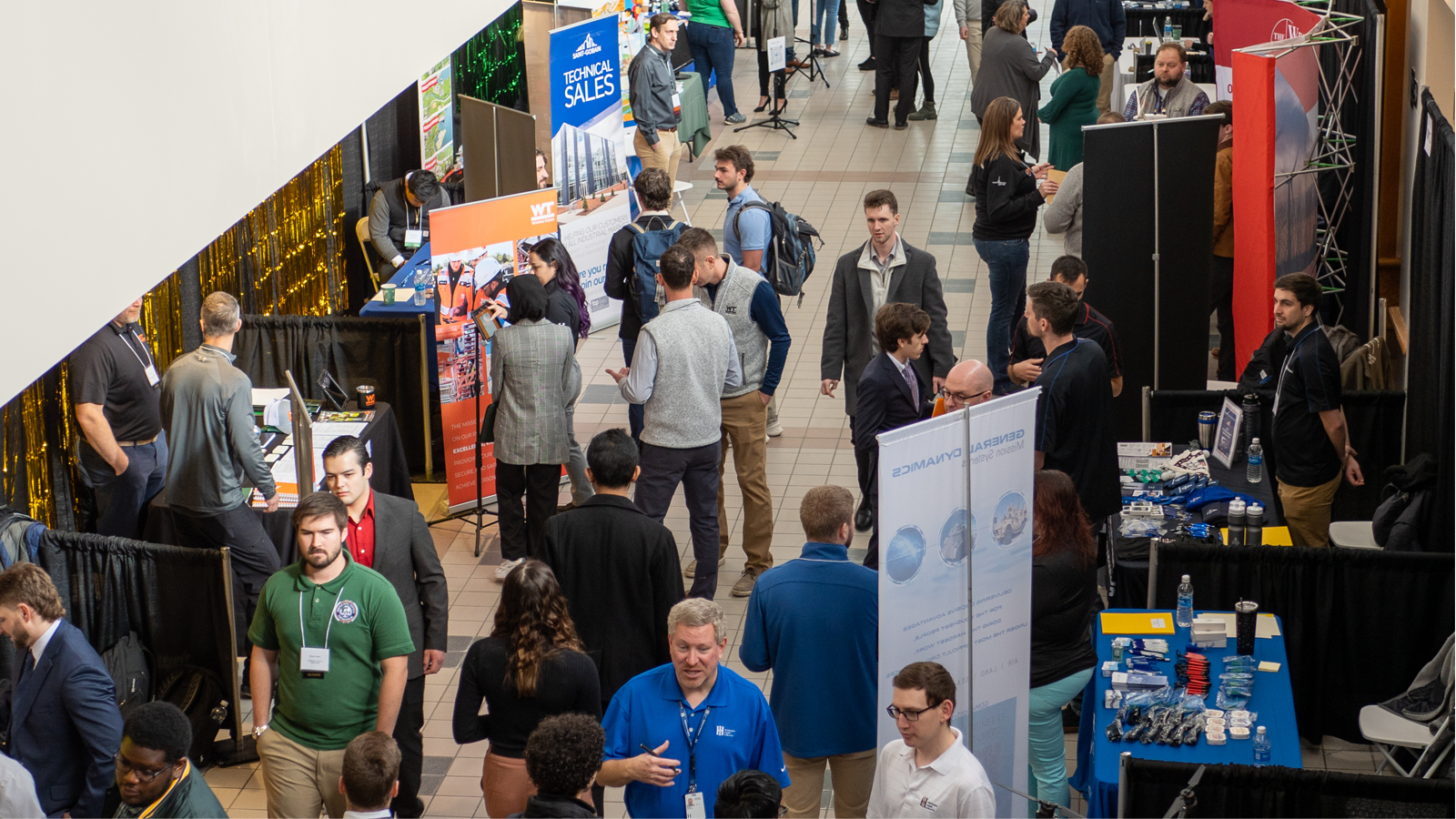 Welcome!
The Career Center provides comprehensive career preparation, enabling students to take charge of their futures to find creative solutions to the world's problems. Your experiences at Clarkson and beyond offer many opportunities to develop and enhance the eight essential Career Readiness Competencies, through participation in classroom learning, internships, co-ops, research, on-campus involvement, work experience, or other on- or off-campus endeavors. Our team can support you with exploring career paths, crafting professional documents, connecting with employers, developing networks, perfecting interviewing skills, and learning the necessary skills needed to prepare you for a lifetime of success!
To arrange a time to discuss your specific needs, please visit the Career Center on the second floor of the Educational Resources Center (ERC) or call 315-268-6477.
Start your career journey on Handshake!
Handshake is the main career development resource we use at Clarkson and in the Career Center. It is used for a variety of purposes such as finding career resources, company info sessions and job opportunities, as well as where to book an appointment with one of our career advisors. 
Please visit your Handshake account to check out the various resources available to you as you head out on your career journey! For help with getting started with your Handshake account, check out these steps to complete your profile. 
The Clarkson Difference
From the first day you step on campus, Clarkson supports students with hands on opportunities. Real-world experience is at the heart of a Clarkson education. All students are required to have at least one form of Professional Experience prior to Graduation (though many of our talented students have more than one!). The most common ways to fulfill this requirement is through the following activities (though not limited to these):
Internships
Co-Ops
Research Opportunities
Study Abroad
On Campus Employment Opportunities 
Co-ops & Internships
Real-world experience is at the heart of a Clarkson education. In fact, Clarkson University students are required to complete a professional experience before they graduate. The Career Center has the resources to help you find an internship (semester or summer) or co-op that fits your interests and career goals.
A co-op, short for "cooperative education," is a paid position with a company for a full academic semester and often the summer. Students on co-op do not usually take classes during their time away from campus. Co-ops offer several advantages over internships. Since co-ops are longer than most internships, you can take on greater responsibilities and get a better real-world feel for the job. Many companies use co-ops as a six-month "interview" for a full-time position after graduation.
An internship is another great way to get an inside look at a future career. It is a summer-only position that usually lasts between eight and 12 weeks. Responsibilities vary greatly with each company, but you'll leave with real-world experience and a solid reference on your resume.
Research Experience for Undergraduates also known as REU, allows Clarkson students to conduct research alongside our talented faculty or through other academic institutions. Students work alongside faculty in labs to investigate and gain hands-on skills that serve as the foundation of scientific research.
Gain real world experience and immerse yourself in a culture at the same time by studying abroad with an international experience. With a plethora of opportunities and programs to explore, create an experience unlike any other.
Working on campus can help develop vital skills and a strong work ethic to prepare you for your career journey. No matter what or where the opportunity is, transferable skills are highly sought after by employers.
Career Outcomes
Students talk about how beneficial the career center is for future opportunities.
Parents
Welcome to the Clarkson Career Center! We understand that you will have many questions surrounding your student's career journey.  We at the Career Center take an active approach through various touch points to assist students in obtaining their career-related goals and helping to educate them to have successful careers after their time at Clarkson.
The entire career process, from determining an academic major to managing a job search, is often an overwhelming process for students and parents. Therefore, we encourage you support and engage with your student throughout this process. We offer a plethora of online resources that are available to your student 24/7 as well as access to career coaches throughout their time at Clarkson. We look forward to sharing in your students career journey.
Below are two guides that provide information for parents and students. If you have any questions, please do not hesitate to contact our office at 315-268-6477. We look forward to working with your Clarkson University student!
Career Center Information
As a student service, the Career Center bridges student and employer connections through job postings on Handshake, Career Fairs and campus interviewing. Over 2000 students last year used our resources!
During the academic year, we have 150+ Career Fair attendees each Spring, 180+ Career Fair Attendees every fall! The Career Center encourages students to connect as early as possible to begin setting yourself up for success. We offer pre-first year programs and early support because early experience leads to long-term success. 
Our data shows a professional hands on experience such as internships, co-ops and research, positively impact placement rates and average starting salaries. We look forward to guiding and supporting you on your career journey!