Earl R. and Barbara D. Lewis School of Health Sciences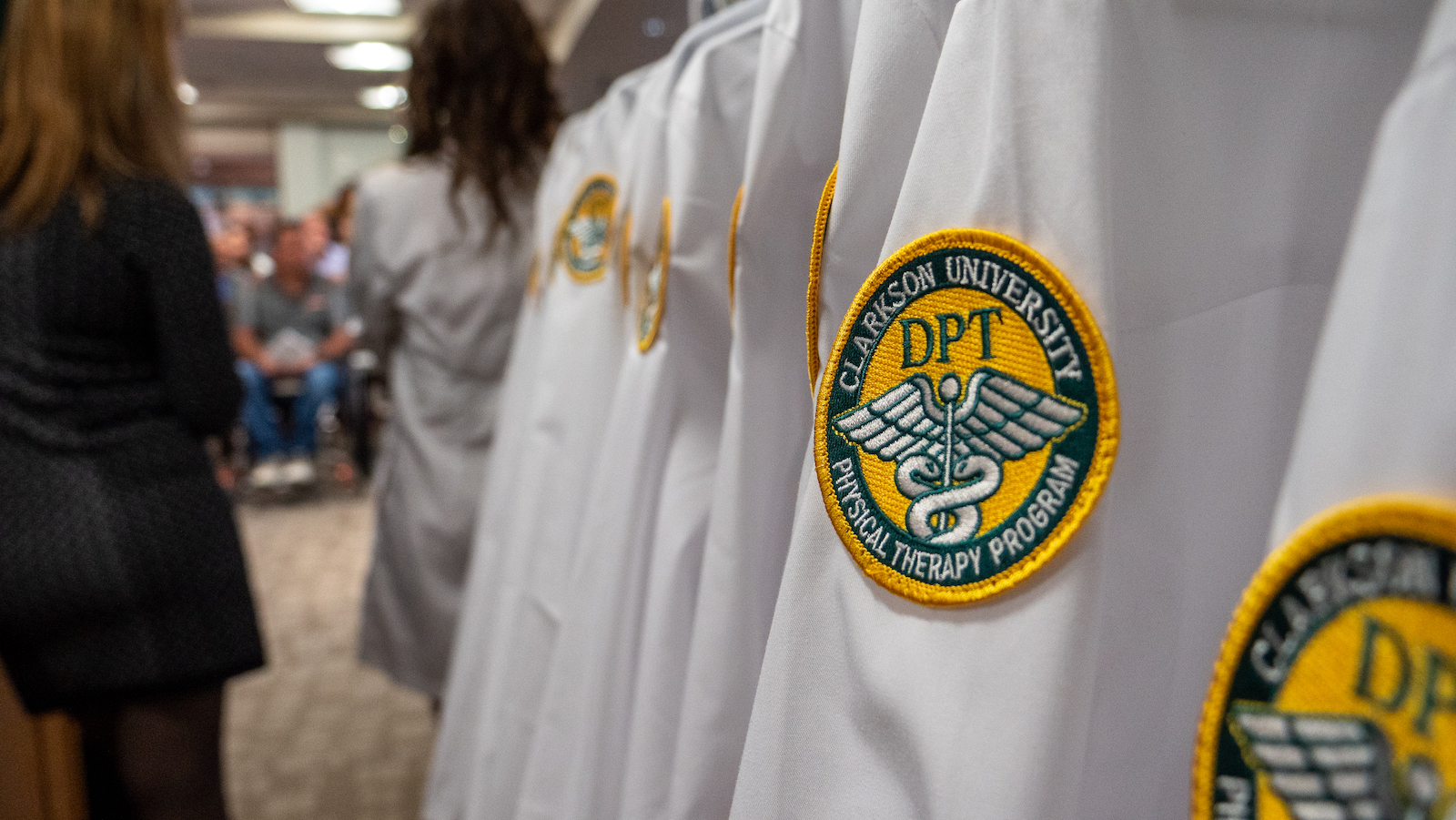 Graduate Programs
We train you to see each patient as an individual while improving care delivery. For our clinical programs, that means you'll go beyond technical excellence and get extensive training in the field — even working outside the U.S.
When an accident or illness upends your life, occupational therapists help you re-engage with meaningful activities. You'll grow your skills in state-of-the-art simulation labs, fieldwork assignments and collaboration with engineering colleagues.
Led by faculty with decades of real-world experience, the DPT program centers around four full-time clinical experiences. Many of the patients you'll work with are coping with injuries suffered on the farm or in industrial settings — challenges common in rural medicine.
In some rural areas where physicians are in short supply, physician assistants may be primary healthcare providers. Clarkson's Master of Science in Physician Assistant Studies can prepare you for a career in this quick-growing field: demand for PAs is expected to increase 28 percent by 2031.
This primarily online program, jointly managed by Clarkson and the Icahn School of Medicine at Mount Sinai in New York City, provides a lens into thorny issues of justice and ethics in healthcare. Training focuses on the needs and concerns of rural communities.
Affiliated Graduate Programs
As the science behind healthcare grows ever more complex, so, too, do the leadership and management skills it takes to navigate this changing field. Prepare for tomorrow's challenges in these graduate programs, including several through the David D. Reh School of Business.
Undergraduate Programs
Direct your aspirations toward advanced studies in the health sciences, or accelerate your path to a Doctor of Physical Therapy, a Master of Science in Occupational Therapy, physician assistant studies or bioethics at Clarkson. Or, explore opportunities beyond patient care by delving into policy, data science, business and administration.
Already know that you want to become a physical therapist, occupational therapist (OT) or physician assistant? Apply to Clarkson as an undergraduate and gain guaranteed access to one of our graduate programs through the Direct Entry Healthcare Program.
Think about patient care on a broader scale by analyzing population health and care delivery trends or fueling new treatments and devices. This versatile undergraduate degree points you in this direction, equipping you with the knowledge and hands-on experiences for a clinical career or a career in business, data analytics, public health policy, research or bioethics, to name a handful of healthcare roles and specialties.
Undergraduate Pre-Health Sciences Programs
Dedicate yourself to a career in healthcare or medical research. To start on this path, choose a major in the sciences and work with a team of Clarkson faculty and staff to be sure you're ready for whatever's next. Tracks are available for medical, dental, veterinarian, chiropractic, optometry, pharmacy or public health, as well as Direct Entry into our Doctor of Physical Therapy, MS in Occupational Therapy and MS in Physician Assistant Studies programs.
Clarkson allowed me to take all the classes I needed to get into physical therapy school and properly prepared me for the rigor of graduate school. Clarkson also has a pre-physical therapy track. You are assigned a pre-physical therapy advisor that helps make sure you are meeting all the requirements for PT school and helps answer any questions about the application process. The Clarkson Physical Therapy program also holds a certain number of spots for Clarkson pre-physical therapy students who meet all of the requirements.
Gracie DeLaBruere
My time at Clarkson helped me better understand some of the unique challenges in healthcare that arise in rural communities, especially communities that experience weather extremes — for example, when you need to transfer a patient to a higher level of care but a blizzard rolls in and transport cannot be arranged. You need to be able to provide the care that the patient needs until the weather clears. You always need to have a Plan A, B and C and be able to adapt to the situation at hand.
Jeri Reed
The Clarkson University Master of Occupational Therapy program is accredited by the Accreditation Council for Occupational Therapy Education (ACOTE) of the American Occupational Therapy Association. See full details here.
The Clarkson University Doctor of Physical Therapy program is accredited by the Commission on Accreditation in Physical Therapy Education (CAPTE). See full details here.
The Clarkson University Master of Science in Physician Assistant Studies program is accredited by the Accreditation Review Commission on Education for the Physician Assistant (ARC-PA). See full details here.