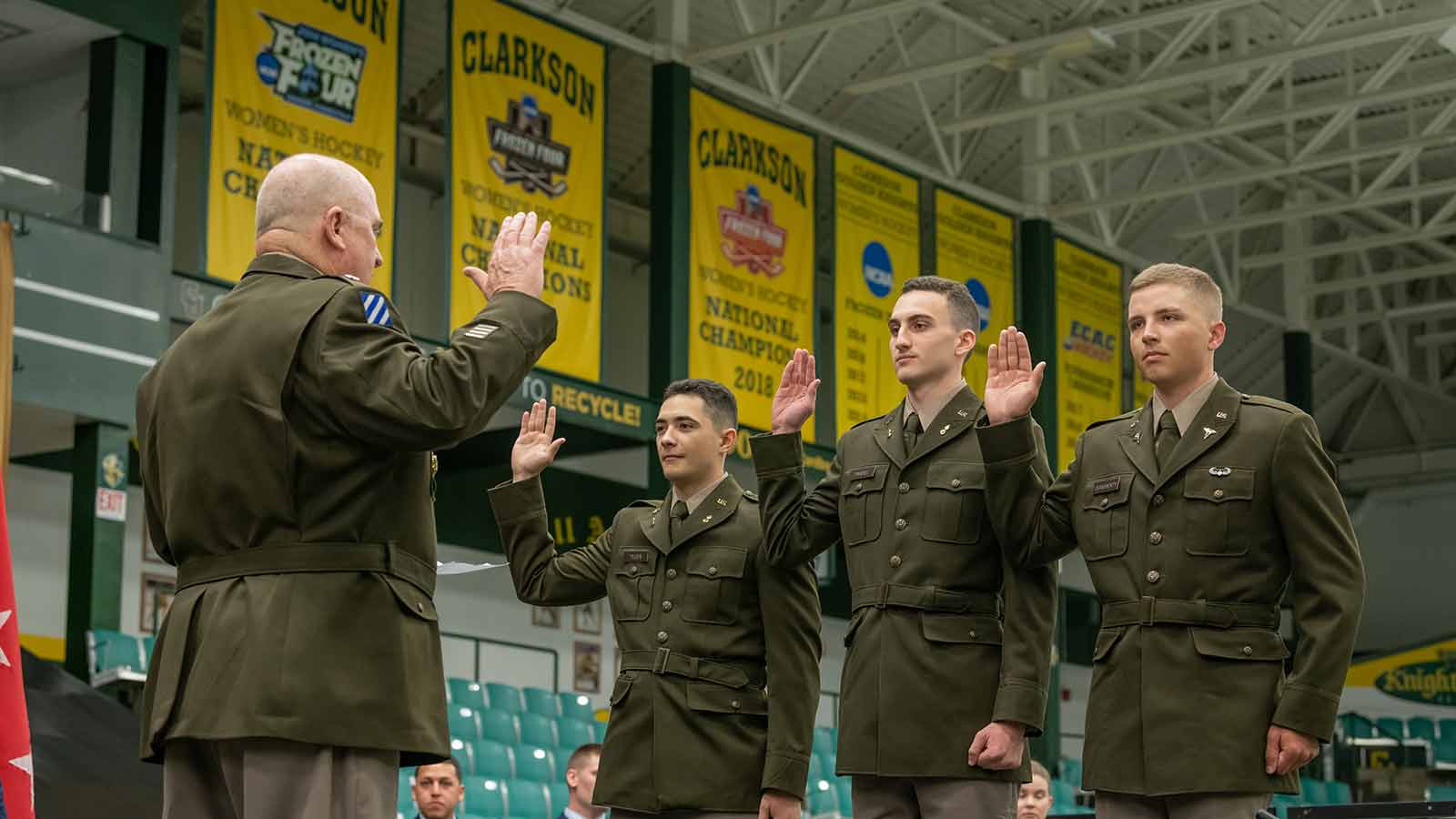 About ROTC at Clarkson
Our programs develop scholar-athlete-leaders ready to strategically take on new challenges. Training emphasizes academic preparation alongside demanding physical fitness. This approach produces professionals prepared to think fast in the field and on the job and rapidly apply what they just learned. Reflecting our approach, Washington Monthly's 2020 College Rankings listed our programs as fourth in the nation.
The Air Force ROTC program prepares you to become an Air Force or Space Force officer while earning your degree. Our specialized courses and hands-on leadership laboratories will hone the skills necessary to succeed as a leader and critical thinker through academics and professional development. The AFROTC program is more than just a series of classes — it's a challenge and a head start on success within the Department of the Air Force and in life.
Since 1936, Army ROTC at Clarkson has provided students with the opportunity to combine world-class leadership and management training with their other academic studies. The state-of-the-art curriculum, which consists of a series of classroom and hands-on leadership training experiences, gives students the necessary foundation to serve successfully in positions of responsibility in either America's Army or the corporate world.
Any Clarkson student can enroll in ROTC classes without joining an ROTC program. Individuals interested in enrolling in the program should reach out directly to either the Army or Air Force ROTC team.
Why Participate in ROTC at Clarkson?
Our ROTC programs mark your first step to becoming a commissioned officer in your service of choice. Throughout the decades, our students have gone on to lead, protect and serve our nation at local and national levels. Learn more about how Clarkson's programs guide you toward your goal.
One of the most common questions about ROTC is regarding the obligations. Here is what you should know:
There is no obligation if you are enrolled in ROTC until you sign a contract. If you aren't a scholarship winner, you may not be presented with a contract until your junior year.
Upon signing a contract, you will incur an eight-year obligation, just as you do any time you join the military.
You must agree to a contract to continue into your junior year, and once you sign the contract, you will be paid a monthly stipend. You can typically continue to serve past your obligation, should you choose.
You can fulfill your obligation in one of four ways, depending on whether you are a scholarship recipient and whether you initially serve on active duty or enter the Reserves or National Guard when you graduate.
Army ROTC
If you are a scholarship recipient, your obligation consists of:
Four years of active duty and four years in the Ready Reserves.
Or eight years in the Reserves/National Guard.
If you are not a scholarship recipient, your obligation consists of:
Three years of active duty and five years in the Ready Reserves.
Or six years in the Reserves/National Guard and two years in the Ready Reserves.
Learn more about your obligations as an Army ROTC student.
Air Force ROTC
All Cadets are obligated to complete:
Four years of active duty service.
And four years inactive in the Ready Reserves.
Learn more about your obligations as an Air Force ROTC student.
Join ROTC at Clarkson
Look ahead toward your future. Begin or continue your intensive preparation for a military career at Clarkson.