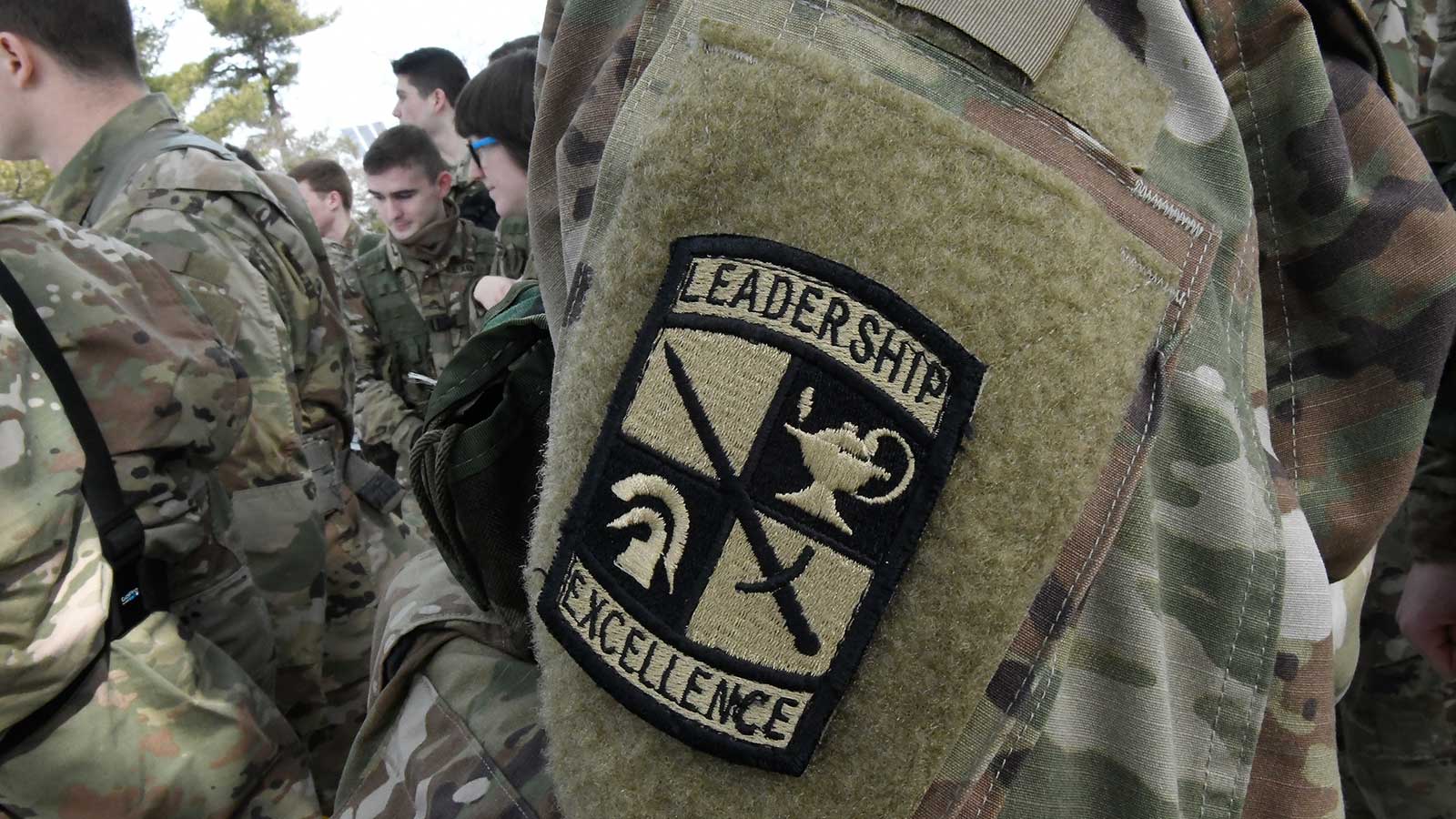 Why Choose Our Program
We were ranked in the Top 5 nationwide by Washington Monthly for the percentage of students that participate in ROTC over the past 5 years. Our battalion is relatively large for the size of our school. The small-school feel of Clarkson, along with the strong military presence on campus, makes it a comfortable and supportive place to train in becoming an Army leader.
In the North Country of New York, environmental training opportunities are abundant. The Adirondack Mountains are just minutes away with their trails and nature preserves. Also, Clarkson is located near Fort Drum, which allows close contact with one of the most deployed divisions in the Army, the 10th Mountain Division.
There are also outreach opportunities. Every year, we team up with campus clubs to send care packages to deployed soldiers who will spend their holidays overseas. Come be a part of something special with the Clarkson Army ROTC cadets.
Feel the Difference in Your Training. Be the Difference in Your Community.
Basic Course
Freshmen in the Golden Knight Battalion meet for class once a week. The freshman class focuses on basic life skills such as fitness maintenance, nutrition intake, time management and goal setting, and touches on basic military knowledge with subjects like rank structure, customs and courtesies and infantry squad composition. We emphasize beginning to adopt the Army values and Warrior Ethos, and start to explore the Army leadership model. Land navigation is covered extensively as well, while the foundations for this critical skill are developed. Interaction with upperclassmen and instructors allows you to learn about opportunities in today's active force, National Guard and Army Reserves.
Sophomores attend MS221 Innovative Team Leadership and MS222 Foundations of Tactical Leadership. Class meets twice a week, and you explore the dimensions of creative and innovative tactical leadership strategies and styles by examining team dynamics and two historical leadership theories that form the basis of the Army leadership model. You practice aspects of personal motivation and team building in the context of planning, executing, and assessing team exercises and participating in leadership labs. Focus is on continued development of the knowledge of leadership attributes and core leader competencies through an understanding of Army rank, structure, duties and basic aspects of land navigation and squad tactics.
Advanced Course
All cadets in the advanced course are contracted (getting paid) and are expected to attend all scheduled training.
Juniors attend MS331 Adaptive Team Leadership and MS332 Applied Team Leadership. These courses use increasingly intense situational leadership challenges to build your awareness and skills in leading small units. Skills in decision-making, persuasion and motivating team members under stress are explored, evaluated and developed. As a cadet, you are expected to apply basic principles of the Law of Land Warfare, Army training, and motivation to lead. The focus of your junior year is preparation for Warrior Forge.
Seniors in the Golden Knight Battalion are required to attend ROTC class once a week. The course provides instruction on administrative, training and logistical consideration to prepare you for your first unit of assignment. We use case studies, scenarios, and "What Now, Lieutenant?" exercises to preparing you to face the complex ethical and practical demands of leading as a commissioned officer in the U.S. Army. Along with the class, the battalion holds a lab most Thursdays during the semester for two hours. This is the time when all cadets are together, conducting collective training. The seniors plan and execute the training, the juniors hold most of the leadership positions and are evaluated during the lab, and the sophomores and freshmen watch and learn while developing the key skill of followership.
The Golden Knight Battalion Sets Itself Apart From Others
Ranked in the Top 5 in the nation by Washington Monthly in percentage of students that participate in ROTC each of the last 5 years. The GKB is a relatively large battalion at a small school. The small school feel of Clarkson along with the strong military presence on campus make it a comfortable and supportive place to train to become an Army Leader.
The opportunities to train in the local area are abundant. On the North side of the Adirondacks the land we can train on is almost limitless, and we can train right on campus. Whether it's rappelling off our rapell tower, practicing land navigation or conducting tactical training with paintball in the "ROTC woods", or learning to low crawl right on the Hamlin-Powers lawn we don't have to go far to do some Army Training.
Close proximity to Fort Drum allow us to have regular contact with the most deployed Division in the Army, the 10th Mountain Division. Staff rides that include battle briefs conducted by recently deployed units are indispensible training opportunities that allow our cadets to understand what they should expect upon graduation. Fort Drum also offers unique training opportunities like use of their simulator and engagement skills trainer facilities, and use of the obstacle course and rifle ranges.
The campus community supports our effort in just about every way. Campus organizations like the Clarkson Guard pitch in each holiday season to team up with the GKB to send care packages to deployed soldier and alumni. Our Dining Out and Cadet hockey games are held at SUNY Potsdam. Commissioning ceremonies are hosted on all four campuses. Faculty, Administration, Coaches, and fellow students all know who we are and what we are about. They all play a role in creating an environment where Cadets can thrive.
The history of ROTC and Clarkson is a rich one, originating in the 1930s with the founding of the ROTC and Clarkson guard.
Clarkson's ROTC History
Image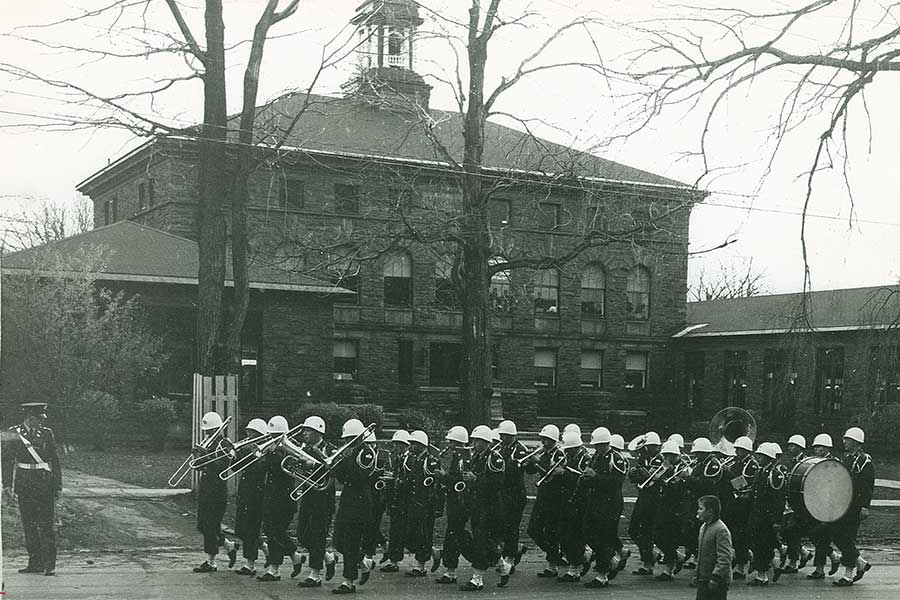 1930s
ROTC and Clarkson guard founded
1940s
WWII began, training program established and over 250 cadets enrolled
1950s
Signal Corps added to Corps of Engineers battalion
1970s
Colleges of St. Lawrence Valley established, pooling resources
1980s
Corps of Cadets becomes Golden Knight Battalion (GKB)
Today
Clarkson commissions officers and leaders into the armed forces