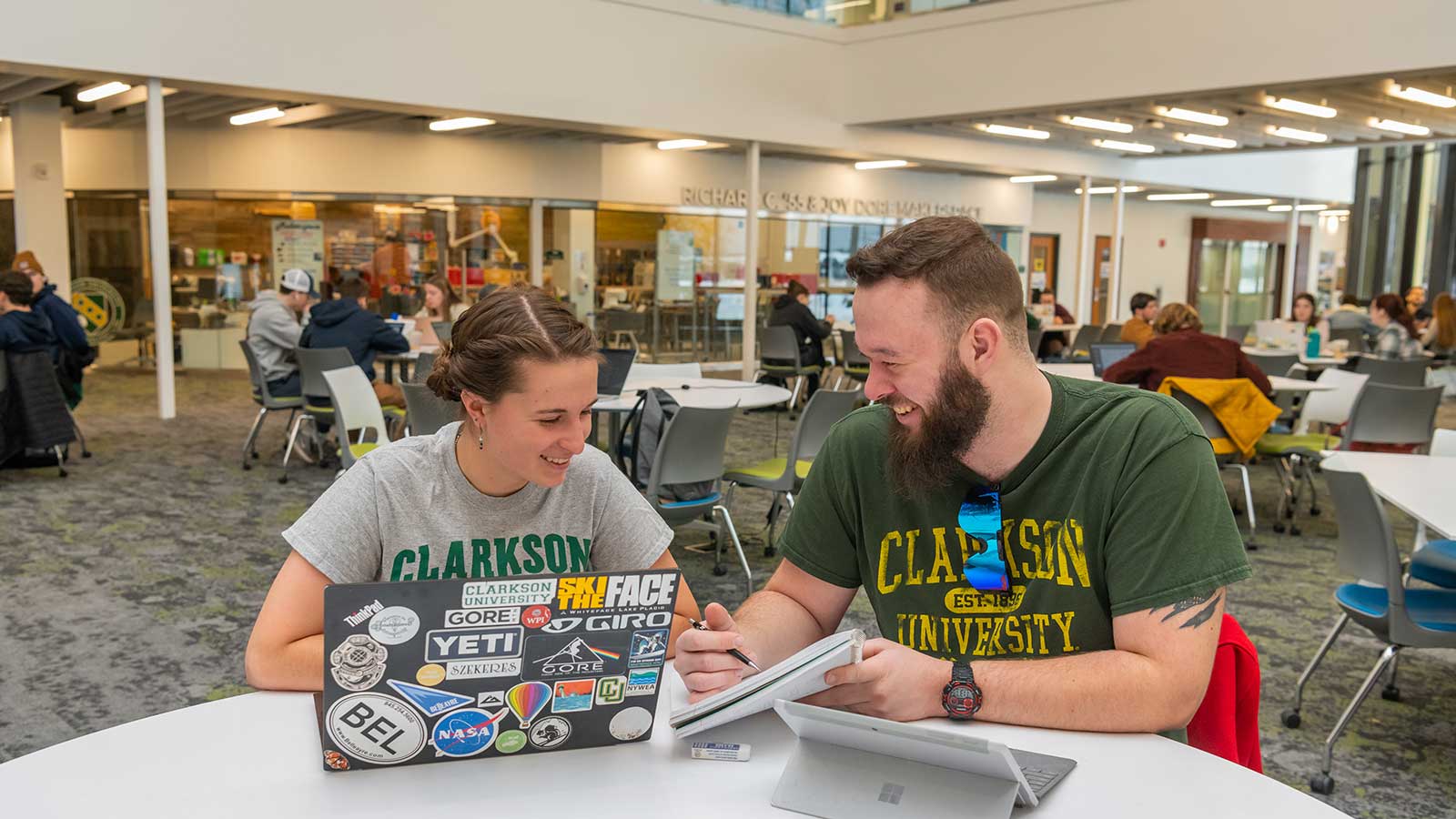 Academic Support
You're coming to Clarkson because you revel in a challenge — but even the best students can be caught off-balance by a difficult class or tricky problem set. We've seen time and again that the most successful students seek help sooner rather than later. That's why we make it easy for you to get a hand when you need it. This is a service available to all Clarkson students.
Tutoring Services
Get free small group tutoring through the Tutoring Program. In addition to small group tutoring, two drop-in centers are open up to five evenings a week, helping students address challenges and discuss concepts related to math, physics, chemistry and engineering. Our group sessions meet weekly and provide ongoing help.
Knowing how to write clearly and convincingly is a vital skill, no matter what career you choose. Turn here for help with everything from lab reports and essays to résumés and cover letters.
Study Skills
You'll draw on the habits you need to improve your study skills long after you graduate. Through our Student Success Center staff, you can receive a coach for help with topics like task and time management, academic goal setting, test preparation and test-taking strategies, textbook reading and taking notes.
Before grad school comes graduate entrance exams. Take advantage of Clarkson's services to prepare for the GRE, and learn more about taking the FE, GMAT, GRE, NYSTCE, TOEFL and other widely-used admissions, certification, licensure, and professional exams right on campus.
First-Year Services
The transition to college is an exciting time, full of opportunities for growth and self-development. However, you won't have to do it alone. Clarkson's First-Year Services have been designed to help you navigate this important step.
CU Connect
We put you in touch with administrators and staff members during your earliest days on campus, so you can get guidance and support when you need it the most. You'll connect several times throughout the first semester (and beyond, if you want).
Prepare to face and tackle a new challenge. Clarkson's First-Year Seminar introduces you to college readiness skills intended to support a successful transition to your first year and the following years of college and professional life. Part of this experience is having an assigned upper-class mentor who shows you how to navigate from a student's perspective.
University Skills Seminar (UNIV 100)
This seminar-style academic recovery course is designed as a positive intervention for first- and second-year students who demonstrated low academic performance and/or were academically separated in the previous semester at Clarkson University. The course is meant to facilitate a holistic approach to academic success and foster retention in participating students. Students use this course to identify their unique barriers that may impede their academic experience and develop an action plan to overcome these barriers. Students are also paired with a staff member, who serves as their academic recovery coach and works with them throughout the semester.
Career Development and Professional Communication (UNIV 102)
This course helps students build professional skills along with a foundation for exploring self-knowledge and careers. Activities include self-assessments, self-reflections, preparation of professional documents, interview practice and networking supported by workshops and in-class discussions.
Get a jump on your first year with short classes designed to build confidence in topics such as calculus, business, chemistry and computer science. For this early start, students move into their assigned residence hall room 10 days before the semester begins and, once enrolled in a subject area, take related boot camp-style refresher courses. When not in class, students can explore the campus and local community, participate in group activities, learn about life on campus and more.
First-Generation Student Resources
One in every four Clarkson students is first-generation — the first in their family to go to college. Join the F1RST CONNECTION Living-Learning Community to meet other first-gen students and find valuable resources to ease your path to college, as well as receive guidance to maximize your time at Clarkson.
SafetyNet
Anyone who has a concern about a student can submit a SafetyNet form. SafetyNet submissions often include concerns such as illness, routinely missing class, roommate conflicts, academic difficulties or abusing substances. SafetyNet is managed by the Dean of Students, who partners with caring employees to deploy University resources to support student well-being and success.
Lessons Well Lived
The Student Success Center changes lives. But, don't take it from us: hear it from our alums, who regularly join us for the Student Success Center Alumni Speaker Series. Draw inspiration from their own stories and network with Clarkson graduates in multiple career paths and fields.
Success Starts Here
Turn to the Student Success Center for help in the classroom and beyond. Contact us to learn more about our services.