Higher Education Opportunity Program (HEOP)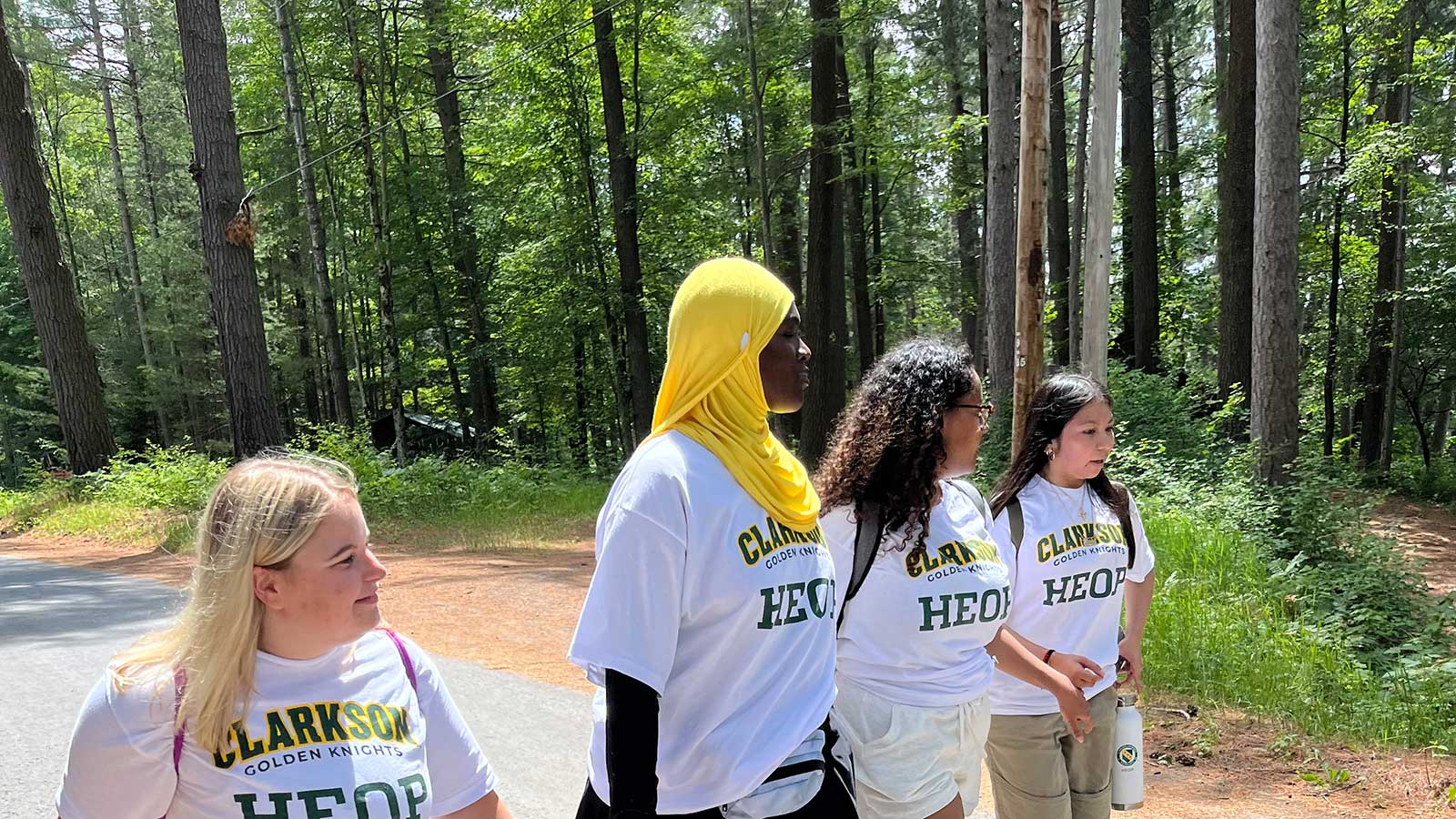 HEOP at Clarkson
Clarkson University, along with New York State and federal taxpayers, provide full-need financial aid packaging to invest in our HEOP students, as we know each one of them has the promise and potential to obtain a college degree.
HEOP at Clarkson is a very hands-on experience meant to holistically support HEOP students from the minute they officially choose Clarkson as their home for the next few years. While at Clarkson, each HEOP student receives hands-on academic advising, career and graduate school counseling, and personal and social support to ensure that they are on track to succeed. Through consistent one-on-one attention, HEOP staff members are able to identify and connect HEOP students with appropriate, campus-wide resources.
Clarkson University HEOP has graduated over 400 students since its creation in 1994; this vast alumni network is only the beginning, as our family funds 57 students for annual class enrollment. These students are supported by a very genuine, passionate, and experienced group of HEOP staff members to guide them through their college experience.
The HEOP Summer Bridge Program
The Summer Pre-Freshman Experience (SPREE) is the no-cost, mandatory four-week summer bridge program that assists students with the transition to postsecondary education on our residential campus; tuition, housing, and meals are all covered by the university.
During SPREE, students earn credits in STEM and business that count towards their Clarkson degree; a fantastic opportunity to get ahead before the scholars even begin their freshman year of college.
SPREE also offers students the opportunity to bond with their incoming class, understand campus resources, and participate in team-building activities in the surrounding area.
We bring an average of 12 students into the program each year, and are thrilled to prepare them for the academic rigor and personal development that Clarkson has to offer.
Applying to HEOP
HEOP Eligibility Requirements:
To be eligible for HEOP, you must:
Be a New York State resident for at least one year prior to enrolling into HEOP.
Be a New York State high school graduate or possess a state-approved equivalency diploma or its equivalent.
Meet HEOP financial and academic guidelines, as established by New York State and the Clarkson University HEOP Office.
Demonstrate high potential and motivation for attaining a college education.
Transfer Students:
Please contact the HEOP Admissions Counselor to indicate your interest in becoming a member of HEOP at Clarkson. Transfer students are only eligible for HEOP at Clarkson University if they have been enrolled in the following NYS opportunity programs: HEOP, EOP, SEEK.
Application Process:
Complete the Clarkson University Application or the Common Application by January 15th. Make sure to select "HEOP" on the Clarkson University Supplement.
Complete the Free Application for Federal Student Aid (FAFSA) by January 15th:
Clarkson code is 002699.
If deemed academically eligible, you will be asked to provide documentation to prove financial eligibility. Please provide these within two weeks of the date you receive the email in order to be further considered for the program. If you have any trouble at all providing these documents, please contact the HEOP Admissions Counselor.
Important Notes:
Even if you are not sure about whether you qualify or not, it does not hurt to apply - if we find that you are not academically and financially eligible, you may be considered by Regular Admissions.
There is no Early Decision option for HEOP. Applicants should be aware that admission to this program is competitive, and that only a limited number of spaces are available each year.
Check your email very frequently to see if there are any updates to your Clarkson HEOP application.