History
Clarkson University's Beacon Institute for Rivers and Estuaries is a multidisciplinary resource for collaboration, academic programs, public education and scientific research, helping to advance science, motivate environmental literacy and inform long-term public policy.
In January 2000, former Governor George Pataki announced his idea to establish a one-of-a-kind research and education institute on the banks of the Hudson River, dedicated to the study of rivers and estuaries worldwide. He established a commission of more than sixty experts and practitioners, including both regional and national leaders in science and education, plus representation from five state agencies, to develop a detailed strategic plan for the Institute. 
Image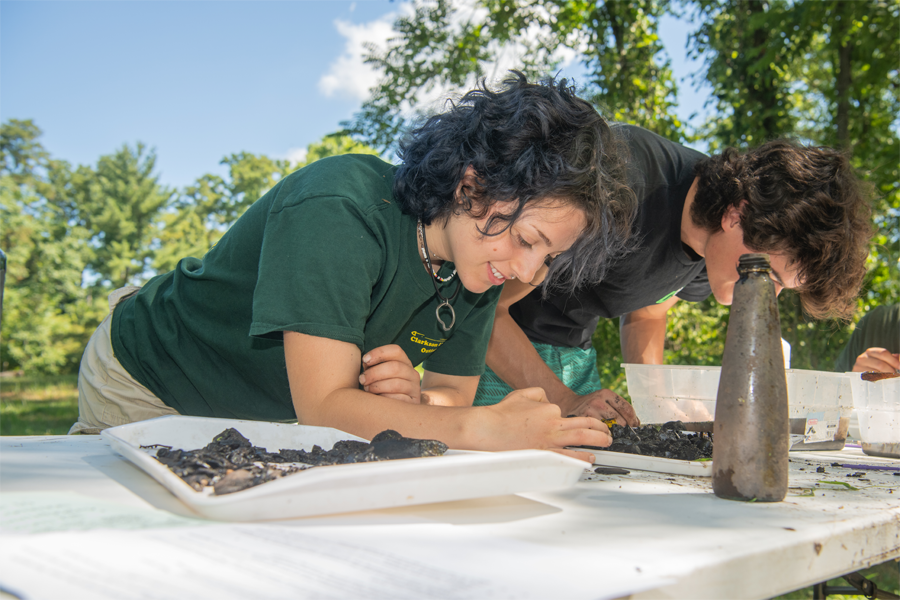 Following the release of the strategic plan in 2001, the Institute solicited site nominations from Hudson Valley municipalities, as well as interested private individuals and organizations. An intensive review process of an initial list of over twenty proposed sites led to the 2003 announcement that Beacon, New York would become home to the Institute's headquarters.
Dennings Point is a 64-acre peninsula jutting into the Hudson River and part of the Hudson Highlands State Park of the NYS Office of Parks, Recreation and Historic Preservation (OPRHP). Since 2003, OPRHP and the Beacon Institute have maintained a unique and valuable partnership on Dennings Point.
In 2006, Beacon Institute for Rivers and Estuaries (formerly known as the Rivers and Estuaries Center) adopted its present name, affirming its commitment to Beacon and the surrounding region.
In 2007, on Dennings Point, OPRHP and Beacon Institute completed the first step towards creating an educational campus on Dennings Point, renovating a remnant of the former Dennings Point Brickworks into a 4,000 square foot multipurpose educational facility that:
Image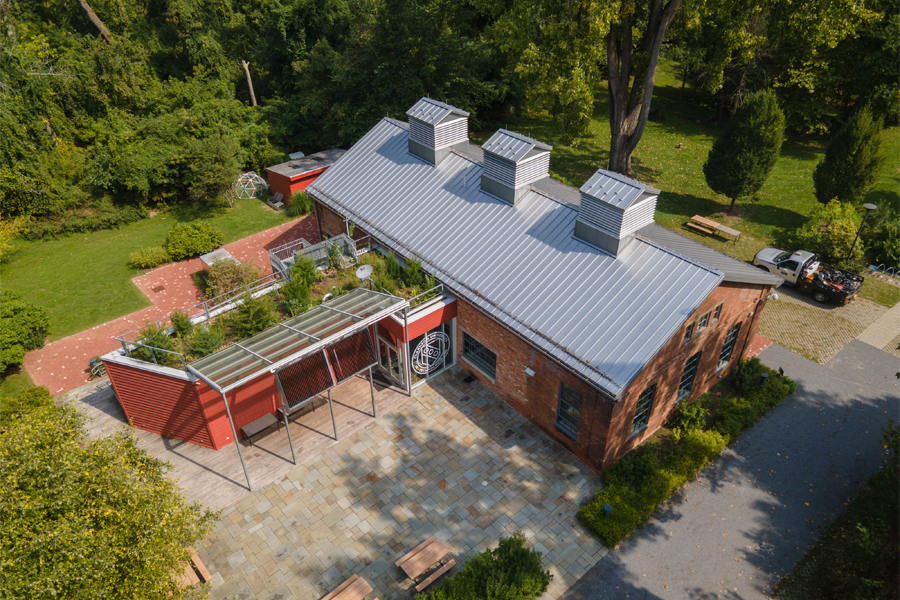 Was awarded a LEED Gold certification for its high level of sustainability
Offers wide-ranging environmental education and programming for all ages
Hosts conferences and panels on germane environmental issues
Supports investigative environmental research
Acts as an interpretive visitors' center for the park
In 2011, Beacon Institute became part of Clarkson University. 
Present and Future
Presently, the New York Power Authority is collaborating with OPRHP and Beacon Institute to fund an additional group of unique and exciting projects at Dennings Point. Entitled the Energy-Efficient Park Project - A New York Power Authority Energy & Environmental Sustainability Project, these projects will improve public access, provide educational/demonstrative opportunities and enrich existing natural resources. 
Completed portions of this multi-project effort include:
Dennings Point Road Bridge - Rehabilitated the bridge to ensure essential access to Dennings Point, making the bridge functional and safe for park visitors, service vehicles and emergency responders. 
Shoreland Trail Improvements - Redesigned and improved the shoreline trial on the western (Hudson River) side of Dennings Point, making it fully accessible to all users and to users with physical disabilities. 
Portions currently underway:
Solar Array, Parking Garage and Public Pavilion - This OPRHP project transforms an abandoned 40,000 square foot former paperclip factory into a multiuse public asset. The building's principal components will be repurposed in simple, innovative, cost-effective and sustainable ways. Presently fully designed and ready for bidding, construction on this project will begin in the summer of 2019.
A Second Beacon Institute for Rivers and Estuaries Educational and Research Facility -
Image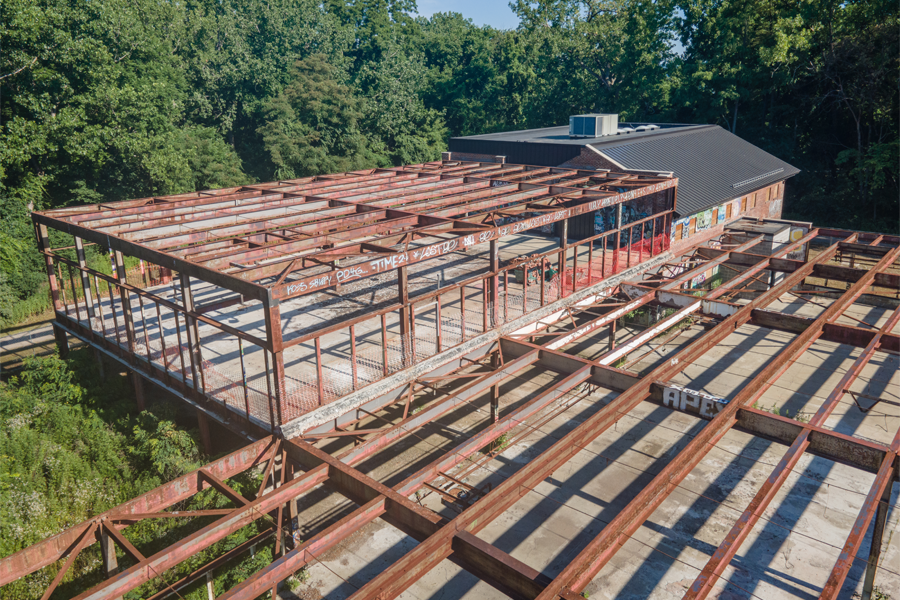 OPRHP's Solar Parking project leaves untouched a significant two-story steel, concrete and brick building which comprises the paperclip factory's entire western side. At full build-out, this facility will transform this into modern classrooms, meeting and administrative space, a field station for water-related research and a welcome center with interpretive exhibits for park visitors - all overlooking the park and the Hudson River. Achieving an operational campus, Beacon Institute will provide expanded environmental and educational programming for all ages; K-12, STEM and undergraduate and graduate education, in addition to robust public programming. 
Water Ecology Center (WEC)
Clarkson University's Water Ecology Center (WEC) is located in Dennings Point State Park, in the heart of the City of Beacon's active Hudson River waterfront. A part of Hudson Highlands State Park, Dennings Point boasts accessible walking and biking paths, and rich cultural and archaeological history. It is located just south of Long Dock Park, the Dia:Beacon museum and the Metro-North train station.
Image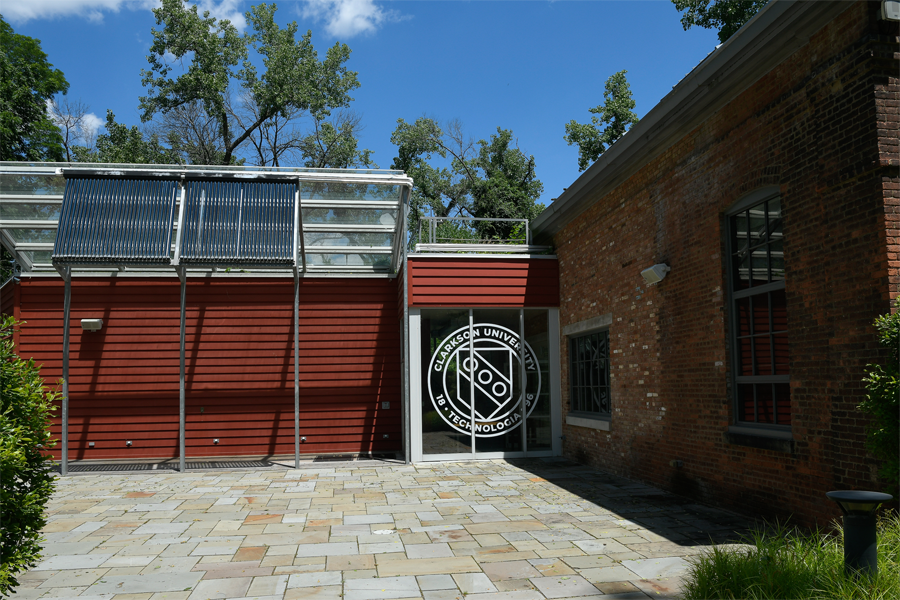 Our facility opened in December 2008 and hosts University graduate programs, public nature programs, summer science activities, policy workshops and conferences.
The WEC is also a Public Visitor's Center for Dennings Point State Park, and is located near the entrance to the Dennings Point State Park's public walking trail.
Public programming at the Water Ecology Center includes Live Animal Programs, Walk & Talks and Special Events. Many events at WEC require advance registration. Events held at WEC involve a 10 minute walk into the park from the Dennings Ave parking area or the Metro-North train station. Please wear comfortable footwear and be sure to allow additional time to enjoy the walk.
A model of green design by Gensler Architects, the WEC was awarded LEED® Gold certification in 2013. The building itself, as well as the surrounding park campus area, represent an adaptive restoration of an abandoned late 19th century industrial building and site that manifests Clarkson's and Beacon Institute's commitment to energy-efficient systems, sustainability and green technologies. 
Both the adaptive reuse of the handsome older brick portion, and the new attached annex were handled with great sensitivity. The annex is designed with a contemporary lightness, with large glass areas for viewing the surrounding river and forest vistas. The design is respectful: it honors the building's industrial past, while emphasizing the Institute's contemporary mission.
The WEC's flexible spaces can be reconfigured for multiple uses, including seminars, workshops, exhibits, public forums and cultural and social events.
Denning's Point | Hudson Highlands State Park History
Dennings Point in Beacon was home to the dwellings of pre-historic American Indians six thousand years ago. Henry Hudson's crew sailed to it in 1609, and George Washington also landed there in the Revolutionary War. It is believed that Alexander Hamilton penned letters from Dennings Point that formed the basis for his influential Federalist papers.
From 1881 - 1939, Dennings Point was home to the Dennings Point Brick Works, a factory which produced as many as a million bricks a week to help build New York City and elsewhere. The 4,000 square foot brick portion of CEIE had originally been part of the brick works, and the 'DPBW' logo can be found on the brick path surrounding the building.
In 1988, New York State acquired Dennings Point to expand the Hudson Highlands State Park system. Hudson Highlands State Park is a series of separate parcels of land totaling nearly 6,000 acres, that stretches north from Annsville Creek in Peekskill to Dennings Point in Beacon. The combined beauty of the Hudson Highlands and the Hudson River provides a spectacular backdrop that serves as a continuous source for creativity and recreation.
The park's extensive hiking trail network includes terrain that varies from easy to challenging. Trail maps can be obtained at the Clarence Fahnestock Memorial State Park office. The park's most well known trail — Breakneck Ridge — was rated by Newsweek as one of the top 10 day hikes in America. The 5.5 mile Breakneck Ridge trail rises 1,250 feet in only a 3/4 mile stretch.
Please note that camping and use of fire are prohibited throughout the park.