Beatrice G. Donofrio Complex
Construction has begun on the new Beatrice G. Donofrio Environmental Education Complex at Clarkson's Beacon Institute for Rivers and Estuaries on Dennings Point in Beacon, NY.
The brand new world-class education and research facility is made possible through the support of the Donofrio family in memory of their mother, Beatrice G. Donofrio. The new complex will empower academic innovation, research, enhance partnerships, and include all stages of the K-12 experience to educate and inspire the next generation of STEM professionals. The goal of the project is to ensure that all learners, regardless of resources or financial capacity, have access to and the ability to embrace the natural environment as a learning classroom. 
The new structure, expected to take two years to complete, will house innovative citizen science laboratories where the public will experience Clarkson's healthy water initiatives firsthand. It will also serve as headquarters for scientific research on the Hudson River while providing a collaborative space for environmental conferences and professional education.
Image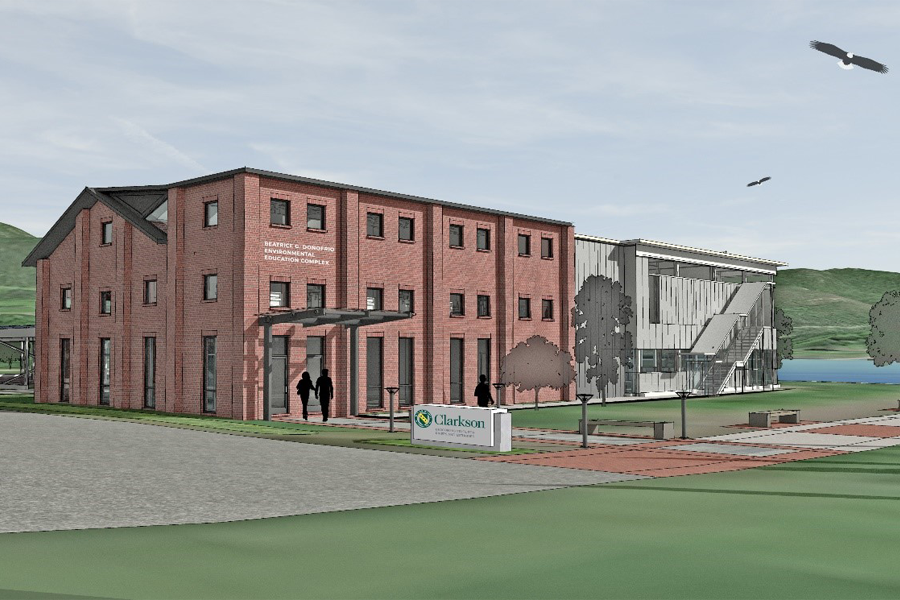 FAQs
No. This is an adaptive reuse project, restoring and repurposing historic brick and steel structures.
Estimated Phase I completion is September 2021.
No. This building will support Clarkson's Beacon Institute graduate education programs and research as well as public programming including citizen science, P-12 enrichment programs and community outreach.
The former industrial site was in disuse. These buildings originally housed Denning's Point Brickworks, then the Noesting Pin Ticket Factory, and the Durisol factory.
In 1988, the Office of Parks, Recreation and Historic Preservation (OPRHP) created Denning's Point Park, now part of Hudson Highlands State Park, which includes Breakneck Ridge, Storm King Mountain, and Bannerman's Island.
Yes. Recent improvements include enhanced accessibility on trails, a rebuilt historic bridge over the Metro-North Railroad tracks, and construction of a bird blind facing the South bay.
In this project, Clarkson is partnering with OPRHP to improve and develop safe, enriching, and universally accessible facilities for public and educational purposes.
Yes. The previous derelict factory site was closed to the public due to unsafe conditions. The new complex is designed to facilitate safe, universal public access.
New facilities built by Clarkson and OPRHP will provide visitor resources, educational and scientific programs, and public outdoor spaces to access and enjoy Denning's Point Park.
No. New facilities are being constructed within the existing building footprint.
No. The closest public parking lot will continue to be located by the gated entrance at the Beacon Water Treatment Plant.
Yes. Consistent with other parking areas inside the park, additional parking for this building project is required by law, and will provide improved access for people with limited mobility, parents with small children and occasional special events.
No. The park access road will continue to be gated, allowing only authorized vehicles. 
Yes. To ensure public safety and preserve access for construction, the fence has been located at a minimum distance from the site.