Image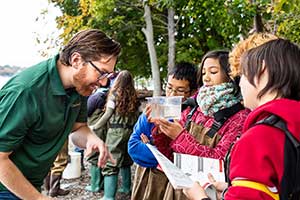 From hands-on children's programs to art exhibits, the Beacon Institute for Rivers and Estuaries offers a wide range of programs for all ages.
Water Ecology Center Offerings
For more information about our Public Programs or to schedule a K-12 program, email Brigette Walsh, Assistant Director of Environmental Programs at bwalsh@clarkson.edu.
Hudson STEAM
The Hudson STEAM program aims to connect students of all ages to the Hudson River Valley. Through in-class workshops and field trips to Dennings Point State Park, students get the opportunity to learn about the dynamic watershed of the Hudson River. Our state of the art Water Ecology Center and an experienced education staff foster experiential learning at its best. Students participate in activities such as seining, water quality testing, fish identification, and ecosystem explorations right at the Hudson River's shoreline.
Mother Nature & Me
Mother Nature & Me is a program for groups of homeschool students in Pre-K through 8th grade. Students participate in exploring Denning's Point State Park. Each lesson is centered around nature-based, sensory, and hands-on learning. ​
Park Visitor's Center & Public Programs
Clarkson University's Water Ecology Center (WEC) is located in Dennings Point State Park, in the heart of the city of Beacon's active Hudson River waterfront. The WEC is also a Public Visitor's Center and is located near the entrance to the Dennings Point State Park's public walking trail.
Live Animal Programs, Walk & Talks, and other special events are all hosted at the WEC.
The WEC building and exhibits are open to the public and staffed by educators from Clarkson University's Beacon Institute for Rivers and Estuaries. Stay tuned for Fall 2021 hours.
Walk & Talks
Led by Clarkson's Beacon Institute environmental staff and regional experts, our Walk & Talks are informative and engaging naturalist trail walks around Dennings Point.
Volunteering at the Beacon Institute
For those looking to offer their time and talent to the Beacon Institute, we welcome volunteers to assist with our ongoing activities such as community science projects and other outreach programming. To learn more about volunteer opportunities, email Brigette Walsh at bwalsh@clarkson.edu
Park Cleanup
Beacon Institute for Rivers and Estuaries hosts an annual volunteer day for local community members to get involved in keeping Dennings Point State Park clean for our visitors and wildlife.
---
Summer Programs
TEAM Survival Science Summer Camp
Students collaborate on fun, survival-themed, science and nature-based activities. Activities include fostering survival skills, team building, environmental science explorations, the basics of drone flight, nature awareness and wellness practices.