May Commencement for Master's and Doctoral Degrees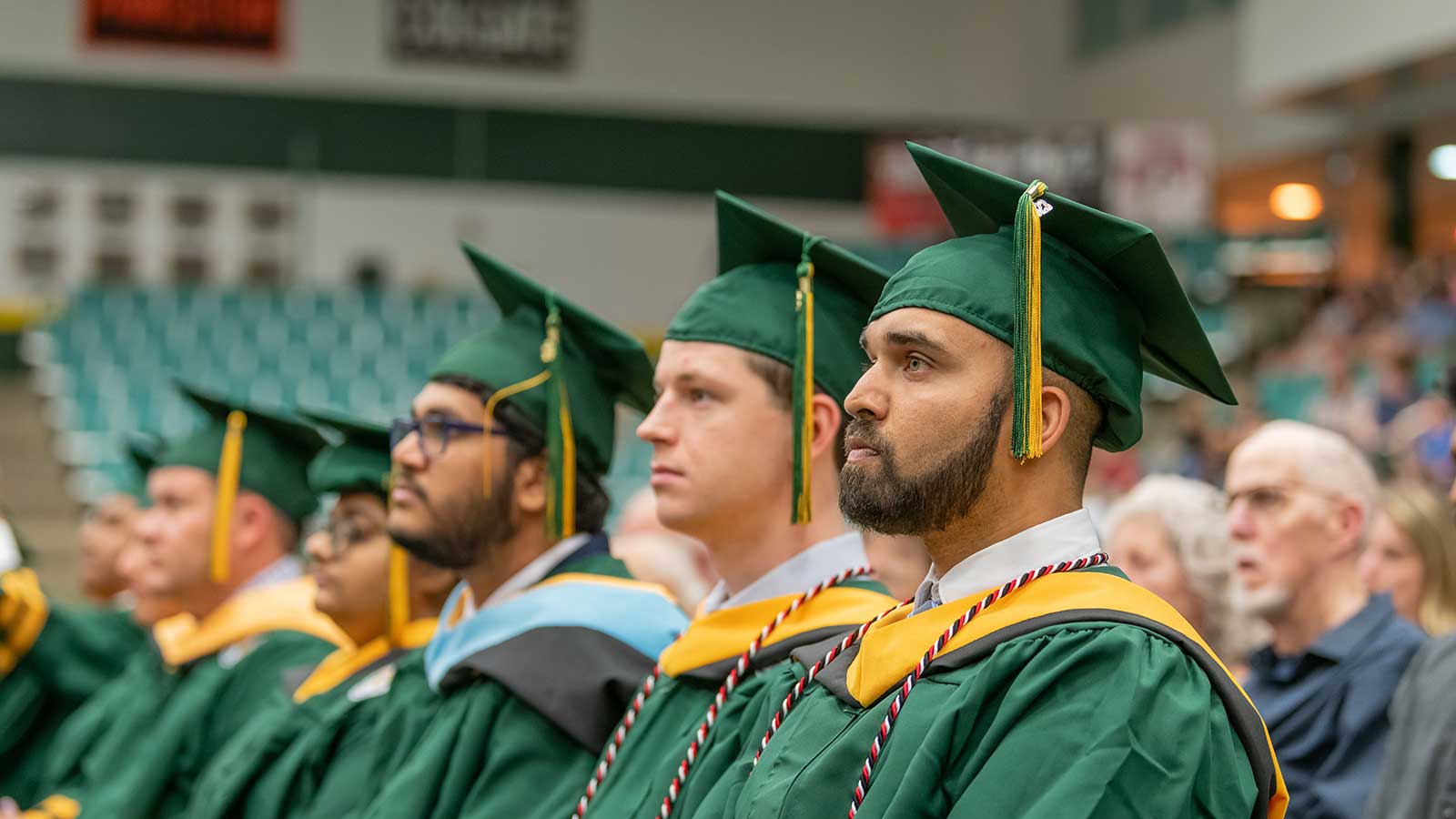 Thursday, May 11, 2023
Cheel Arena, 6 p.m. Exercises will be held in Cheel Arena in the Cheel Campus Center.
Schedule at a Glance
5:15 p.m. Doors open to Cheel Arena for all guests
5:30 p.m. Graduates seated in their assigned seating section
5:45 p.m. All guests with seating tickets should be seated
5:50 p.m. Faculty and Stage Party Procession begins moving
6 p.m. Commencement Ceremony (Master's & Ph.D.s) begins
Reception with light refreshments following the ceremony.
Commencement Dining Schedule
To Be Determined
Information for Students Participating in Commencement
Student Participation in Commencement
Students eligible for graduation in May 2022 will receive notice from Student Achievement Services and will be required to fill out a form on PeopleSoft to indicate that they plan to graduate in the May 2022 ceremony. If at any time you change your mind regarding participation in the Commencement program for May 2022, you must inform Student Administrative Services at (315)268-6451 or through e-mail at commencement@clarkson.edu promptly. Detailed seating of the graduates is an important factor in Commencement.
Reserving Tickets for Guests
All students who plan to attend Commencement must complete their graduation application through MyCU by February 15 in order to be eligible for Commencement tickets.
There will be no physical tickets for the event. If you need special accommodative seating, our staff will assist at the entrance.
Ticketing for Guests Requesting Accommodative Services
Cheel Campus Center and Cheel Arena are accessible to guests with disabilities. When reserving your guest tickets for the Commencement ceremony make note of any disabilities.
Commencement Disabled Seating Request Form
Cheel Campus Center and Cheel Arena are accessible to guests with disabilities. If a guest requires a ticket for a wheel chair accessible seating area, sign language interpreter, visually impaired seating area or any other accessible accommodation these tickets will be available to request when students order their Commencement tickets online.
A special section of the Cheel Arena will be reserved for those guests using wheelchairs. One caregiver will be permitted to sit next to the guest's wheelchair. Guests with tickets for accessible seating will need to enter the arena using the canopied exterior front entrance of Cheel Campus Center. This entrance will be identified that it is for such ticket holders.
Diplomas, Seating Order & Name Pronunciation
You will not receive your actual diploma during Commencement. Your diploma will be mailed to you after Commencement. You will sit in order by program and have an assigned seat that you will find prior to the ceremony. Please make sure to give the phonetic spelling of your name in MyCU so that the reader can properly pronounce your name.
Attire/Regalia
This year Clarkson will be transitioning from Black regalia to a green and gold cap and gown. All regalia (cap and gowns) must be ordered online through Herff Jones by March.
Hood Colors based on degrees:
Master of Arts-WHITE
Master of Arts in Teaching-LIGHT BLUE
Master of Business Administration-DRAB
Master of Science-GOLD
Doctor of Philosophy-PHD BLUE
Doctor of Physical Therapy-TEAL
Order your Clarkson Green and Gold Regalia
There will be a late-order fee assessed on all orders placed after that deadline to cover expedited order processing and express shipping fees.
Your pre-ordered cap and gown will be available for pickup at the University Bookstore.
Regalia must be paid for in full at the time of order.
Information for Guests Attending Commencement
Entering Cheel Campus Center
Only doors into the Arena from inside the Cheel Campus Center will be used for spectator entry. For their convenience, guests with disabilities may also enter directly into the arena through a side door near the front entrance of the Cheel Campus Center.
We ask that large bags, signs, weapons of any kind be kept out of the Arena for the comfort and safety of our guests. Guests are asked to remain seated during the ceremony unless asked to rise to allow all guests a comfortable, safe and positive experience.
Traveling to Clarkson University
For information on traveling to Clarkson, please see Visit Us, where you will find links to maps and directions.