May Commencement for Bachelor's Degrees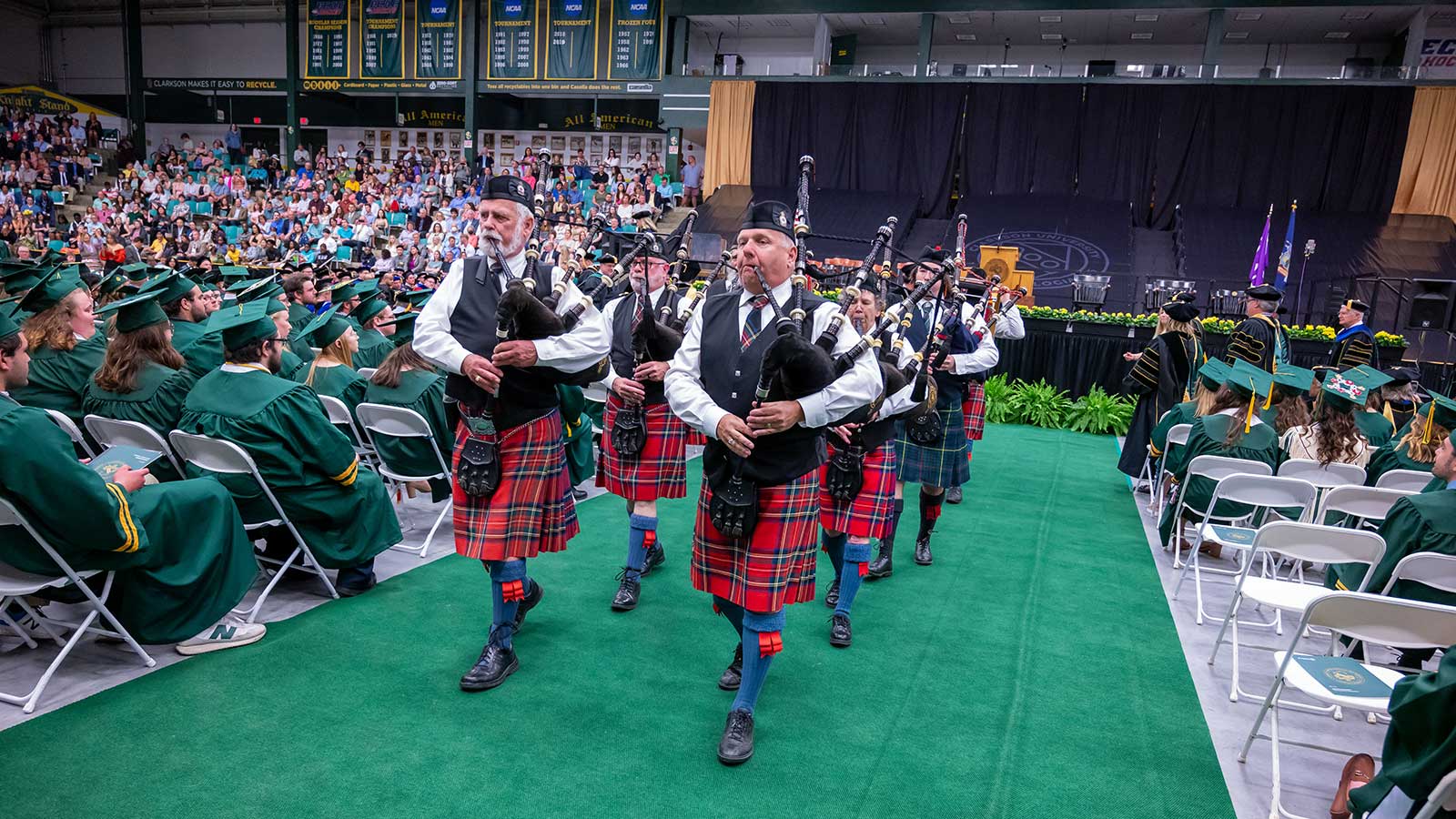 Saturday, May 13, 2023
Cheel Arena, 2:30 p.m.
Exercises will be held in Cheel Arena in the Cheel Campus Center.
All guests attending this Commencement are required to have a ticket. More information on the ticketing process is listed below. 
Schedule at a Glance
1:15 p.m. Doors open to Cheel Arena for disabled guests and their escorts
1:25 - 1:35 p.m. Doors open to Cheel Arena for ticketed guests.
1:30 p.m. - The student procession will form at outside on Cheel lawn alongside CAMP, between the Student Center, and the arena. If there is inclement weather, there will be no procession and students will find their seats inside Cheel Arena.
2:05 p.m. Student, Faculty and Stage Party Procession begins moving
2:30 p.m. Commencement Ceremony begins
Reception with light refreshments following the ceremony.
Information for Students Participating in Commencement
Student Participation in Commencement
Students eligible for graduation in May 2023 will receive notice from Student Achievement Services and will be required to fill out a form in MyCU to indicate that they plan to graduate in the May 2023 ceremony. Commencement tickets cannot be requested until this application is completed. If at any time you change your mind regarding participation in the Commencement program for May 2023, you must inform Student Administrative Services at (315)268-6451 or through e-mail at commencement@clarkson.edu promptly. Detailed seating of the graduates is an important factor in Commencement.
Diplomas, Seating Order & Name Pronunciation
You will not receive your actual diploma during Commencement. Instead, you will be able to sit with your friends and classmates in any order and receive a blank diploma cover. Your diploma will be mailed to you after Commencement. You will be given a card with your name on it to give to the name reader during the handing out of degrees during the ceremony. Please make sure to give the phonetic spelling of your full name in MyCU so that the reader can properly pronounce your name.
Reserving Tickets for Guests
All students who plan to attend Commencement must complete their graduation application through MyCU by February 15 in order to be eligible for Commencement tickets. Each student is guaranteed four (4) guest tickets; graduates do not need a ticket for themselves.
Clarkson has taken on a new ticketing system for Commencement; students will receive the ticket link via email mid March where they will be able to reserve their tickets and have the ability to select the location for their 4 guaranteed tickets. Please note that the arena will be filled to maximum capacity based on NYS Guidelines - some seats may be behind or to the side of the main stage. There will also be a live stream of the ceremony for any guests unable to acquire a ticket.
Taking Photos at Commencement
In order to provide the individualized atmosphere where each graduate receives his or her own certificate personally and to complete the exercises in approximately two and a half hours, we are not able to allow parents and friends to come down the aisles to the stage for photos. The University has arranged for a professional photographer, Genesee Photo Systems, to take an individual photo of each graduate. The photographer is skilled and equipped to perform this service. This technique has been used very successfully since 1981.
Genesee Photo Systems will post proofs online on their Website (https://www.geneseephoto.com/) soon after the ceremony. You may order photographs directly from their Website. Please contact Genesee Photo Systems at 800-345-7427 for additional photograph-related questions. Within safety limits, we will permit video cameras to operate from behind the last row of seats so long as the aisles are not congested.
On-Campus Accommodations
We are happy to offer guest room accommodations in our residence halls for parents and guests. Rates are as follows:
Traditional Residence Hall Double Room (houses 1-2 adults, shared hall bathrooms – one female and one male) $75/night + tax
Due to safety reasons for our returning students, there is a $110 charge for room keys not returned
All rooms are equipped with two single beds, bed linens, towels, blankets and pillows. Reservations will be accepted beginning February 1, 2023 by going to the https://www.clarkson.edu/parents-family and looking for On-Campus Accommodations or use this link to reserve. Exact location of rooms and room assignments will be made beginning in early May. Upon arrival guests should check in at the Reservation Check-In Table, located at the Information Desk on the ground level in the Student Center.
Commencement Rehearsal
The rehearsal is extremely important! Commencement rehearsal on Friday, May 12 will be in Cheel Arena starting at 10:30 a.m., at which time the procedures for the graduation exercises will be reviewed. All graduates are expected to attend rehearsal. If you are unable to attend, please contact commencement@clarkson.edu so that we can have your rehearsal packet in the Cheel Campus Center lobby at the information table, starting at Noon, on Saturday prior to the Commencement ceremony.
Attire/Regalia
This year Clarkson will be transitioning from Black regalia to a green and gold cap and gown. All regalia (cap and gowns) must be ordered online through Herff Jones by March.
Link to order your Clarkson Green and Gold Regalia (will be updated in January 2023)
There will be a late-order fee assessed on all orders placed after that deadline to cover expedited order processing and express shipping fees.
Your pre-ordered cap and gown will be available for pickup at the University Bookstore.
Regalia must be paid for in full at the time of order.
Ticketing for Guests Requesting Accommodative Services
Cheel Campus Center and Cheel Arena are accessible to guests with disabilities. When reserving your guest tickets for the Commencement ceremony make note of any disabilities.
Commencement Disabled Seating Request Form
Cheel Campus Center and Cheel Arena are accessible to guests with disabilities. If a guest requires a ticket for a wheelchair accessible seating area, sign language interpreter, visually impaired seating area or any other accessible accommodation these tickets will be available to request when students order their Commencement tickets online.
A special section of the Cheel Arena will be reserved for those guests using wheelchairs. One caregiver will be permitted to sit next to the guest's wheelchair. Guests with tickets for accessible seating will need to enter the arena using the canopied exterior front entrance of Cheel Campus Center. This entrance will be identified that it is for such ticket holders.
Upon advanced request, to the Clarkson Events Team, any graduate who has a guest needing interpretation services, the interpreter will sign that graduate's name to the audience in addition to interpreting the remarks and songs.
If you have any questions or concerns regarding accommodative seating, please email events@clarkson.edu.
Bringing Children to Commencement
Children requiring their own seat will need tickets. The exercises last for approximately two and a half hours, a long time for an infant or young child. There is no nursery or childcare provided. However, there is a lactation room located on the second floor as well as changing stations in the first floor restrooms. Parents are asked to be sensitive to those around them so that all may enjoy the ceremony. A lactation room for nursing mothers is also available on the second floor of Cheel Campus Center.
Information for Guests Attending Commencement
Entering Cheel Campus Center
Only doors into the Arena from inside the Cheel Campus Center will be used for spectator entry. For their convenience, guests with disabilities may also enter directly into the arena through a side door near the front entrance of the Cheel Campus Center.
Tickets are required and will be checked by staff upon entry into the Arena. The "Schedule at a Glance" at the top of this page should be used to understand when guests should enter the Arena based on type of ticket.
We ask that large bags, signs, weapons of any kind be kept out of the Arena for the comfort and safety of our guests. Guests are asked to remain seated during the ceremony unless asked to rise to allow all guests a comfortable, safe and positive experience.
Guests unable to attend Commencement can watch the live broadcast of the ceremony starting at 2:30 p.m. on May 15.
Traveling to Clarkson University
For information on traveling to Clarkson, please see Visit Us, where you will find links to maps and directions.
Commencement Dining Schedule
Guests who wish to dine off campus are encouraged to make reservations in advance due to high demand over the course of the weekend. Guests are encouraged to make dinner reservations after the ceremony for approximately 5:30 or 6 p.m., depending on preference for attending the post-Commencement celebration on Cheel Lawn starting directly after the ceremony.
Parking Information
Traffic on the hill campus will be, for the most part, two-way. All campus entrances will be open. Please watch for signs to direct you. Guests with or dropping off disabled person(s) will be directed to the front of the Cheel Campus Center, where they will be assisted by staff in discharging their disabled guests then directed onward for parking. Guests bringing campers, trailers or larger vehicles are invited to park at Walker Center where electricity and washrooms are available. Guests staying in the residence halls should plan on walking to the ceremony or catching a ride on one of several golf carts that will be escorting guests around campus. Guests with questions or concerns can call Campus Safety & Security at 315-268-6666.
ROTC Commissioning in Cheel Arena
Friday, May 12 at 3pm in Cheel Arena
The Commissioning Ceremony consists of three parts: First, the administering of the Oath of Commissioned Officers. Second, the pinning of the Gold-Bar Rank on the uniform of the commissioning Cadet. Lastly, the First Salute to welcome the new Lieutenant to the Officer Corps.
 
Important Commencement-Related Dates
January until February 15 – Request any special seating needs for your guests with disabilities. (Disabled seating request)
February 15 - Graduation Application needs to be completed in MyCU.
*Ticket information will only go to those who have completed their application.
Mid to 3rd week in February - Ticket Instructions will be emailed to graduates who completed their application.
Mid March - Regalia order deadline (Herff Jones regalia order)
Early to Mid April - Graduates will receive a link to reserve their 4 guaranteed seats in the arena
May 8-13 during regular Bookstore hours - Downtown Clarkson Bookstore-Pre-ordered Regalia pickup
May 10, 11AM - Student Center Forum - Last Lectures
May 12, 10:30AM - Cheel Arena - Undergraduate Commencement Rehearsal
May 13, 1:15PM (meet on Cheel Lawn) - Cheel Arena - Undergraduate Commencement Ceremony