December Recognition Ceremony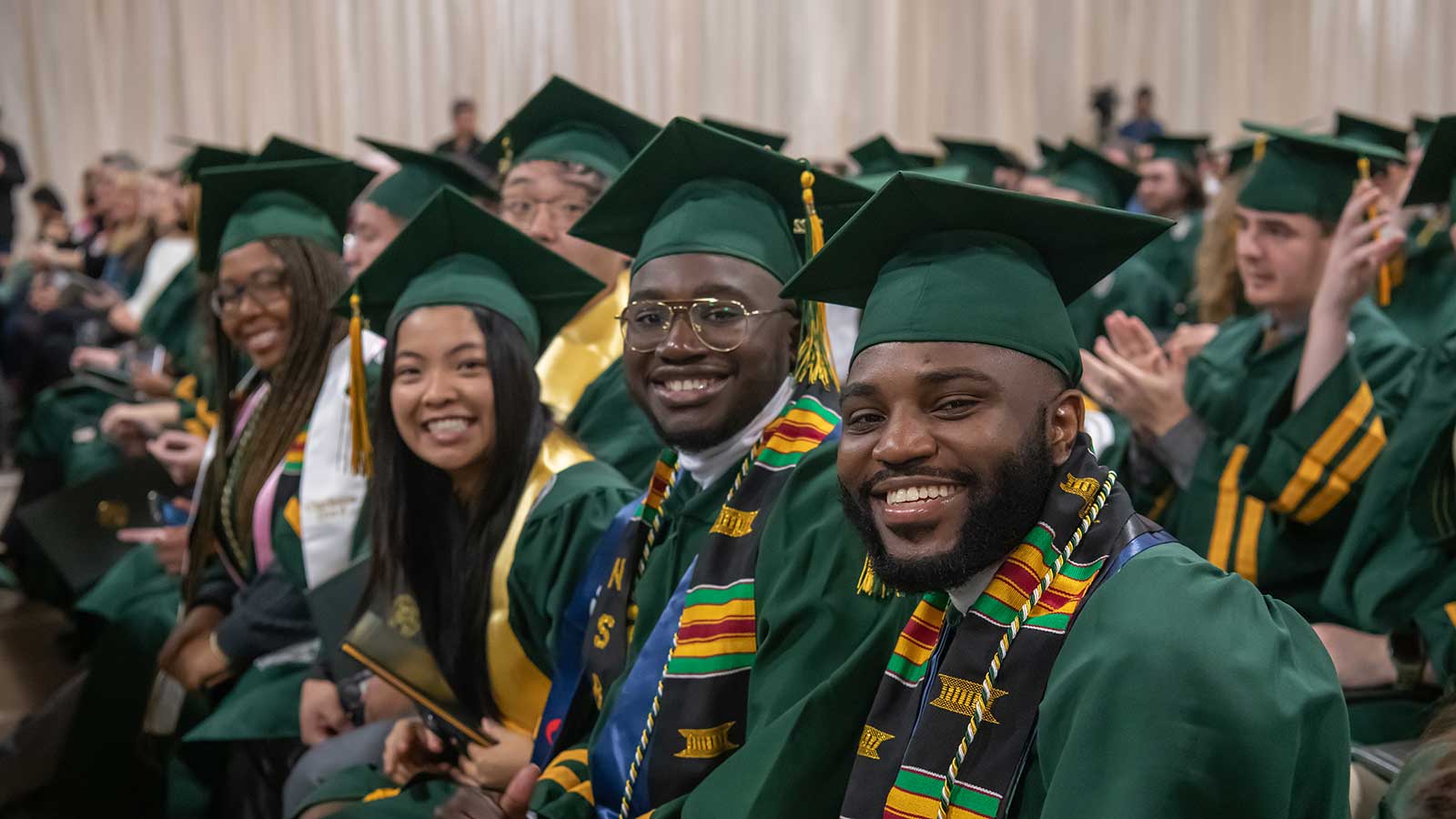 Saturday, December 16, 2023; 11 a.m.
The December Recognition Ceremony will take place on Saturday, December 16, 2023. Exercises will be held at the Andrew M. Schuler Indoor Recreation Center (IRC).
All students who plan to attend Commencement must complete their graduation application through MyCU  in order to be eligible for Commencement tickets. Each student is guaranteed four (4) guest tickets; graduates do not need a ticket for themselves.
Ticket information will be sent directly to the participating graduates by mid-November.
Please note: If you take part in the December Recognition Ceremony, you will not be invited to attend the May Commencement. 
Schedule at a Glance
10 - 10:50 a.m. All graduates and guests check in and take their seats.
10:55 a.m. Guests and graduates are seated.
11 a.m. December Recognition Ceremony begins.
Prior to the ceremony light refreshments will be provided.
Information for Participating Students
Participation Eligibility
Students eligible for graduation in December 2023 will receive notice from Student Achievement Services and will be required to fill out a form on PeopleSoft to indicate that they plan to graduate in the December 2023 ceremony. If at any time you change your mind regarding participation in the December Recognition Ceremony program for December 2023, you must inform Student Administrative Services at (315)268-6451 or through e-mail at commencement@clarkson.edu promptly. Detailed seating of the graduates is an important factor in this ceremony.
Attire/Regalia
Clarkson has transitioned from black regalia to a green and gold cap and gown. All regalia (cap and gowns) must be ordered online through Herff Jones by October 29, 2023.
There will be a late-order fee assessed on all orders placed after the deadline to cover expedited order processing and express shipping fees.
Your pre-ordered cap and gown will be available for pickup at the University Bookstore.
Regalia must be paid for in full at the time of pickup.
Reserving Tickets for Guests
There are no physical or electronic tickets for this event. Every graduate is guaranteed 4 guest tickets. There will be a graduate list at the entrance.
Requesting Accommodative Services
The ceremony will include a stage for graduates to cross that requires graduates to climb four stairs. As a graduate, if you are not able to climb stairs, please let us know by November 15, 2023 so that we can accommodate your needs.The IRC is accessible to guests with disabilities. If you have any questions or concerns regarding accommodative seating, please email events@clarkson.edu.
Diplomas, Seating Order & Name Pronunciation
You will not receive your actual diploma during Commencement. Your diploma will be mailed to you after Commencement. You will have an assigned seat that you will find prior to the ceremony. Please make sure to give the phonetic spelling of your full name in PeopleSoft so that the reader can properly pronounce your name.
Information for Guests
Entering the Indoor Recreation Center
Guests will enter the Indoor Recreation Center (IRC) through the main building entrance. Signage and greeters will assist with wayfinding. There is an elevator for guests who require it.
Upon check-in, each guest will be required to show their ticket.
We ask that large bags, signs, weapons of any kind be kept out of the IRC for the comfort and safety of our guests. Guests are asked to remain seated during the ceremony unless asked to rise to allow all guests a comfortable, safe and positive experience.
Traveling to Clarkson University
For information on traveling to Clarkson, please see Visit Us, where you will find links to maps and directions.
Graduate Entering Instructions
Graduates will enter the Andrew M. Schuler Indoor Recreation Center (IRC) at least 30 minutes before the ceremony begins. Graduates need to be seated 10 minutes prior to the start of the ceremony. Graduates need to remain masked through the ceremony.
Traffic & Parking Information
Traffic on the hill campus will be two-way. All campus entrances will be open. Please watch for signs to direct you.
If you enter Clarkson's main entrance on Route 11, the IRC will be the first building on the right-hand side. Please park in the Cheel Campus Center parking lot located between the IRC and the Cheel Campus Center (#12 on the campus map). IRC parking is reserved for individuals with mobility issues.
Guests with or dropping off disabled person(s) will be directed to the front of the IRC, where they will be assisted by staff in discharging their disabled guests then directed onward for parking.
If you need special parking, please contact events@clarkson.edu
Bringing Children
Children requiring their own seat should be counted for reserving seats. There is no nursery or childcare provided. Parents are asked to be sensitive to those around them so that all may enjoy the ceremony.
Taking Photos
Guests are asked to avoid standing in the aisles and walking up to the front for photos. The University has arranged for a professional photographer, Genesee Photo Systems, to take an individual photo of each graduate. The photographer is skilled and equipped to perform this service.
Genesee Photo Systems will post proofs online on their Web site (https://www.geneseephoto.com/) soon after the ceremony. You may order photographs directly from their Web site. Please contact Genesee Photo Systems at 800-345-7427 for additional photograph-related questions. Within safety limits, we will permit video cameras to operate from behind the last row of seats so long as the aisles are not congested.
Photo op areas will also be available for use before and after the ceremony for personal photos.