Knight Rider Bicycle Rental Program
If you live off campus, don't own a car, or simply enjoy the physical and mental health benefits of riding a bicycle, then this program is for you!
The Knight Rider Bicycle Program is supported by the Institute for a Sustainable Environment's Sustainability Fund. Bicycles are available for short-term and long-term rental periods, at an affordable cost for students and faculty.
What's included in my rental?
- Your choice of vehicle from our fleet of 25+ bikes
We offer a wide selection of sizes. Most bikes include amenities such as front/rear racks, water bottle holder, kickstands, lights/reflectors, bells, etc.
Bikes are distributed on a first come first serve basis 
- Bike lock and key to securely park your bike 
- Helmet (optional, but recommended) 
How much does it cost to rent a bike?
Short-Term Rentals
Cost: $1
Rental period: 1 day 
If you'd like to rent for longer, you may renew your daily rental for up to 7 consecutive days.
Long-Term Rentals
Cost: $8 
Rental period: 30 days
If you'd like to rent for longer, you may choose to renew your monthly rental every 30 days until the end of the year.
E-Bike Rentals
Cost: $5
Rental Period: 1 day
If you'd like to rent for longer, you may renew your E-Bike rental for up to 7 consecutive days.
When can I rent out a bike?
Bike rentals begin during the spring semester once the snow clears up— usually around the end of March/early April.
Rentals run through the summer and the fall semester. All bikes must be returned before the end of the fall semester. 
How do I apply?
Go to the main campus library circulation desk and inquire about bike rentals.
Read and sign the paper waiver form, as well as the Rules and Regulations. These forms must be physically filled out at the circulation desk.
Choose from our fleet of bikes and get riding!
Where do I return my bike?
Return your bike to the exterior bike pavilion near the ERC, then return your helmet to the storage locker in the ERC. Make sure to securely lock the bike to the bike rack, as well as lock the storage locker after returning your helmet. Both keys can then be returned to the library circulation desk.
If you return the bike after hours, keys can be returned in the library book drop located in the side of the circulation desk.
Bikes are stored in the exterior bike pavilion near the ERC, shown in the image below.
Image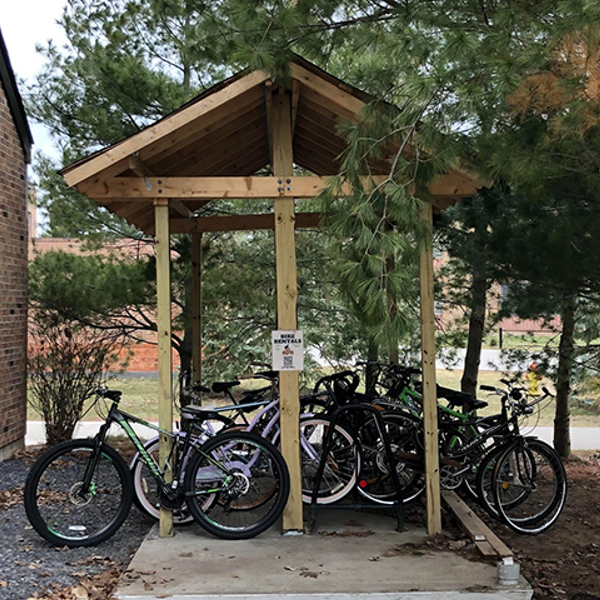 Helmets are located in the storage lockers in the ERC next to the University Archives.
 Other Helpful Resources
Library Staff Contact Information: 
Barbara Osgood   |   phone #: (315) 268-4456   |   Email: bosgood@clarkson.edu
Bike Rack Locations:
This interactive map shows locations for bike racks around Clarkson's campus.
Bike Safety Tips by the NYSDOT and National Highway Traffic Safety Administration. 
E-Bike Safety Tips by Cycling News.
Smart Cycling Videos by the League of American Bicyclists.
Bicycling Responsibly Outdoors by the NYSDEC.