Trailblazers: The Untold Stories of Six Women Engineers
A Documentary Film
Trailblazers is based on Dr. Laura Ettinger's game-changing work for the National Science Foundation that captures the essence of trailblazing American women in engineering. This short documentary (19:18 minutes) tells the stories of six of these trailblazers who share their experiences overcoming obstacles and paving the way for the next generation.
Their stories are powerful. They help us to understand how individual women in engineering navigated the challenges they encountered, and how institutions might work to address those challenges. As we look at ourselves and face choices about our futures, their stories make us feel less alone.
Trailblazers is aimed at adults and older high school students of all interests and backgrounds.
The six women in Trailblazers are also featured in the Inspire! Educational Video Collection, three educational videos designed to inspire middle school and early high school students to pursue the STEM fields.  
Trailblazers: The Untold Stories of Six Women Engineers
Produced by Dr. Laura Ettinger, a history professor at Clarkson University, and directed by Zac Miller, founder of Uncommon Image Studios.
Watch the video now by pressing the "Play" button on the video (above on mobile, to the left on desktop)
Watch Trailblazers on YouTubeWatch Trailblazers on VimeoDownload Trailblazers from Google Drive
"These six engineers take the viewer on a journey of perseverance, as they share candidly the first stinging comments they received and how ultimately they didn't let those comments deter them from their dreams. Their passion for engineering never wavered. They knew that their success in the face of adversity could help blaze the trail for future engineers. This documentary would be great for high school students as they consider what paths they're going to take."

Josephine Salvador, Executive Director of the New York State Master Teacher Program
Meet the Producer
Laura Ettinger is an Associate Professor of History at Clarkson University, where she has been teaching since 1998. Originally from Baltimore, she received her A.B. from Vassar College and her M.A. and Ph.D. in American History from the University of Rochester.
Laura's research and writings focus on the history of women, gender, and the medical, scientific, and technological professions in the United States. Her book, Nurse-Midwifery: The Birth of a New American Profession, was named an Outstanding Academic Title by Choice. She is a co-Principal Investigator on an ongoing National Science Foundation ADVANCE grant to create systemic changes to reduce bias and advance the careers of women STEM faculty.
The research project that led to this educational video series and documentary is funded by another National Science Foundation grant. Inspired by her teaching at a technological university, it focuses on trailblazing American women in engineering. Using her skills as an oral historian, Laura interviewed 47 women engineers who graduated from college in the 1970s.
Laura feels very grateful that these women were willing to share their stories with her. She believes in the power of their stories to inspire girls and young women to consider paths they might not have considered before and to feel less alone while doing so. Laura also believes that their stories will help us to understand how individual women in engineering have navigated the challenges they have encountered, and how institutions might work to address those challenges. 
Meet the Director
Zac Miller began his career in 2005 getting his hands dirty on independent feature films in Boston. Since then Zac moved to LA and worked on Television shows, films, commercials, corporate videos, and web content for clients like CBS, ABC, 21st Century FOX, National Geographic, Diet Pepsi, HGTV, MTV and WGBH. He's produced educational content for Harvard Medical School, The National Science Foundation and The US Department of Transportation.
In 2017 Zac quit his position as the production manager on CBS's Big Brother and opened an independent production company called Uncommon Image Studios. He shoots high end content for diverse clients from local businesses to national brands. Zac also teaches video production at Clarkson University in New York State.
Zac's won national awards for screenwriting, advertising, and directing. He used to be a proud IATSE union member (local 481) and is a current member of the Producer's Guild of America.
"Our goal with this film was to tell these six incredible women's stories in the most authentic and honest way possible. That's why we chose a solid white background; we didn't want anything to distract from their powerful words. We made this film for everyone, not just engineers and not just women. We're shining a light on some of the biggest cultural problems that are as persistent today as they were in the 1970s. These inspiring stories stand as a testament to the power and resilience of women everywhere."

Zac Miller, Director
Crtical Acclaim & Awards
Image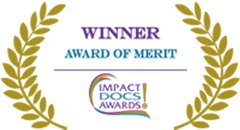 Image