Celebration & Recognition of Excellence Weekend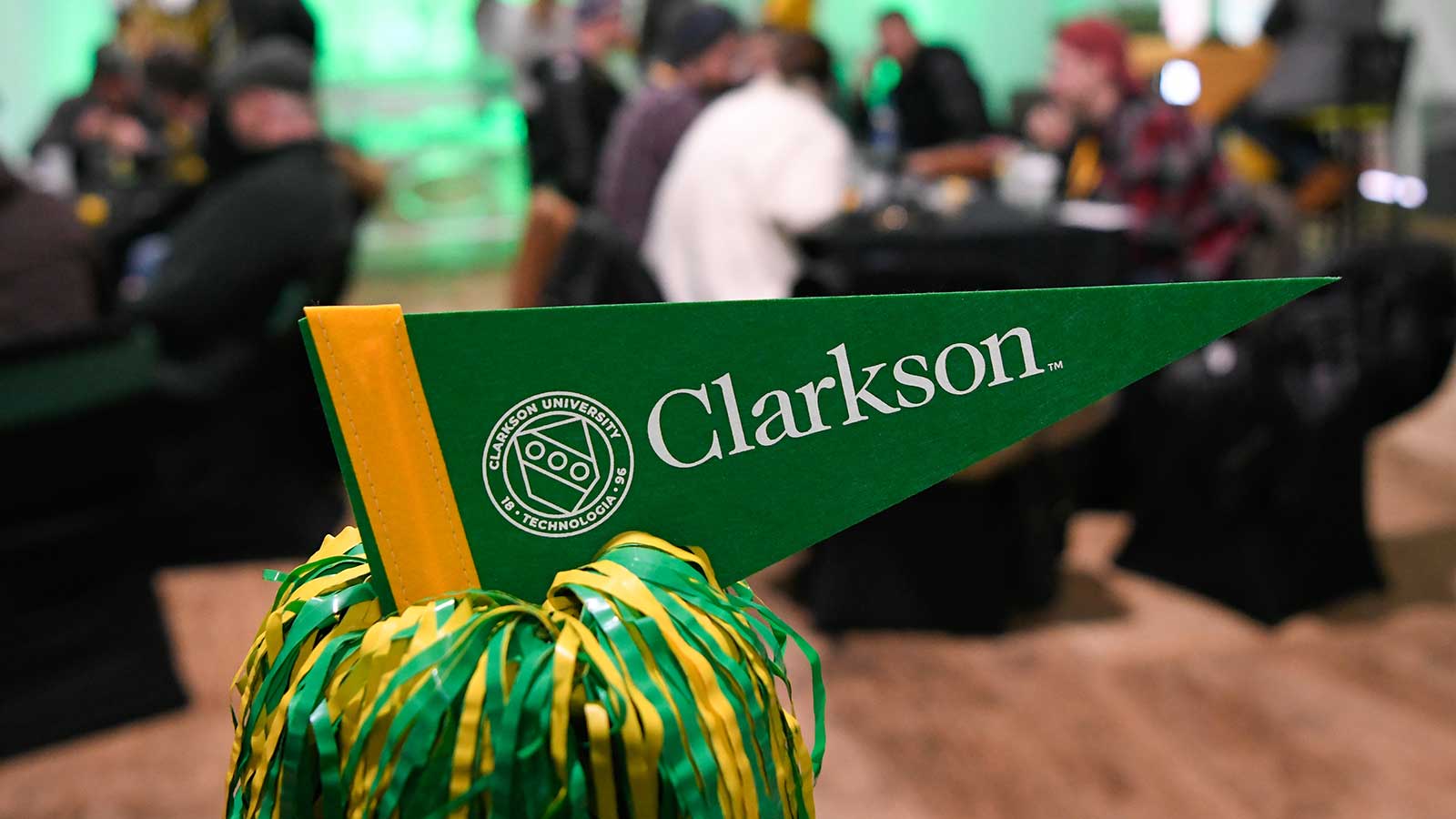 2023 Schedule
Thursday, April 13
12 p.m. STEM QUEST: Barben Rooms
Zoom link
Friday, April 14
8 a.m. to 5 p.m. Research and Projects Showcase (RAPS): ERC/Student Center MPRs (Full schedule and links here.)
8:15 a.m. President's Opening Remarks: ERC Atrium
Saturday April 15
10 a.m. School and Institute Award Ceremonies.

Reh School of Business and E&M Awards: Student Center MPRs
School of Arts and Sciences Awards: Student Center Forum
Coulter School of Engineering and ISE Awards: CAMP Atrium

12 p.m. Lunch on your own (Student Center Servery open)
1 p.m. University-wide and Phalanx Awards: Student Center Forum. Keynote Address by Diane "DD" DiFrancesco (ChemE '77)
Livestream
5 p.m. Diversity and Inclusion Awards and Banquet (invitation only)
Event Details
Events are held by various departments and groups across campus, including:
A celebration of recognition reception luncheon, with the opportunity for the Clarkson community to learn about and celebrate the historical significance of the weekend, and hear from a keynote speaker. 
Diversity and Inclusion Awards and Banquet. This invitation-only banquet honors all student organizations and individuals that have promoted growth in the area of diversity on this campus and the surrounding community
The President's Challenge Showcase (Ignite), where teams will display the projects and prototypes they've been working on all year. Final awards are announced and presented during the showcase.
Research & Excellence Awards / Research & Projects Showcase (RAPS), which highlights the groundbreaking and sponsored research activity by Clarkson's undergraduate students, graduate students and faculty.
Academic and Departmental Awards: high achieving students have a personalized award presentation where their accomplishments will be recognized.
STEM QuESTS Challenge: Clarkson students create a hands-on educational activity to help spark STEM interest for local middle and high school students. Students across STEM disciplines work in teams to create innovative and inspiring lesson plans. Winners receive prizes up to $1,500.
University Recognition Day & Phalanx - where Academic, University Service and Leadership Awards & Phalanx Induction takes place, and is the culmination of the weekend's activities. It serves as a current rendition of the Clarkson tradition of "rising" as an entire body, as well as the announcement and induction of the next cohort of Phalanx, Clarkson's highest honor society.
2022 Winners and Awardees
Winning Teams:
EIS Aquaponics: Kelsey Hamilton, Noah Bohl, Baylee Szekeres, Emma Foss, Angie Zeoli, Hannah Williams
Pathfinder: Vansh Bataviya, Kabir Singh, Gitvik Mamoria, Mohammed Sarwar
Positive Altitude: Santino Martinelli, Emma Newman, Ryan Pearl
Overall (Grand Prize) Winning Team:
Simply Tech: Samantha Haddad, Xavier Lora, Carly Cashel, Robert Whalen
Undergraduate Oral
Biomedical/Bioscience– Rhiannon Clements "Generation of Myosin XV Null Mutant in Drosophila melanogaster Using CRISPR-Cas9"
Chemistry & Physics– Tyler Bechard "MXene based superoxide dismutase enzymatic biosensor for real time superoxide detection"
Psychology, Social Sciences & Education– Analea Blackburn & Janine Goggin "Before operation, remove implicit biases! Developing gamified curriculum to reduce racial disparities"
Environmental Science & Engineering– Elaina Porter "Best Management Practices for Eurasian Milfoil Control in Sylvia Lake"
Data Science, Computation & Engineering Design– Ben Walleshauser "Predicting Sea Surface Temperatures with Coupled Reservoir Computers"
HONORS– Megan Becker, Elizabeth Poirier, Aspen Tlapa, Zachary Appel, Nolan Grady, Liam McSpedon "Problem and Solution: Clarkson Combats Clothing Insecurity"
Undergraduate Poster
Biomedical & Bioscience Sciences I– Jenna Briere, Hoi Cheang, Ethan Laferriere, Dylan Custer "The Use of Combinatory Adjuvants MPL and CpG Reduce Effects of Antigenic Mismatch in IAV Vaccines"
Biomedical & Bioscience Sciences II– Tyler Smith "Uncovering the Effects of vinculin Mutations Through Patterning and Automated Tracking in Drosophila melanogaster"
Civil & Environmental Engineering Senior Design– Maya Cliffe "Investigation and Re-design/Rehabilitation of the Potsdam Cross-Town Canal"
Chemistry & Electrochemistry– Zachary Goad "Metal-Organic Framework-Based Biosensor for Detection of SARS-COV-2"
Psychology– Janine Goggin & Elijah Schecter "Beyond the highlight reel to the authentic experience: Descriptive study of how college students use Instagram accounts"
Environmental Science, Policy & Engineering– Ethan Adamson & Hayden Williamson "Hazard Assessment of Bayside Cemetery Gatehouse"
Civil & Environmental Engineering– Lindsey Penet "Image Analysis of Concrete Air Voids"
Education and Models of Learning– Hannah Reed & John Abedi "A Simplified Mathematical Model Demonstrating the Cumulative AD Biogas Production From Student Cafeteria Food Waste"
Cybersecurity, Wind Energy & Atomic Force Microscopy– Javier Boatman "Sliding speed effect on friction of 2D Ti3C2Tx MXene at the nanoscale"
Graduate Oral
Biomedical/Bioscience– Mahender Singh Rawat & Mehtap Agrisoy "Comparing respiratory aerosol emission for children and adults during sustained phonation"
Chemistry/Physics & Material Science– Monu Joy "Infiltration of Single-Ion Magnets into Metal-Organic Frameworks for Controlled Nanostructuration: Translation of Density Functional Theory to the Experiment"
Mathematics, Computer Science & Computational Methods– Saided Alshahrani "Roadblocks in Gender Bias Measurement for Diachronic Corpora"
Education & Sustainability– Claudia Bustamante "Understanding electricity use in student apartments: small percentages of residents use disproportionate amounts of electricity"
Graduate Poster
Chemistry, Physics & Material Sciences I– Nnamdi Ofodum "Multiscale Mechanoresponsive Polymeric Materials: Design, Applications, and Beyond"
Chemistry, Physics & Material Sciences II– Arielle Santefort "Development of Polyanhydride Copolymers for Drug Delivery and Hard Tissue Adhesive Applications" Environmental Science, Bioscience, Engineering & Sustainability (TIE)- Sushmita Kundu "PIV analysis of filopodia movement during pattern formation in Drosophila" & Afzal Hossian"Biometric Modalities with Template Security"
Undergraduate Student Oral Presentation
Thomas Robbins, "Addressing SLC Food Insecurity"
Undergraduate Student Poster Presentation
Cynthia Huerta, "A Chemical-free electro-Fenton process for Decentralized Sewage Water Treatment"
Miranda Wolf, "Integration of Food Waste Education into Two Local Middle School After School Programs"
Nicholaus Clearman and Celia Darling, "Integration of Food Waste Management on Clarkson University's Campus"
Analea Blackburn, "Moving Past Compliance: How Universal Design Contributes to Sustainability"
Maya Cliffe, Karen Agro, Aysa Dunne, Liam Lewis, Nate Liscum, Joe Mueller, Ryan Pierce, "Investigation and Re-design/Rehabilitation of the Potsdam Cross-Town Canal"
Graduate Student Oral Presentation
Claudia Bustamante, "Understanding electricity use in student apartments: small percentages of residents use disproportionate amounts of electricity"
Graduate Student Poster Presentation 
Maeva Teixeira Machado, "Understanding Food Waste Generation in Academic Institutions in Potsdam"
Best Technical Report: Unaffiliated Clarkson Business (UCB); Team members – Rachel Harder, Kailey Johnson, Colin Hansen, Owen Overhiser, Sara Galante, Gabriela McSwieney
Team Perseverance Award:   Evacu Beacon; Team members – Miles Compani
Best Collaboration Among Disciplines:   Vision Controlled Sensorized Prosthetic Hand; Team members – Juan Pablo S. Sola, Ernesto Sola-Thomas, Evan Laign, Md Abdul Baset, Aaron Jones  
Most Creative and Innovative Idea:  Return to the Fold; Team members – Christopher Leight, Nathan Morris
Greatest Commercial Potential:   Robotic Chicken Coop; Team members – Jessica Lacey, Emily Pecora, Benjamin Walleshauser, Harrison Walker, Joshua Boos
Best Video: 1st Place:  Madad – Team members: Shreejit Poudyal, Vansh Bataviya, Kabir Singh; 
2nd Place:  NBI Systems – Team members: Owen Casciotti, Micheal Caracciolo, Ellen Camilla Ketola, Ethan White, Dylan Kursar-Kuznitz; 
3rd Place:  Vision Controlled Sensorized Prosthetic Hand – Team members:  Juan Pablo S. Sola, Ernesto Sola-Thomas, Evan Laign, Md Abdul Baset, Aaron Jones
Best Prototype/Display:   1st Place:   Robotic Chicken Coop – Team members:  Jessica Lacey, Emily Pecora, Benjamin Walleshauser, Harrison Walker, Joshua Boos; 
2nd Place:   Madad – Team Members:  Team members: Shreejit Poudyal, Vansh Bataviya, Kabir Singh; 
3rd Place:  Project Filectric – Team members:   Olaoluwayimika Olugbenle, Gordon Crochiere, Andrew Kirkwood, Paul Akinyemi, Elizabeth Schneider
Category Awards:
Human Health: 1st Place:   Smart Fabric – Team members:   Mohamed Hassan, Rachel Harder
2nd Place:   Vision Controlled Sensorized Prosthetic Hand – Team members:  Juan Pablo S. Sola, Ernesto Sola-Thomas, Evan Laign, Md Abdul Baset, Aaron Jones
3rd Place:   Madad – Team Members:  Team members: Shreejit Poudyal, Vansh Bataviya, Kabir Singh
Products & Services:
1st Place:   KMT Design – Team members:   Zoey Kovach, James Mirras, Tyler Keyes, Jonathan Kent, Alyssa Juliano
2nd Place:    Return to the Fold; Team members – Christopher Leight, Nathan Morris
3rd Place:   Team 8 – Team members:   Sydney Sandroni, Abigail Vincent, Dylan White, Joshua Vogt, Calvin Sage
Energy, Agriculture, and the Environment:
1st Place:  Project Filectric – Team members:   Olaoluwayimika Olugbenle, Gordon Crochiere, Andrew Kirkwood, Paul Akinyemi, Elizabeth Schneider
2nd Place:   Robotic Chicken Coop – Team members:  Jessica Lacey, Emily Pecora, Benjamin Walleshauser, Harrison Walker, Joshua Boos
3rd Place:   EIS Aquaponics – Team members:   Kelsey Hamilton, Baylee Szekeres, Noah Bohl, Angie Zeoli, Anwesha Das, Emma Sabourin, Caitlyn Olive, Mackenzie Peters, Megan Miller, Ella Weldy, Kimberly Gomez
Grand Prize Award Winner – and will have their team and names placed on the President's Challenge Shield always on display in the Ignite Suite – ERC 1101: Smart Fabric – Team members:  Mohamed Hassan, Rachel Harder
Farzad Mahmoodi, Clarkson Lifetime Achievement in Research and Scholarship Award
Lisa Legault, Clarkson Excellence in Research and Scholarship Award
Laura Ettinger, Clarkson Distinction in Faculty Mentoring for Research and Scholarship Award
David Crouse, Million Dollar Club Induction
James Carroll, Patent Issued
Michelle Crimi, Patent Issued
Fiona Laramay (student), Patent Issued
Selma Mededovic, Patent Issued
Thomas Holsen, Patent Issued
Behzad Behnia, Patent Issued
Prashant Athavale, First Time Grant Recipient FY21
Alan Christian, First Time Grant Recipient FY21
Alex French, First Time Grant Recipient FY21
Masudul Imtiaz, First Time Grant Recipient FY21
Courtney Johnson-Woods, First Time Grant Recipient FY21
Xiaocun Lu, First Time Grant Recipient FY21