What can you do with a degree in chemistry or biomolecular science? Read our alumni success stories. 
Dentistry
Janel Smith '03 BS Biomolecular Science; General Dentist, Sandstone Family Dentistry
Developing COVID Antibodies
Amy Jenkins '02 Chemistry and Biomolecular Science; Program Manager, U.S. Department of Defense
Getting into A Top Medical School
Kevin MacKrell '17 BS Biomolecular Science; Student, Johns Hopkins School of Medicine
Project Management
Jennifer Karekos '14 BS Biomolecular Science, '15 MBA; Associate Director of Program Management, Akron Biotech
View More Alumni Profiles
Image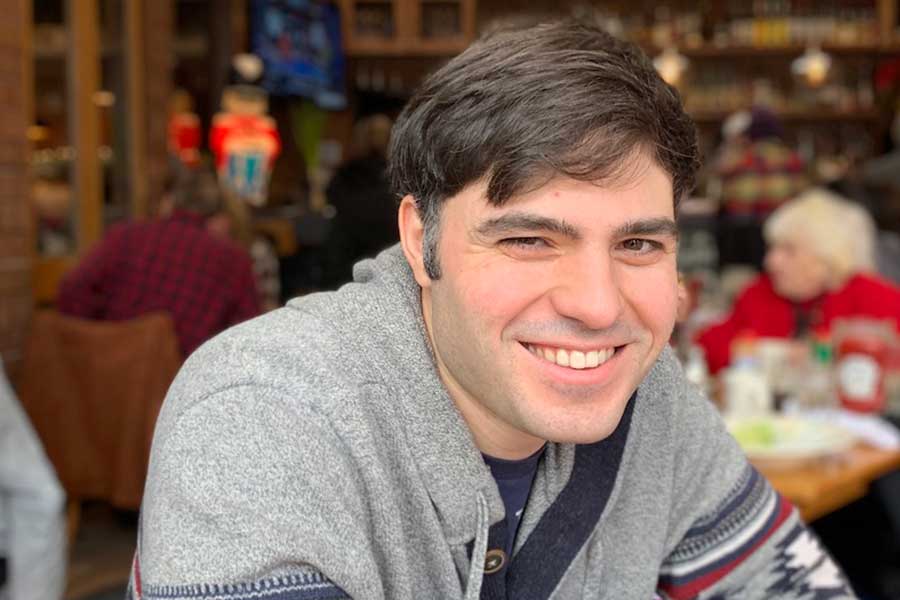 When I decided to pursue an advanced degree, I was looking for an excellent research program available at the  graduate level in the field of biosensing. It became clear that Clarkson's Chemistry graduate program stood out as one of the best programs available with a biosensing research option.
I joined Professor Silvana Andreescu's research team at Clarkson for my graduate research in 2009 and graduated with a Ph.D. in analytical chemistry in 2014. Not only was the graduate program content relevant to modern-day industry endeavors and standards, but the culture of the university and Professor Andreescu's research team were key building blocks to my success. Throughout the course of my time at Clarkson, I was given the opportunity to actively collaborate with researchers in several other chemistry disciplines, particularly biochemistry and nanoparticle chemistry, and also worked with biology researchers on biosensor engineering and biosensor applications in living organisms. As result of my academic training and achievements at Clarkson, I have become a competitive scientist in the IVD (In Vitro Medical Devices) field.
I am a Senior Scientist at Abbott Diabetes Care, where I carry out advanced research projects to improve existing sensor technologies, and ideate and demonstrate feasibility of next generation sensors. I am responsible for formulation development, characterization, prototyping and verification. Prior to that, I had the chance to breathe in the high-tech startup atmosphere at Fitbit as a Senior Research Scientist responsible for development of electrochemical and colorimetric biosensors from concept to working prototype.
My advice to current and prospective students is to take advantage of the multidisciplinary research opportunities provided in the Chemistry Graduate Program in order to achieve your goals as future professionals; and definitely enjoy your time at Clarkson. Let's Go Tech!
Image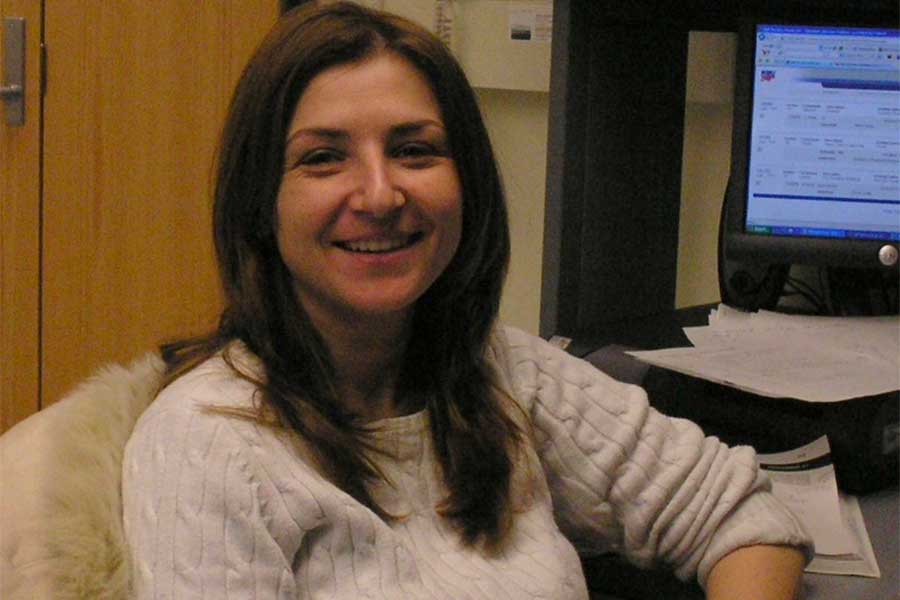 I was attracted to Clarkson because of its reputation for  high quality biotechnology research, and at the same time Potsdam New York offered beautiful setting which turned out to be a friendly and vibrant place to live and study. While a graduate student at Clarkson I learned the importance of being relentless, not giving up and looking for answers to all of the questions that I could possibly ask.
Looking back, I can see that my decision to enter the Chemistry Graduate Program at Clarkson was an incredibly important and decisive moment in shaping my career path. It led directly to my current position as a Senior Manager at Siemens Healthineers. At Siemens I develop strategies and plans to ensure on-time completion of major project milestones, I estimate resource needs and drive cross-functional recommendations and decisions, while providing regular updates to the executive leadership team. Currently, I am managing two project teams who are preparing to transfer all of the processes required to manufacture and produce in-vitro medical devices to Shanghai China. I am in charge of developing and executing strategies for responses to regulatory submissions, providing input into clinical trials, and preparing documents for China FDA submissions.
My advise to others would be to make the best out of each opportunity that comes your way and don't forget that your career path is in your own hands; work hard, but also don't forget to play hard and give back when the opportunity arises.
Image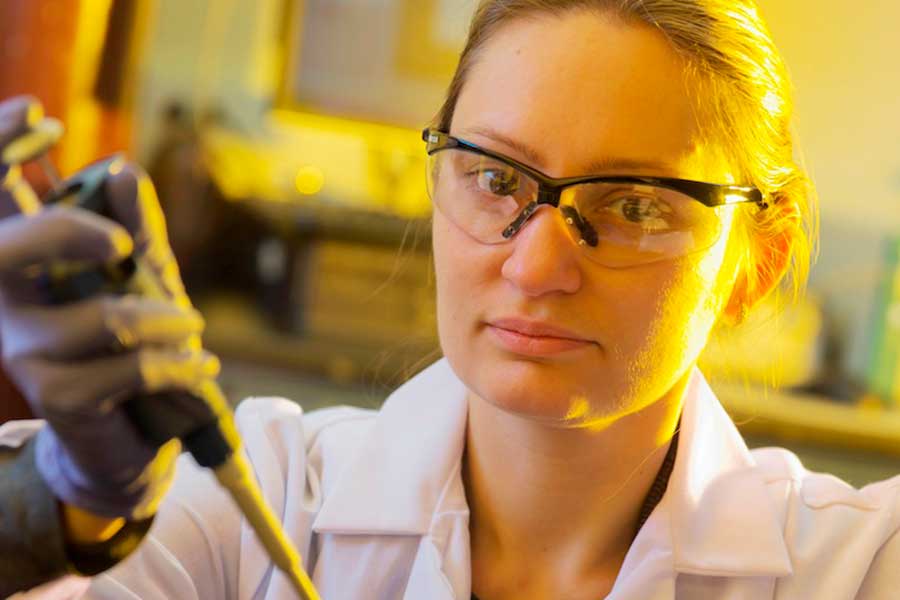 Clarkson University is situated near the Adirondack Mountains in a quiet setting with plenty of wildlife and outdoor activities to support my ideal lifestyle. That, coupled with a reputation for cutting edge research, were very attractive to me. I felt it would be a great opportunity and atmosphere for studying and working towards my graduate degree.
The experience was beyond my expectations. I had the opportunity to work on many different projects with professors in chemistry and worked collaboratively with research faculty in other departments. We accomplished interdisciplinary research and I fulfilled my dream to study and learn beyond my chosen field : combining biology, medicine, physics and chemistry. Clarkson is small in terms of the number of students, but at the same time, is a big and united family. Collaborative research is encouraged and thrives within the Clarkson research community.
Currently I am a Director of Research at AireSun Global in Canada, doing product development for a bio-tech company.
I have great respect for Clarkson University and especially to its community of good caring people, which is the most important part. Clarkson, for me, was a place to build a network of professional colleagues and, ultimately, friends for a lifetime.
Image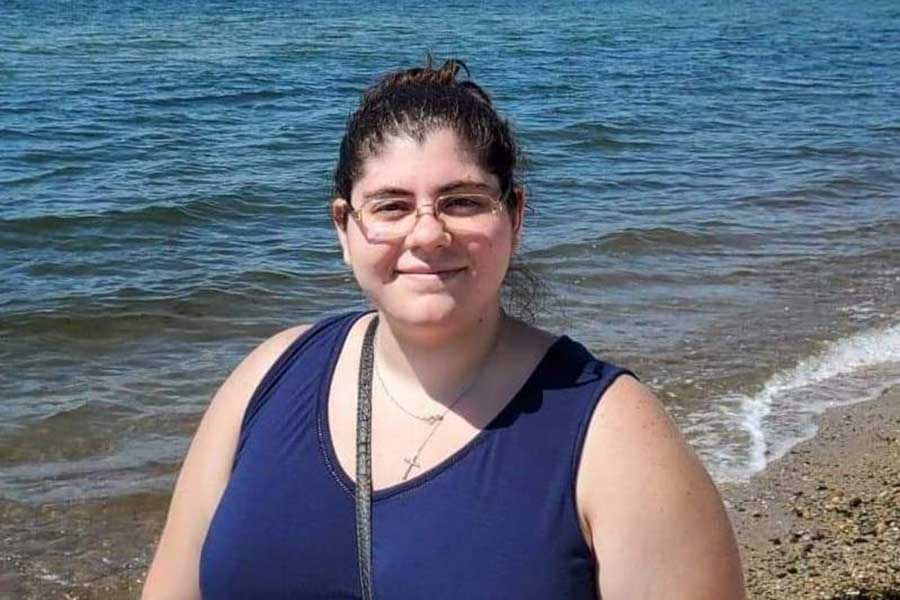 I chose to be an undergraduate Chemistry major because of the ability to customize the program to fit my interests. I was attracted to Clarkson's programs because of the size of the school and the reputation that the Clarkson name carries.
I also chose this major because of the professors. The relationships that you build with your professors at Clarkson are unlike any other. Being a Biomolecular Science or Chemistry major brings plenty of opportunities for hands-on experiences that will benefit graduates in so many professional fields.
My undergraduate experience at Clarkson prepared me for my new career in many ways.  I learned how to use scientific instruments and developed other technical skills that I use daily in my new position. I learned how to think critically and problem solve. I also learned how to interact with people in a professional environment.
Currently, I am working as a Product Development Analytical Chemist. I am responsible for performing analytical tests on active pharmaceutical ingredients and documenting the processed data accordingly.
My one piece of advice is to know yourself and what you think will make you happy. Four years is a long time, and choosing the right environment to help you succeed is very important. You will know which college is the right choice for you. I certainly did!
Image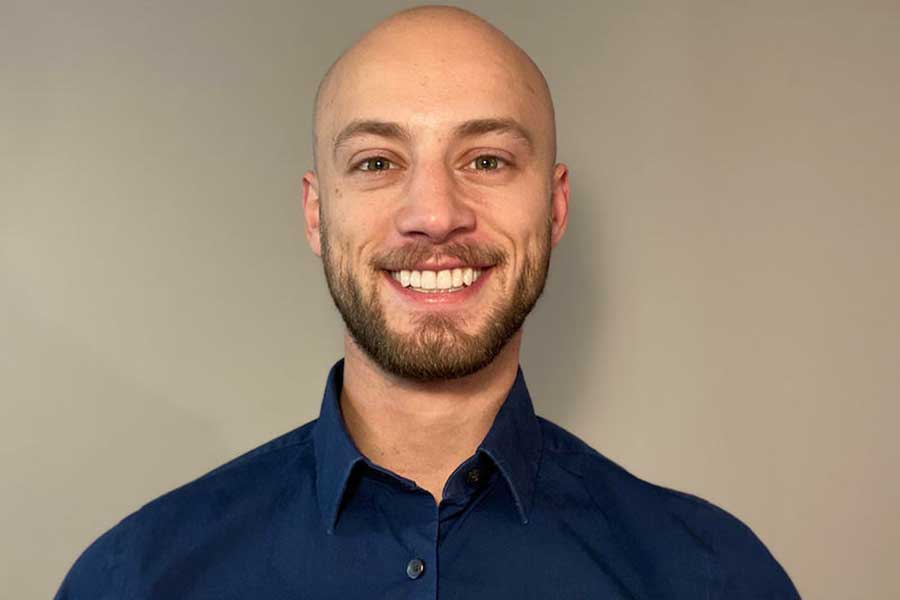 Clarkson has a hometown feel and small class sizes and this was really great for getting to know my fellow students and developing personal and supportive relationships with my professors. The professors are available and accessible and this made it so much easier to get help with the rigorous coursework that is part of Clarkson's reputation. Not everybody's professors know them on a first-name basis.
There are many opportunities at Clarkson to participate in undergraduate research and I was in research labs conducted real chemistry research for most of my time at Clarkson. This allowed me to develop skills that ultimately prepared me for grad school and are skills that I still use today.
I really fell in love with the Clarkson campus and enjoyed being tucked away in the woods in Potsdam, New York.
I was able to join the Clarkson cross-country ski team which is something many other schools don't have. It was so fun to go on all the hiking and mountain biking trails that Clarkson has on campus. It's really such a beautiful place to go to school and I am very happy that I ultimately chose Clarkson for my undergraduate education.
I hope these few reasons will help you in your decision and that you will consider Clarkson knowing that I found it to be a fantastic place to study and I am very happy with the education I received there, so... let's go Tech!
Image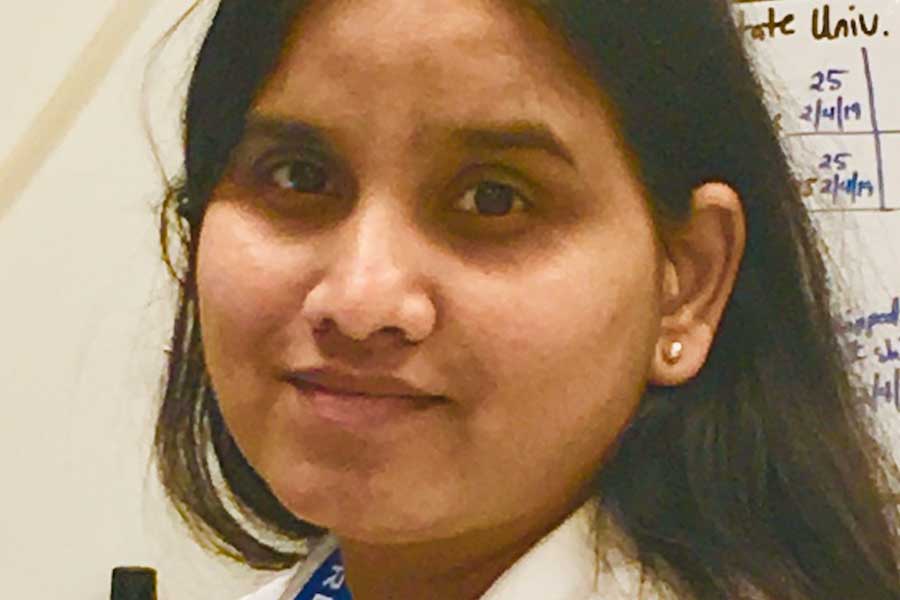 I am originally from India and was happy to be admitted to Clarkson for the Chemistry Graduate Program. I was attracted to this program because the department offers a wide range of specialized chemistry research areas and courses, particularly the opportunity to participate in enzyme biotechnology-based projects with Dr. Evgeny Katz. This suited my exact interests.
The research work under Dr. Katz, and his mentorship, paved the way for my career in the areas of bio-sensors, biocomputing, bio-analytical chemistry, electrobiochemistry, biofuel cells and enzyme extraction. I also had the privilege to work with physics professor Dr. Vladimir Privman as my co-advisor in work related to biocomputing. While doing research in Dr. Katz's lab, I won  a "Best Poster" award and a "Best Paper" award and was co-author on more than 10 publications for projects related to enzyme biocomputing between 2007- 2011. My best memory is working on an exciting 1.6 million dollar ONR (Office of Naval Research) sponsored project for developing a "Field Hospital on a Chip" for soldiers to wear on the battlefield. The mentorship, guidance and encouragement from Dr. Katz contributed greatly to my career and professional growth. His mere availability and willingness to help above and beyond anyone's expectations was truly amazing.
I am currently working as a Principal Scientist at CFD Research in Huntsville, Alabama. I am responsible for overall technical management, project planning and management, as well as technology commercialization and insertion efforts with Department of Defense projects related to bio-batteries and biosensors.
Clarkson University will give you a great educational and research experience in all aspects of chemistry, electrochemistry, biochemistry, medicinal chemistry and more. Professors are always willing to help with coursework, research, publications, presentations, thesis preparation and career development. Willingness to work hard and a passion for achieving your goals is the key and Clarkson University will help you get there.
Image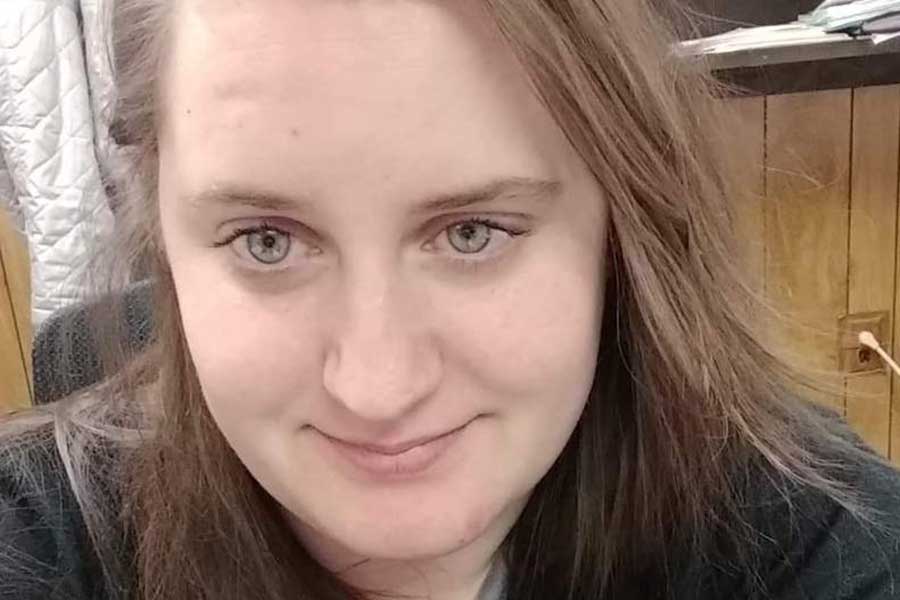 The opportunity to work closely with talented and knowledgeable faculty on innovative and exciting research projects is what attracted me to Clarkson. Clarkson's is a strong science and engineering college that highlights competitive technical education and this really appealed to me. I love to learn and to understand the world and materials around me, so chemistry, specifically materials chemistry, was an obvious choice for me…
The chemistry undergraduate curriculum at Clarkson offered me the knowledge and skills I needed and showed me that, by working hard and doing my best, I can overcome any challenges I encounter.  My natural curiosity and creative drive were huge assets in chemistry.
As an undergraduate I was a teaching assistant in the lab and a supplementary lecturer. These opportunities are not offered everywhere. Teaching solidified my knowledge of chemistry and led to comfort and confidence in public speaking, a great skill when presenting research. I had a hands-on opportunity for learning as an independent undergraduate researcher. Working in the lab with my research faculty advisor, Dr. Devon Shipp, and his graduate students,  prepared me for success in the chemistry graduate program.
As a Senior Process Controller at Lydall Performance Materials I am responsible for maintaining controlled and reproducible production processes for the development of beater addition gasket materials.  Much of my work includes managing our product recipes, updating work instructions and procedures, evaluating new raw materials, assisting with root cause analyses for nonconforming product, raw material contamination, or customer complaints, and creating/revising bill of materials for goods in process and finished products. I also evaluate and implement raw material substitution or second source raw material projects as well as manage new product trials.  For new product development, I work with our Innovation and Development engineering team to help translate their formulations to our industrial processes.
My advice to prospective and current students is to always be proud of your dedication, hard work and accomplishments.  We can only do our best and we must remember that we learn from both successes and failures.  Both are important for growth and becoming the best person you can be.  It is important to have a good support system of family, friends, and faculty. This is key: always remember to believe in yourself.