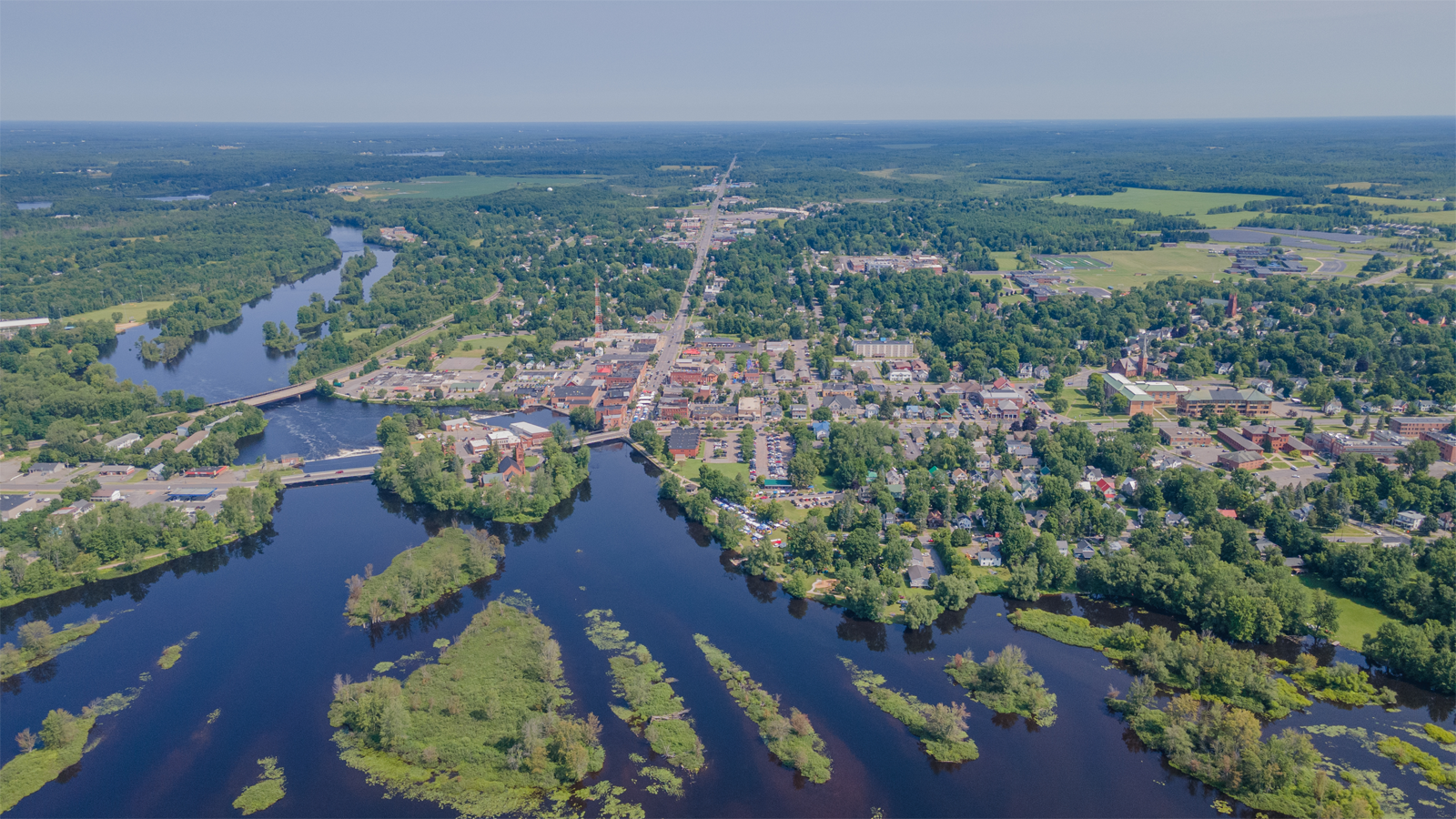 Potsdam is a small town, it's true — a quintessential college town where life revolves around two universities. But there's more to Clarkson's main campus location than meets the eye — and a lot more to do.
If you're an adventurer, ski slopes beckon. Hiking trails call. Caves that are hidden throughout the Adirondack Mountains wait to be explored. The many lakes and rivers of the North Country beg for some kayak and rafting action. And there are still a couple of shipwrecks in the St. Lawrence Seaway that are waiting to be discovered by a lucky diver. Wait -- you've never done any of these things? Experienced members of the Outing Club will be your guides.
And if you're an urban explorer, head north to Canada. Ottawa, the capital, and Montreal, a city that feels more European than North American, are less than two hours away. 
Trips to New York City or Boston are a little longer, but that doesn't stop Clarksonians. We're always up for a road trip.
If you're an outdoor enthusiast, Clarkson is the answer to your dreams. Year-round! World-class downhill and cross-country skiing, snowboarding, mountain biking, hiking, cycling, kayaking and canoeing are just a short drive away. So are rock and ice climbing, whitewater river rafting, fishing, caving, mountain climbing and camping.
That's because you can enter the majestic wilderness of the Adirondack Park just a few miles from campus. The high peaks, valleys, rivers, lakes, woods and wetlands are always awaiting you and your friends in a natural playground of six million acres.
The great St. Lawrence River is less than a 30 minute drive from campus, too. Students travel to Waddington to fish the same waters as the Bassmaster Elite, to Alexandria Bay for shipwreck diving and to many other towns on the shores of the St. Lawrence for various recreational activities. 
Not surprisingly, Clarkson students have been taking advantage of this neighboring natural environment and pure outdoor experience for years. And you can join right in, thanks to our student-run Outing Club, which is one of the biggest, most active and best-organized in the East.
Of course, you can also enjoy the nature and the outdoors right on our 640-acre campus, thanks to three miles of trails for hiking, biking or cross-country skiing or through woods and wetlands. Not to mention, canoeing and kayaking are within walking distance of your room, thanks to Clarkson's canoe house on the Raquette River.
Visited a scenic Alpine village lately? Just an hour and a half from Clarkson, you'll find Lake Placid, a year-round resort town with all kinds of entertainment, shopping, dining and recreation. The famed Olympic site in the Adirondack Mountains not only enjoys a spectacular setting, it also offers activities you won't find anywhere else, like wheeled bobsled rides and views from atop a former Olympic ski jump.
Having hosted the 1932 and 1980 Winter Olympics, Lake Placid is renowned for winter sports. The downhill skiing at nearby Whiteface Mountain is unrivaled in the East and regular roundtrip transportation to the mountain is available to you from the Clarkson campus. An Olympic flavor pervades the whole community. Olympic year-round training sites include not only the towering ski jump, but also luge and bobsled facilities. Recreational opportunities abound throughout the year, ranging from golf, tennis and horseback riding, to hiking, biking and sailing amid mountain splendor.
In addition, the village and the surrounding Adirondacks offer you a wide range of non-sports activities, from scenic plane rides to leisurely lakeside strolls. Go shopping — or just window shopping — at the numerous crafts stores, gift shops and art galleries. And watch for concerts, performances and shows by all kinds of artists and entertainers at the Olympic Events Center.
The Village of Potsdam is a classic college town, located on the banks of the beautiful Raquette River. Its tree-lined streets and historic red sandstone buildings give a friendly feel to an array of modern stores and restaurants. Clarkson and SUNY Potsdam are within walking distance of one another. And downtown shops and eateries are within walking distance, too.
Serving a college student population of more than 7,000, the village will fill your shopping needs. Local merchants welcome students and go out of their way to be accommodating. A diverse mix of individuals and families adds to the welcoming atmosphere for students from across the nation and around the world. You'll also appreciate the safe, secure environment that comes with a smaller community.
Among the village's outstanding cultural features is the Crane School of Music at SUNY Potsdam, where you can enjoy extraordinary vocal and instrumental performances and concerts by world-class musicians almost every night — many of which are free.
Looking for a quick taste of city hustle and bustle? Cosmopolitan culture? Big-time entertainment? A little junket north to Canada's Ottawa or Montreal will probably do the trick. Each of these major cities is within two hours of campus by car.
French-speaking Montreal is one of the most cosmopolitan and sophisticated cities in North America. Famed for the multicultural cuisine of its ethnically diverse restaurants and the glitter of its nightlife, this urban environment offers you a unique francophone experience, including the charms of "Old Montreal," which echoes 400 years of history. Destinations include the Museum of Fine Arts, Place des Arts, and Montreal Canadiens' hockey games, in addition to performances by major entertainers.
Ottawa, which is Canada's capital, offers world-class cultural attractions, including the National Arts Center, National Gallery of Canada, Museum of Civilization, Museum of Science and Technology, Museum of Nature, and the Parliament complex, as well as A-list musical and stage performances. It is also home of the Ottawa Senators. A favorite local tradition shared by Clarkson students is skating on the famous Rideau Canal, which runs for miles through the city.
Here's a plus for Clarkson's location: you have access to resources — and entertainment possibilities — equivalent to what you would expect to find at a university with more than 12,000 students. The reason? Great cooperation among our four area colleges.
In addition to SUNY Potsdam across town, our neighbors include St. Lawrence University and SUNY Canton, both located in Canton, N.Y., just 10 miles away. Thanks to a cooperative agreement among all four colleges, as a student you get to share their collective intellectual resources at no extra cost.
If you're looking for an elective course not offered at Clarkson, in music or foreign language, for example, you have options at SUNY Potsdam or St. Lawrence. You can cross-register for up to two courses a year with no increase in tuition. Plus, you have access to more than a million books among the four college libraries, with electronic access to all four catalogs (in addition to our worldwide "supercatalog" for interlibrary loan).
In addition, you also get to enjoy the social and cultural events, concerts, performances, and entertainers of all four campuses, with special events publicized through joint calendars.