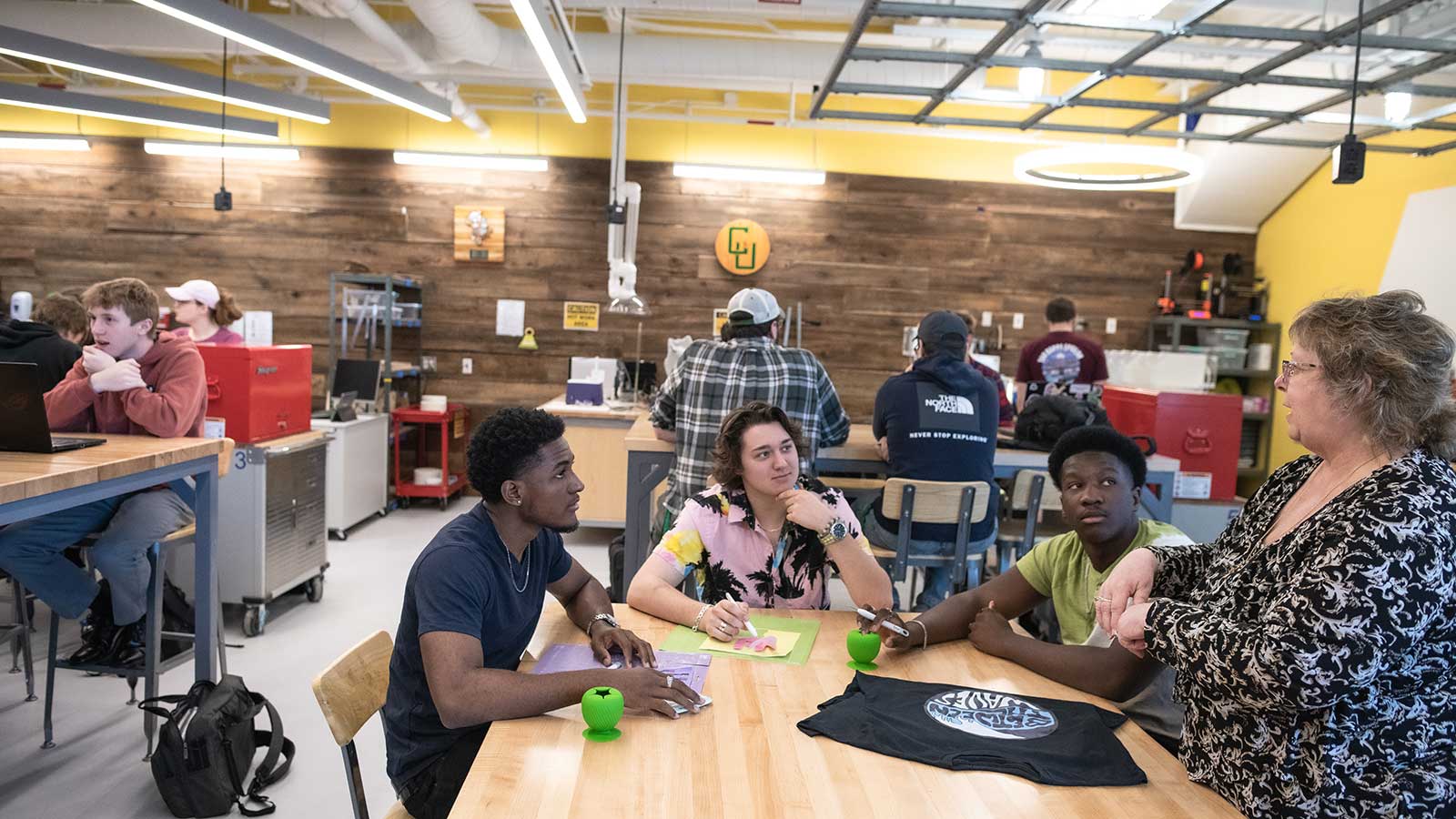 Think: Become a Thought Leader
The innovation process begins from within — as ideas and thoughts we encourage you to fully realize and flesh out. At Ignite, start to explore your ideas, think about the problems and opportunities that lie ahead of you and collaborate across disciplines to uncover innovative solutions to pressing problems. For the ideation phase, Ignite's programming and facilities foster creative thinking and influence boundary-pushing results.
The Studio
Located in B.H. Snell Hall Room 238, the Studio is where imagination, creation and innovation unfold. The Studio is outfitted with materials for rapid prototyping and team collaboration, cultivating a one-of-a-kind creative space that every student can use to experiment, invent and collaborate.
Ignite Speaker Series
We believe that the tales and lessons told by people immersed in an industry or field of study, often with a personal perspective to impart, influence innovative solutions. Through the Ignite Speaker Series, students have the opportunity to meet with subject matter experts, hear their life stories and learn about relevant industry problems, growth and trends. We encourage students to get involved, including thinking proactively about how they might contribute to these pressing issues.
Ignite Podcast
The Ignite Podcast brings in alumni and community leaders to talk about world issues that are of interest to the campus community. The podcast provides insight into developing technologies to topics on how students can network within their career path.
Make: Create Something New
Innovation extends beyond ideation. Clarkson Ignite encourages you to bring your ideas to fruition by providing you with the resources and state-of-the-art facilities needed to do so.
The Dorf Makerspace
Located on the first floor of the Schuler Educational Resources Center (ERC), the Dorf Makerspace is a hub for hands-on, physical creation. Design, create, and prototype your ideas with state-of-the-art equipment, like 3D printers, a vinyl heat press machine, a glass fusing and soldering station, sewing and embroidery machines, laser engravers and more!
The space is free for students to use (after taking a quick safety training). Maker Mentors are readily available during the Makerspace's open hours to assist with learning about the equipment and utilizing the space for research, projects, making and more innovation-fueling pursuits. Workshops additionally highlight the resources available in a more structured way.
The Media Production Center
Just as the Makerspace is for physical creation, the Media Production Center focuses on digital content creation, providing the resources needed for students and staff to create and edit photos, videos, music, podcasts and additional forms of digital media. The Media Production Center is housed on the second floor of the Educational Resources Center (ERC) with equipment for producing and editing visual content, audio content and video recordings.
Growing up in western New York, I knew I wanted to innovate and make the world a better place. At Clarkson, I've been able to explore my passions and take them to new levels. Choosing to attend Clarkson is a decision I would make again in a heartbeat.
Miles Compani '24, BS in Engineering & Management
Ignite: Pursue Your Passions
The third step of the innovation process is to ignite. Ignite your creations by applying them to the real world. We believe that students can be leaders, solve real-world problems and capitalize on the opportunities presented to them. Take your ideas and creations to the next step, launching them into a full-fledged business with growth potential.
The Cube is Clarkson's student business incubator program. Students in the Cube meet with our staff on a weekly basis, where they gain professional help and guidance as they work towards their business goals. Our Cube students also have access to supervised discretionary funds, Ignition grants, external business plan competition sponsorship and much more! Any student can apply to enter the Cube, and membership lasts for one year, after which you can reapply. Pitches to enter or re-enter the program are held one time each semester.
Pitch your business idea at the North Country Regional Business Plan Competition hosted every spring by Clarkson Ignite. As one of 10 regional competitions held across New York State, the competition is open to any business that is majority-owned by students attending a college or university in the North Country region. Cash prizes are awarded to the top three teams in each business category, and the top two in each are eligible to move on to the state competition.
President's Challenge
Every year, Clarkson's president chooses a real-world issue or opportunity and challenges the Clarkson community to create something to address it. This commences what we refer to as the President's Challenge, which spans the fall semester and is open to all students. Students are encouraged to form cross-disciplinary teams with their peers to complete the challenge. Big prizes are awarded to the top-place teams!
Past challenges included utilizing the Internet of Things to improve the community, identifying a solution targeted toward improving public health and creating a giant Rube Goldberg Machine to help the president shoot a hockey puck on ice and score a winning goal!
In each case, students develop a prototype or compelling conceptual design to demonstrate their idea and how it could be applied to address the issue at hand.
Scholarship Opportunities
Ignite believes that collaborative, hands-on education should be accessible to all students, and we reward scholars who take initiative and demonstrate great potential. Ignite extends two full-tuition scholarship opportunities to innovative thinkers, makers and young entrepreneurs and innovators.
Clarkson looks for students who want to innovate, be creative and ignite passion through everything they do. We seek students with minds that will challenge every way we do things while intuitively knowing there is a better way.
The Ignite Presidential Fellowship is a merit-based scholarship awarded to 10 incoming students every year. Recipients receive full-tuition coverage for up to eight semesters of their undergraduate study.
The Young Innovators and Entrepreneurs Program empowers up to five incoming students who have their own business or commercializable idea to achieve their entrepreneurial vision and goals. Eligible students can apply to attend Clarkson tuition-free for up to eight semesters of undergraduate study in exchange for 10 percent equity in their business.
As part of the program, students meet with our Ignite professional staff weekly or biweekly, according to their individual needs, in order to ensure they are working towards their business goals and to receive assistance and support.
To apply, students must submit an application, which includes their completed business plan, a 90-second or shorter video that answers the question "Who am I, outside of my business?" and a brief description of their business.