Research is one of our strengths -- and students at all levels are encouraged to gain hands-on experience working on projects alongside faculty members.
Research activities of the faculty range from biological-focused chemistry through to metallic and inorganic materials, with strengths lying broadly in the bio-sensing/analytical and materials areas, where the research interests of multiple faculty intersect. In particular, the historical areas of strength, such as colloids, surfaces, electrochemistry and analytical chemistry, now underpin the research activities of several leading faculty in the department.
Graduate students, and many undergraduates, actively participate in research projects. Undergraduates can contact faculty who have projects that are of interest to them in order to get involved. Many of our undergraduates present their work at local, national and even international conferences; some do enough work to warrant co-authorship on peer-reviewed publications. Research is an excellent way for undergraduates to find out if pursuing a research-based graduate degree (M.S. or Ph.D.) is for them, and opens doors to new opportunities in industry through real-world, open-ended problem solving.
Current Areas of Research
Resources & Facilities
Image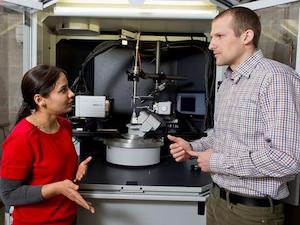 Students have hands-on experience using the latest instrumentation, such as nuclear magnetic resonance (NMR) spectroscopy, gas chromatography-mass spectrometry (GC-MS) and high performance liquid chromatography (HPLC).
Other instruments available for teaching and research include various electron microscopes, uv/visible, fluorescence and atomic adsorption spectrometers, mass spectrometers, x-ray diffractometers, particle sizers, thermal and mechanical analyzers.