STARTScience@Clarkson Showcases Careers in Science to Northern New York Regional High School Students, Teachers and Counselors
February 24, 2023
The United Nations celebrated International Day of Women and Girls in Science on February 11. Building on this theme, Clarkson University's Department of Chemistry and Biomolecular Science, in collaboration with the Institute for STEM Education and the Undergraduate Admissions Office, held a science event for students, teachers and counselors from Northern New York high schools last month.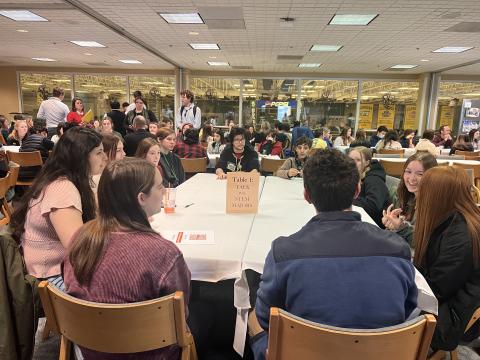 "This event was a great opportunity for us to engage with high school students and encourage them to build on their interests in science to pursue enriching and satisfying careers in industry, healthcare, research and teaching," said Silvana Andreescu, Egon Matijević Endowed Chair and Chair of the Department of Chemistry and Biomolecular Science. "I was impressed by the enthusiasm of the students who attended the event and their eagerness to learn and explore the many opportunities a degree in science has to offer."
Fourteen Northern New York regional high schools participated, sending 125 students, science teachers, counselors and a high school principal. Clarkson students, faculty and staff and invited guests from industry, education, State agencies and healthcare shared their experiences through mentoring sessions and a panel discussion. The mentoring sessions covered a range of topics, including what can you do with a degree in science, entrepreneurial scientists, working with industry and state agencies, careers in healthcare, and research, internships and experiences.
Questions from the high school students allowed panel members to share personal stories related to their own education and career path and offer whole-hearted encouragement to stay curious and follow interests to meaningful careers in science.
Clarkson Professor and Director of Freshman Chemistry James Peploski demonstrated his enthusiasm for chemistry, and for teaching, with a chemistry "magic show" filled with exciting demonstrations of chemistry in action. Organizers concluded the day with tours through areas of campus related to chemistry, biology, biomolecular science, physics, computer science and math. The high school students and teachers all enjoyed observing Clarkson undergraduates at the benches in the teaching labs and learning to use scientific instruments.
Andreescu organized the event with the assistance of department support staff Elizabeth McCarran, Institute for STEM Education Director Professor Katie Kavanagh and Leigha Gagner, STEM Manager of K-12 Programming. Chris Pryce, Assistant Director of Undergraduate Admissions was on hand to answer numerous questions from the high school participants.
The organizers would like to thank the generous sponsors, the Department of Chemistry and Biomolecular Science, the Institute for STEM Education, the Northern New York Section of the American Chemical Society (ACS), CFSF Brilliant Pathways, the Undergraduate Admissions Office, the Center for Advanced Materials Processing (CAMP) and the Center of Excellence in Healthy Water Solutions. Much appreciation goes to Clarkson faculty and students who contributed to the activities and helped with mentoring students and showcasing their work during the science tour.  
Clarkson University is committed to promoting STEM education and outreach, and providing opportunities for students to be exposed to cutting-edge technologies and examples of real world applications for careers in industry, academia, education or government.
For more information about this program, please contact Beth McCarran (emccarra@clarkson.edu), or Silvana Andreescu (eandrees@clarkson.edu).