Twiss Named Professor Emeritus at Clarkson University
May 13, 2023
Clarkson University Biology Professor Michael Twiss, has been named professor emeritus for 20 years of service to the University. Formal recognition will take place at commencement on May 13.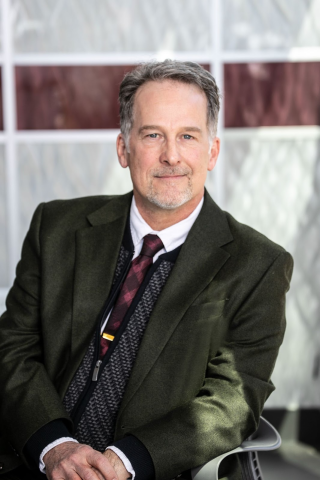 Twiss joined Clarkson from Toronto Metropolitan University in 2002. He was named department chair in 2020. Professor Twiss received his Hon BSc from Trent University, an MSc degree from the University of Toronto, and his PhD from Université du Québec – INRS-ETE (Eau), and he performed a postdoctoral fellowship at Woods Hole Oceanographic Institution (WHOI). His current research focuses on winter limnology and the development of novel approaches to year-round remote sensing of water quality.  He has published fieldwork on every Laurentian Great Lake and the Saint Lawrence River. He has brought in over $2M in external funding, published over 90 peer-reviewed manuscripts, reports and book chapters, and trained over twenty graduate students and postdoctoral fellows.
His professional service includes participation on Great Lakes science advisory boards for the US Environmental Protection Agency (EPA) and the International Joint Commission, co-chairing the Smart Great Lakes Initiative Strategy for the Great Lakes Observing System, and leadership as president of the International Association for Great Lakes Research, where his professional expertise and that of colleagues have helped ensure the protection of these crucial waters. His collaborations include the regional Kanienkehaka (Mohawk) community, and he works to ensure that data sovereignty is respected and decolonization is addressed. He expanded the River Environment and Sensor Observation Network (REASON) project into the Mohawk community of Akwesasne, which not only increased the power of the observatory but provided technology transfer, and sharing of funds.
Dr. Twiss has taught a large number of courses focused on microbiology, limnology, botany, and Great Lakes water protection. More significantly he has developed many experiential learning programs for students. For example, the Great Lakes Limnology practicum took place over an intensive 8-day research expedition across Lake Ontario onboard the US EPA research vessel Lake Guardian. He also developed an experiential learning program for students with the renowned Trudeau Institute for Infectious Disease Research. Another course, Great Lakes Water Protection, integrates broad topics in geology, limnology, economics, and fine art in order for students to appreciate the ecological and social importance of the Great Lakes region.
Presently, Twiss is the inaugural Dean of Science at Algoma University at the heart of the Great Lakes, in Sault Ste Marie, Ontario. There he serves Algoma and its Special Mission as a teaching-oriented university, providing programs in liberal arts and sciences  and professional programs, with a particular focus on the needs of Northern Ontario. In keeping with the history of Algoma University and its geographic site, Algoma cultivates cross-cultural learning between Indigenous communities and other communities.  Twiss maintains strong connections with Clarkson faculty and graduate students, and the local community through research and other initiatives such as the Rights of Nature movement in northern New York.