Rajan Raghavan '82 to Speak at Clarkson University Commencement May 11
May 10, 2023
Clarkson University alumnus and Founder, President and CEO of The Fabric Rajan Raghavan '82 will speak to graduates and their families at Clarkson University's graduate commencement ceremony on Thursday, May 11.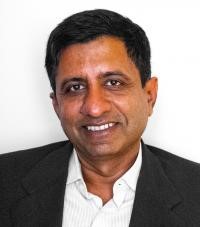 Raghavan, who graduated with an MS in Electrical Engineering from Clarkson, is an experienced serial entrepreneur. He has most recently started his sixth company, The Fabric, which co-creates cloud infrastructure companies with other entrepreneurs. Raghavan also holds an MBA from Syracuse University, and Bachelor's degree from the National Institute of Technology Tiruchirappalli.
Raghavan was elected to the Clarkson University Board of Trustees in February 2018. He has served on the Internal Affairs and Investment Committees and actively serves on the Financial Affairs and Academic Mission Committee.
In the past Raghavan was also the founder of Mediaway, Virtual Chips, RealChip Communication, Xambala, and Ankeena (sold to Juniper). In addition, he has been involved with three other startups, including Avasem (later ICS), Cirrus Logic, C&T and has served as adviser to multiple startups in the software, semiconductor, systems and cloud space. He is best known perhaps for his early role in impacting and creating the semiconductor IP market and also for pioneering innovative companies in the early days of cloud infrastructure.
Raghavan lives in Saratoga, California with his wife, Ragini.