Clarkson Wins Merit Award at National Construction Competition
February 15, 2023
Clarkson University's Construction Engineering Management (CEM) Program's Student Projects in Engineering Experience and Design (SPEED) teams landed some serious hardware this past weekend at the 36th Annual Associated Schools of Construction (ASC) Region 6 & 7 National Open Problem Student Competition in the Integrated Project Delivery category.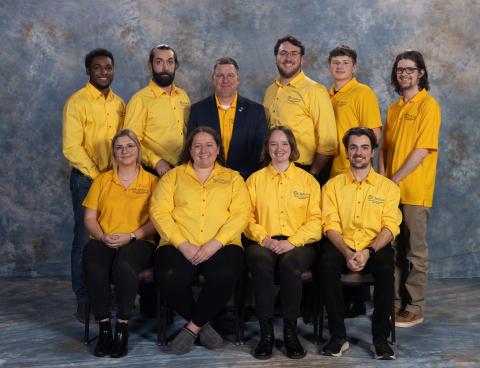 Clarkson's student team received the Merit Award, given to a team in recognition of its exceptional teamwork, presentation performance, and drive to excel. The team, led by Civil Engineering Major Sean Donnelly '23, returned Clarkson to national prominence after competing against schools like Stanford University, Auburn University, Colorado State, Arizona State, and UC Berkeley, among others.
The team tackled a problem focused on the execution of a large, complex project using an Integrated Project Delivery approach with the student teams each assuming the role of a private design-build entity. This was the only category in the competition that permitted graduate students, in addition to undergraduates, to take part.
Supporting Donnelly in this undergraduate-only team were Civil Engineering Major Hannah Williams '23, Civil Engineering Major Caeden Bailey '24, Civil Engineering Major Haley Meshcon '23, Civil Engineering Major Seth Anderson '23, and Civil Engineering Major Shazoi Hall '24. Hosted at the Nugget Casino in Reno, NV and drawing 163 teams from across the nation, this national level competition features the best-of-the-best future construction engineering and management leaders.
"Being the integrated project problem, we really looked at the teams and how they worked together, how they were able to play off one another and whether they really had each other's backs," said Wendy Bohn, Project Executive for the Clark Construction Group. "Because that is what it takes in a real integrated project team. And there was no other team that did that better than Clarkson."  
Clarkson last participated in this project category at the national level in 2019, when it took second place.  
Also getting rave reviews were the Sustainable Building team led by Civil Engineering Major Rob Schneider '23 and consisting of Civil Engineering Major Chase Lyndaker '23, Environmental Engineering Major Julia Piskun '23, Civil Engineering Major Alex Thomas '23, Civil Engineering Major Brett Tiffany '23, and Kelly Kilgallen Civil Engineering Major '23. Participating as alternates in each category were Civil Engineering Major Tyler Haight '24, Civil Engineering Major Nikki Borowiec '24, Engineering & Management Major Mark Bedetti '23, and Environmental Engineering Major Mackenzie Peters '23.
Getting these students prepared for these premier challenges were adjunct Instructor in the CEM program Randy VanBrocklin '90, who served as primary coach along with Howard E. Lechler CEM Director Erik Backus '97 and Rob Collins '22, who stayed on after his December graduation to help the teams.