Clarkson University's Schuckers Named IEEE Fellow
January 17, 2023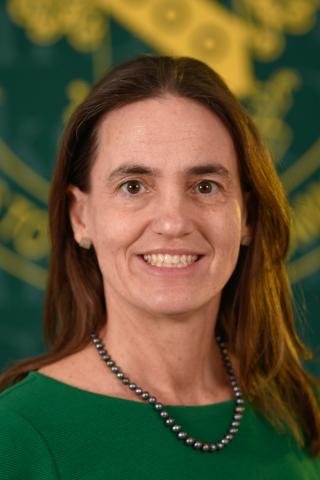 Clarkson University Professor of Electrical & Computer Engineering Stephanie Schuckers has been named an IEEE Fellow for "her contributions in biometric recognition systems."
Schuckers, a research engineer and scientist, is Clarkson's Paynter-Kringman Endowed Professor in Engineering Science and director of the Center for Identification Technology, a National Science Foundation Industry/University Cooperative Research Center.
IEEE Fellow is a distinction reserved for select members whose extraordinary accomplishments in any of the organization's fields of interest are deemed fitting of this prestigious grade elevation. IEEE is the world's largest technical professional organization dedicated to advancing technology for the benefit of humanity.
"The IEEE Fellow is one of the most prestigious honors of the IEEE and is bestowed upon a very limited number of senior members who have contributed importantly to the advancement or application of engineering, science and technology bringing significant value to our society," said IEEE President and CEO K.J. Ray Liu. "The number of IEEE Fellows elevated in a year is no more than one-tenth of one percent of the total IEEE voting membership."
Schuckers' research focuses on processing and interpreting signals from the human body, a major aspect of which is improving the performance and security of biometric fingerprint, face, and iris recognition systems.
One example of this is the development of liveness detection software, which protects fingerprint systems from spoof attacks using fake fingers. Through her early publications, Schuckers and her team introduced the academic world to research on liveness detection for fingerprint recognition. The focus of her work was "software-based" liveness – based on the fingerprint image only.  Schuckers published the first paper that uses a fingerprint image captured by the sensor.
Since then, Schuckers has worked to promote liveness detection through benchmark datasets, competitions, standardization, and certification. Liveness detection has only recently had widespread integration into commercial solutions. In the last 20 years, Schuckers has gone beyond the specific solutions from her research group and has provided tools needed for others to develop solutions, as well as encouraged the industry to integrate these solutions.
Schuckers started a business, NexID Biometrics, LLC, which was purchased by Precise Biometrics in 2017 and continues to have an office in Potsdam, N.Y., today. She has over 40 journal publications and over 60 other academic publications to her credit. She has also testified on biometrics for a U.S. House of Representatives subcommittee.  
Schuckers is a recipient of the Security Industry Association Women in Biometrics Award. She has also served as a panelist to the National Academies Panel on Review of the Information Technology Laboratory at the National Institute of Standards and Technology, and as a consultant to the Army Science Board of the Scientific Advisory Board to the Secretary of the Army. She currently serves on the board of directors of the Biometrics Institute, a not-for-profit organization that promotes the responsible and ethical use of biometrics.
At Clarkson, she is a recipient of the Research Excellence Award, the John W. Graham Faculty Research Award, and the Coulter School of Engineering Teaching Excellence Award, as well as a member of the Multi-Million Dollar Club for the significant amount of external funding that her investigations and research activities have garnered.
Clarkson's Center for Identification Technology Research (CITeR) is the only NSF Industry/University Cooperative Research Center focusing on serving its affiliates in the rapidly growing areas of identity science and biometric recognition through an interdisciplinary group of faculty, researchers, and students. Some of the many affiliates of CITeR are organizations like the Department of Homeland Security, the Defense Forensic Science Center, the FBI, and Qualcomm, among others.
Schuckers received her bachelor of science degree in electrical engineering from the University of Iowa. As a Whitaker Foundation Graduate Fellow, she received her master of science and Ph.D. degrees in electrical engineering from the University of Michigan.