Clarkson University Students Showcase Skills at Regional Construction Competition
November 16, 2023
Students from Clarkson University's Construction Engineering Management (CEM) Program, Student Projects in Engineering Experience and Design (SPEED) teams displayed their expertise at the 34th Annual Associated Schools of Construction (ASC) Competition held November 9 through 11. This year's event took place in Albany, New York and featured numerous universities including Drexel University, Vermont State University, Wentworth Institute of Tech, Cal Poly, and Rochester Institute of Technology, among others.
Image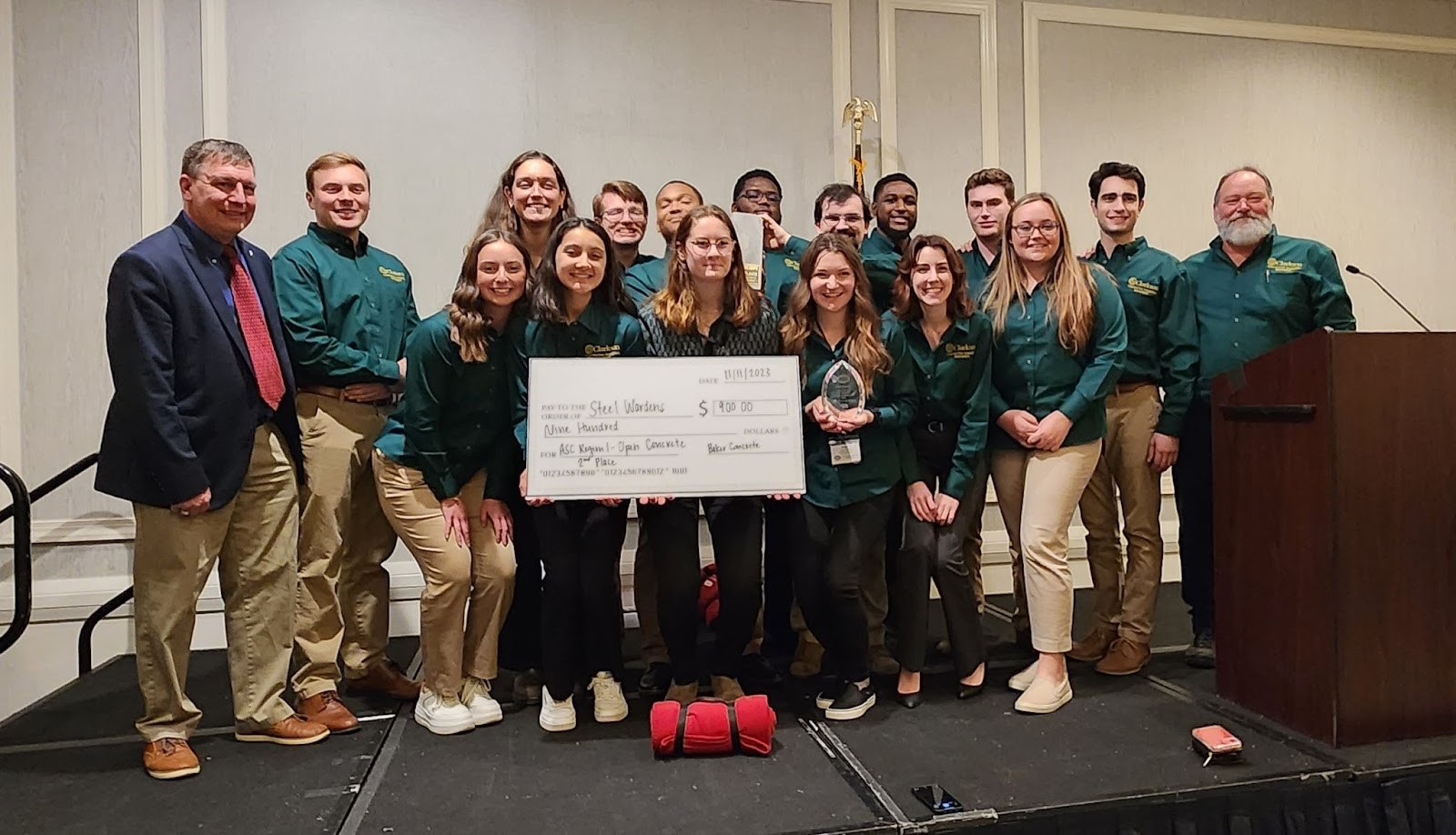 Clarkson University senior in civil engineering, Shazoi Hall, an international student from Jamaica, represented the University as Project Manager in the Preconstruction category sponsored by Consigli Construction. Despite intense competition, the team of 6 showcased remarkable teamwork and passion, earning second place.
"After weeks of preparation, my team showcased our expertise in Pre-Construction, earning second place," said Ajay Johnson, a junior civil engineering student also from Jamaica. "I'm looking forward to participating again next year."
Additionally, Clarkson competed in the open category, which allows any school from any region of the country to send a team, and also allows an opportunity for students who are team alternates to compete in an on-the-spot matchmade team. Clarkson students paired up with alternates from the University at Buffalo to form a team. In less than 24 hours of meeting, they were able to submit and present a proposal in front of Baker Concrete Constructors, the problem statement sponsor, and secured the second place award.
"Our students demonstrated poise and passion throughout the competition," According to team coach and Clarkson adjunct professor Randy VanBrocklin. "This comes from their ability to collaborate well as teams, just like in industry."  
"Clarkson over the last decade has really risen to the challenge," added Erik Backus, ASC Region 1 Director and Director of the Construction Engineering Management Program at Clarkson. "The teams they bring are serious competitors and make for 'shovel ready' engineers and construction professionals. This year was no different with another great showing."
Competing in these competitions provides students with invaluable real-world experience and opportunities to develop critical skills. Students receive mentorship and feedback from industry experts at these conferences. This allows them to learn how firms approach actual projects, understand their strengths, and identify areas for improvement in things like presentations and proposals. The competitions also allow students to showcase teamwork, creative thinking, and problem-solving abilities. Events like these are essential for nurturing the next generation of talented engineers and collaborative leaders that the construction industry needs as it continues to grow. The hands-on learning and industry exposure gives students the tools to succeed in their future careers while allowing them to build passion for the field.
The Clarkson SPEED Teams now look ahead to the upcoming national open problems portion of the ASC Region 6 and 7 competition in Sparks, Nevada in February, where they hope to continue demonstrating their abilities. Engineering management senior Gracie Girard eagerly awaits the chance to compete one last time at the national open problems categories.  
"My team, professor, and the Clarkson Construction Engineering Management Program prepared and worked hard to earn this together," Girard said. "I have learned many things about myself and shared fun experiences with my classmates. I look forward to doing it again in a few months in Reno for the Region 6 & 7 competition."