Clarkson University Student's Art Selected for College Student Juried Art Exhibit at Remington Museum
February 28, 2023
Clarkson University senior Dan Wellings '23, a student in Communication, Media & Design, has had two pieces accepted to the College Student Juried Art Exhibit opening at the Frederic Remington Art Museum in Ogdensburg, NY.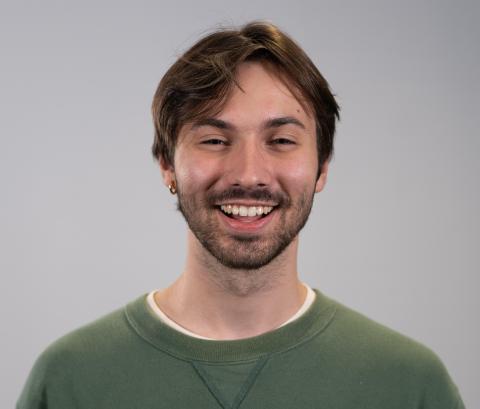 "I am honored to be presenting two experimental shorts, 'Desolate' and 'Postmodern Art Tutorial,'" Wellings said. "I worked on these shorts during my time at Clarkson University."
The College Student Juried Art Exhibit is open to students at Clarkson University, St. Lawrence University, SUNY Plattsburgh, and SUNY Potsdam. For this year's exhibition, Juror Terry Sametz selected 46 works by 29 artists, including paintings, drawings, prints, photographs, sculptures, digital images, mixed media, and time-based works. Sametz selected several works for special recognition with a Juror's Merit Award, which will be announced at the opening reception.
"I was so impressed by these student artists' skill, voice, and accomplishment in so many media," said Sametz, "but what really struck me was the incredible passion, emotions, and ideas that show in their art. The students' art gave me insight into their world as they successfully communicated through their artistic expression. A nice surprise was the humor in many works. To the artists I say: It was an honor spending time with your art. My high expectations were exceeded. Well done!"
Sametz is an Ottawa-based, dynamic, experimental artist who uses non-traditional methods, materials, and techniques in his colorful works. His most recent pieces use sculpted plywood and raw oil pigments; however, Terry has been known to create using and combining found objects, glass, photography, and a wide variety of paints, sculpting mediums, and techniques. His unique style is constantly surprising viewers who try to categorize his artwork. Sametz creates a narrative using individual items as symbols or metaphors, extracting their essential meaning, beauty from the everyday.
The Frederic Remington Art Museum's 2023 College Student Juried Art Exhibition opened on Friday, February 24. The exhibit will be on view in the Museum's Richard E. Winter Gallery and Torrey Family Gallery and online at www.fredericremington.org through Sunday, March 26, 2023.
Many of the student works on display in the Remington exhibit will be for sale. One-third of the proceeds benefit the Frederic Remington Art Museum, and two-thirds go to the artists. In addition to the on-site exhibition, the exhibit will be online at www.fredericremington.org and artworks may be purchased through the Museum's online shop.