Clarkson University Researchers Awarded NYSP2I Grant to Develop Sustainable Food Packaging and Present at "KEEP IT FRESH!" Symposium
October 17, 2023
Silvana Andreescu, Egon Matijević Endowed Chair of Chemistry and Biomolecular Science at Clarkson University and her team of graduate and undergraduate students received a $42,000 grant from The New York State Pollution Prevention Institute (NYSP2I) as part of an inaugural Student and Faculty Research Program: Food Spoilage Mitigation through Packaging. The program enables student-driven research projects to propose, develop, and design solutions to real world environmental challenges. It is meant to foster creative thinking, problem solving, teamwork, and collaboration across disciplines. 
Image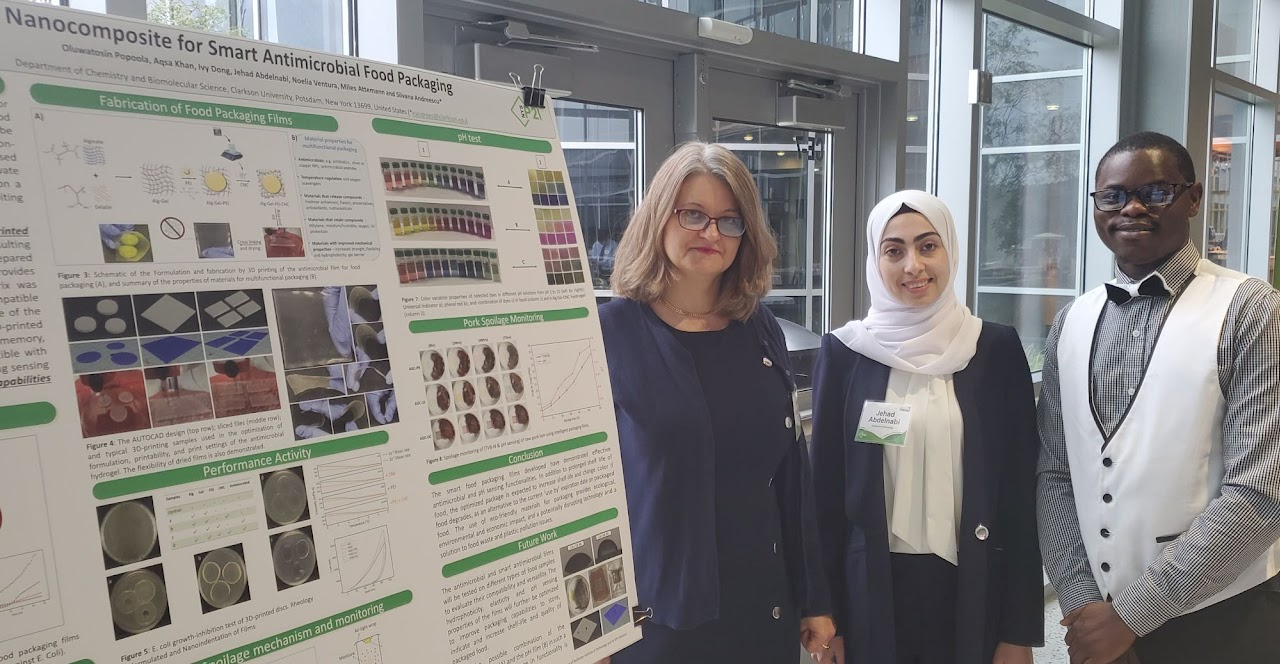 The Clarkson team was one of the four teams invited to participate in the program along with teams from Cornell University, SUNY Binghamton and RIT. 
Andreescu and her team are developing a new type of 3D printed packaging fabricated entirely from green and sustainable sources. The new packaging has built-in multifunctional properties that are meant to monitor and maintain the quality and increase the shelf-life of food, thereby reducing food loss and food waste. During the summer project, the team tested the antimicrobial and sensing properties of their new packaging formulation and developed a 3D printing method to manufacture the packaging at a large scale. 
The team presented their findings at Binghamton University on September 29 during the "Keep It Fresh!" symposium. The symposium showcased what the four student-led research teams discovered when challenged to find new ways for reducing food spoilage through better packaging. The event closed the inaugural, summer-long 2023 NYSP2I Student and Faculty Research Program, which gave students from universities across the Empire State the opportunity to work alongside academic researchers on an original project. Clarkson's student team was led by chemistry graduate student Oluwatosin Popoola, and included MSE graduate student Aqsa Khan, chemistry undergraduate students Ivy Dong and Noel Ventura, and high school student Miles Attemann.
The New York State Pollution Prevention Institute (NYSP2I) is a statewide technology development, transfer, and assistance center whose mission is to make New York State more sustainable for businesses, workers, the public, the environment and the economy. NYSP2I is managed and led by Rochester Institute of Technology (RIT) and is a partnership between RIT, Binghamton University, Clarkson University, Cornell University, Rensselaer Polytechnic Institute, and the New York Manufacturing Extension Partnership. NYSP2I is sponsored by the New York State Department of Environmental Conservation (DEC).