Clarkson University Graduate Student Awarded NASA NYSG Grant
September 22, 2023
Clarkson University graduate student Ben Walleshauser has been awarded the NASA New York Space Grant (NYSG) Opportunity Grant. This award is given to higher education students and educators working on NASA-related projects in STEM.
Image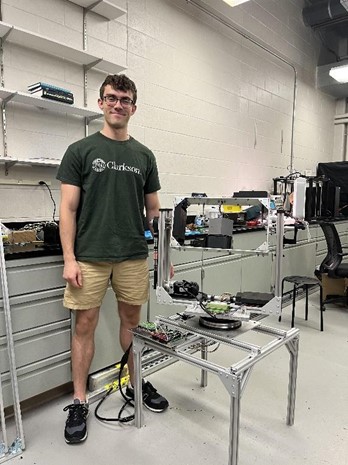 Ben is developing a CubeSat attitude control simulator in Clarkson University's Astronautics and Robotics Lab (ASTRO Lab). The project is overseen by Assistant Professor of Mechanical and Aerospace Engineering and Director of ASTRO Lab Michael Bazzocchi. Satellite simulation involves replicating the conditions experienced in space in order to test a satellite's hardware and control system–a vital aspect for the research and development of future satellites. Current testing platforms are limited with respect to how much the test satellite can travel in each angular direction. For test cases where continuous rotation of the satellite is necessary, he is currently designing an alternative method, consisting of an active three-axis gimbal that allows the satellite to be positioned at the center and undergo rotation about all three axes.
This gimbal test stand will be specifically applicable to the creation of nanosatellites intended for space debris removal, as space debris are often rotating in orbit at non-negligible speeds. Therefore, this gimbal will be capable of replicating these tumbling conditions and allow for the real life testing of novel debris removal nanosatellites. Alongside research, the gimbal will also allow for educators to perform teaching labs involving satellite attitude determination and control.
"One of the most interesting aspects of this project is seeing how it can be extended to accommodate a wide variety of different CubeSat form factors, actuators, and sensors. This capability is something not typically seen with current testing platforms," Walleshauser said.
Ben is from Lancaster NY, and graduated with bachelor's degrees in mechanical engineering and physics from Clarkson University in December of 2022. He began working on his master's degree in mechanical engineering in January of 2023. The Astronautics and Robotics Laboratory explores advanced concepts and performs innovative and transformative research in science and engineering. ASTRO Lab trains high-quality researchers and engineers, develops new technologies, and provides novel solutions to problems in astronautics, robotics, and society.
For more information on the Astronautics and Robotics Laboratory, see https://www.astrolabresearch.com/