Clarkson University Grad Student Attends U.N. Climate Change Conference
January 13, 2023
Clarkson University graduate student Caroline Dodd of Saranac Lake, N.Y., traveled to the 27th Conference of the Parties of the United Nations Framework Convention on Climate Change (COP27) in the Red Sea town Sharm El-Sheikh, Egypt, in November.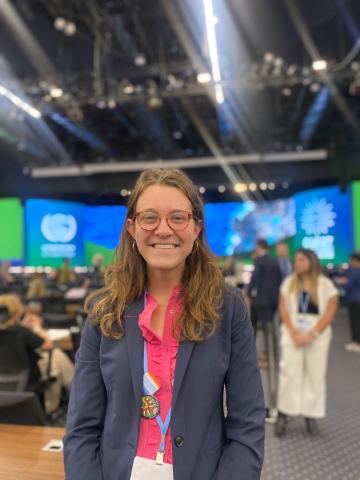 Dodd is pursuing her master of science degree in environmental policy and also serves as an assistant coach of Clarkson's cross country teams and Nordic ski teams.
Dodd attended as an observer delegate in her positions as Youth Climate Advisory Board Member for the Wild Center's Youth Climate Program and as a Clarkson graduate student, focusing her participation on climate justice, climate education and civic engagement, and the implementation of sustainable planning systems as a climate solution.
"I met dozens of young people who are fighting climate change while living in places like war-torn Ukraine or politically oppressive Bahrain," she says. "I was deeply inspired by those working to achieve climate justice and avert the worst of the climate crisis in the midst of compounding humanitarian crises."
Dodd attended negotiations on Action for Climate Empowerment, a provision of the Paris Agreement involving education and public participation in climate policy; followed negotiations for loss and damages, which resulted in the most significant success of COP27; and attended several events and workshops on climate justice, where she met prominent climate justice leaders, including Robert Bullard, the author of much of the formative literature on environmental justice.
Along with other young U.S. delegates, she also met with Assistant Secretary for Oceans and International Environmental and Scientific Affairs Monica P. Medina, National Oceanic and Atmospheric Administration Chief Scientist Sarah Kapnick, and Special Presidential Envoy for Climate John Kerry.
"I have already benefited from the knowledge I gained, which I am using to contextualize my local work in the global climate policy landscape," says Dodd. "COP27 also helped broaden my understanding of current climate adaptation and mitigation strategies and the people implementing them around the world."
In December, Dodd was quoted in the Action for the Climate Emergency website about her conference experience.
"This is a phenomenal example of how Clarkson and its students are at the forefront of the global issue of our time," says Professor of Practice of  Civil & Environmental Engineering Erik C. Backus, the Howard E. Lechler Endowed Director of the Construction Engineering Management Program.
Dodd's travel was made possible by several organizations. "Thanks to the support of a grant from the Olympic Regional Development Authority, the leadership of ISE, and the CEM Lechler Endowment, we were able to support Caroline in her COP27 participation and the precursor youth climate activities," says Backus.
Dodd says that Clarkson's programs allow students to engage with climate work and prepare them to address climate change in their careers.
"Clarkson's regional partnerships and work on statewide climate programs allow students to be involved in local and statewide climate solutions that can have global impacts," she says. "New York State is widely considered a policy leader on climate change in the United States, and Clarkson plays a significant role in the implementation of these policies. As the state's Climate Leadership and Community Protection Act is implemented over the coming years, Clarkson and its alumni will help the state achieve its ambitious emissions reduction goals."
Back on campus, Dodd is working closely with Backus and Associate Professor of Political Science Stephen Bird on a project to recertify the New York Olympic Region under the LEED for Communities program. "I have already learned a great deal from Professor Bird's political science expertise and Professor Backus's robust planning experience," she says. "I am also looking forward to learning from Professor Susan Powers and her expertise in environmental management and energy systems."
After graduation, Dodd plans to work in climate justice policy. "Climate change disproportionately impacts historically marginalized people at both the national and international scale," she says. "I hope to write and advocate for policies that advance climate justice by addressing systemic injustice and ensuring that climate policies are implemented thoughtfully to benefit marginalized communities and vulnerable nations.  I also hope to help compile and amplify stories of people who have faced climate injustice because I believe that climate storytelling is one of the most powerful motivators for action."