Clarkson University Awards Degrees to More Than 700 students at Spring 2023 Commencement
June 7, 2023
Clarkson University awarded more than 700 bachelor's, master's and doctoral degrees to students from 28 states, 23 countries and 55 counties of New York state at its spring 2023 commencement ceremonies, on Thursday, May 11 and Saturday, May 13. An additional 383 students received degrees this past winter and summer.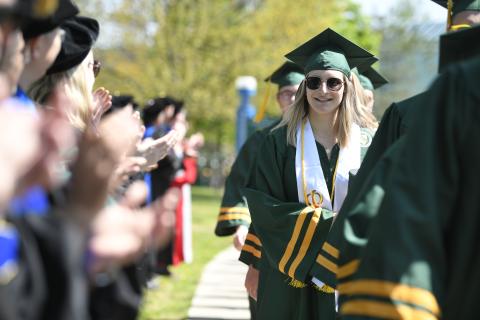 Yuncheng Du, an associate professor of chemical & biomolecular engineering in the Wallace H. Coulter School of Engineering was awarded the John W. Graham Jr. Faculty Research Award. The $1,500 research account is presented to "faculty members who have shown promise in engineering, business, liberal arts or scientific research."
Galina Melman, an associate professor of chemistry and biomolecular science in Clarkson University's School of Arts & Sciences was awarded the Distinguished Teaching Award. The $1,500 prize is given "in recognition of the importance of superior teaching." Candidates are nominated for the award by Clarkson alumni and the final selection is made by a faculty committee.
Michael Sacks, assistant professor of economics & financial studies was awarded the Outstanding New Teacher Award for 2023. Established by the University Committee on Improvement in Teaching in 1991, the award recognizes an outstanding teacher within his or her first four years at the university. Criteria for selection include excellence in the classroom, capacity to motivate and challenge students and creativity in teaching methods and curriculum development.
Clarkson University Biology Professor Michael Twiss was named professor emeritus for his 20 years of service to the University.
Senior Zachary Goad of Colchester, V.T., received the Levinus Clarkson Award, and senior Miranda Wolf of McDonough, N.Y., received the Frederica Clarkson Award. Both are $1,000 prizes given to "a student who demonstrates the best combination of scholarship and promise of outstanding professional achievement."
In addition to the graduating students, receiving an honorary degree and addressing students, families and guests was distinguished military leader Lieutenant General Rick Lynch, U.S. Army (Retired).
In his remarks to the graduates on Saturday afternoon, Lynch stressed the importance of three qualities; discipline, work ethic, and especially relationships.
Lynch assured graduates that students' focus on these three aspects of life, combined with their Clarkson education, would set them up for success, in whatever form that takes for each individual.
"Having studied the impact Clarkson University has had on our country and our world, you are poised for greatness," Lynch said. "You have to define for yourself the definition of success. You can do well while doing good, but focus on the doing good piece."