Center of Excellence in Healthy Water Solutions Holds First Meeting in Syracuse
March 22, 2023
The Center of Excellence in Healthy Water Solutions – a joint public/private institution endeavor between Clarkson University and SUNY College of Environmental Science and Forestry (ESF) – held its first annual meeting, A Conversation on Advances in Water Science and Technology, on March 12 and 13, 2023 in Syracuse on the SUNY ESF campus.
Image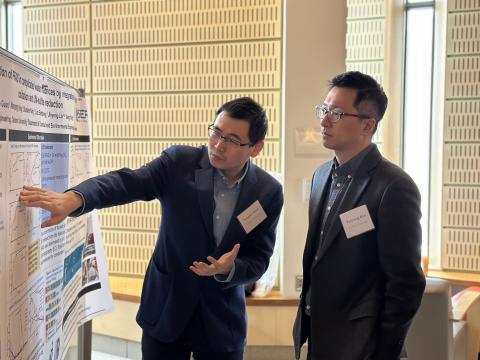 The conference brought together more than 150 attendees from academic institutions, government and municipal agencies, lake associations and other citizen groups, engineering consulting firms, and water-related industries. The conference centered around five different panel discussion sessions involving the topics of innovation and collaboration, building climate resiliency among small communities, treatment and monitoring of forever-chemicals such as PFAS, detection and mitigation of harmful algal blooms, and water resources needs of semiconductor chip fabrication facilities.
Besides the panel discussions, graduate students and faculty from Clarkson and SUNY ESF presented more than 30 posters on recent water-related research during a lunchtime session.
The conference offered an opportunity for the Center to achieve one of its primary missions: building new collaborative relationships between academia, the private sector, and government.
"The conference has been an opportunity for academics to better understand research needs from the perspective of industry, citizen scientists, and regulatory agencies," said Stephen Shaw, Co-Director of the Center of Excellence in Healthy Water Solutions and Associate Professor at SUNY ESF. "The Centers of Excellence play an important role in making sure research is impactful to communities in New York."  
"Building on the research strengths of faculty at Clarkson and SUNY ESF, these new collaborations with funding from the Center and its partners will lead to innovative technologies or strategies to improve NY State's water resources" added Stefan Grimberg, Co-Director of the Center of Excellence in Healthy Water Solutions and Professor of Civil and Environmental Engineering at Clarkson.
A long history of water research at Clarkson University and SUNY ESF led to the formation of this New York State funded Center of Excellence (CoE) in 2019. Additional information on the Center of Excellence in Healthy Water Solutions can be found at healthywaters.org.
NYS Centers of Excellence are funded by the New York State Department of Economic Development's Division of Science, Technology, and Innovation (NYSTAR) to foster collaboration between the academic research community and the business sector to develop and commercialize new products and technologies, to promote critical private sector investment in emerging high-technology fields in New York State, and to create and expand technology-related businesses and employment. Any opinions, findings, conclusions or recommendations expressed are those of the author(s) and do not necessarily reflect the views of the New York State Department of Economic Development.